Climate Change
Waste land: large-scale irrigation strips nutrients from the soil, scars the landscape and could alter climatic conditions beyond repair. Image: Edward Burtynsky, courtesy Nicholas Metivier Gallery, Toronto/ Flowers, London, Pivot Irrigation #11 High Plains, Texas Panhandle, USA (2011) In December 2012, a pink-haired complex systems researcher named Brad Werner made his way through the throng of 24,000 earth and space scientists at the Fall Meeting of the American Geophysical Union, held annually in San Francisco. This year's conference had some big-name participants, from Ed Stone of Nasa's Voyager project, explaining a new milestone on the path to interstellar space, to the film-maker James Cameron, discussing his adventures in deep-sea submersibles. But it was Werner's own session that was attracting much of the buzz. It was titled "Is Earth F**ked?"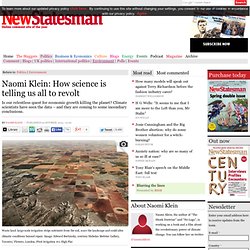 Wealthy nations pledged billions to help the poor adapt to climate change. Where did it all go?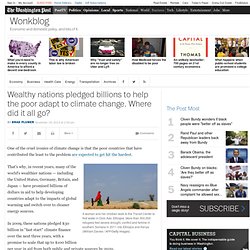 One of the cruel ironies of climate change is that the poor countries that have contributed the least to the problem are expected to get hit the hardest. A woman and her children walk to the Transit Center to find water in Dolo Ado, Ethiopia. More than 300,000 refugees fled severe drought, conflict and famine in southern Somalia in 2011 into Ethiopia and Kenya (William Davies / AFP/Getty Images) That's why, in recent years, many of the world's wealthier nations — including the United States, Germany, Britain, and Japan — have promised billions of dollars in aid to help developing countries adapt to the impacts of global warming and switch over to cleaner energy sources.
Climate Change | Sense & Sustainability
'Debate on Science is Over, Time to Act Is Now': World Reacts to IPCC Report
The new report further states that greenhouse gas emissions at or above current rates would induce changes in the oceans, ice caps, glaciers, the biosphere, and other components of the climate system. (Underlying photo: UNEP)Following the release of the IPCC's first installment of its fifth assessment report (AR5) on climate change in Stockholm on Friday, environmental groups, experts, and activists from around the world were reacting to the findings contained in the report and commenting on the implications it will or should have as the planet faces the "unprecedented" rate of global warming and the irrefutable consensus by the world's scientific community. For most, the report's findings represent only a more precise and updated affirmation of what has been known to most experts for decades.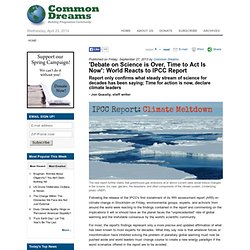 Citizens Climate Lobby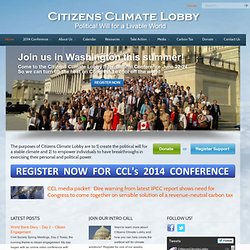 Meet with members of Congress during recess With Congress adjourning for the holiday recess, now is a good time to meet with House and Senate members back in their districts. Request face-to-face meetings with the representatives and senators in your district and state. More details here.
Index
Climate Name Change
The science is clear: global warming is happening faster than ever and humans are responsible. This is a major problem because global warming destabilizes the delicate balance that makes life on this planet possible. Just a few degrees in temperature can completely change the world as we know it, and threaten the lives of millions of people around the world.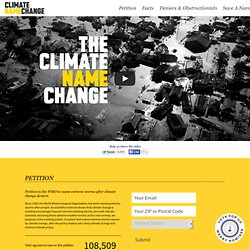 The other week, I spent some time interviewing several business leaders for the North Carolina Sustainability CEnter, asking them about their reactions to President Obama's climate speach. Their responses were decidedly mixed, but one discussion stayed with me. When I asked Charles Sydnor, the owner of Braeburn Farm, about the urgency of climate policy for his industry—he had this to say: "As a farmer, when we look at climate change there are two sides to the story – but we only really talk about one – namely the production of greenhouse gases. Yet agriculture should be part of the solution. I can take you to places right now where crops are grown year-after-year-after-year without tilling the land, and where there is increased carbon sequestration year-after-year.
How farmers can help fight climate change
Climate: Securing a cleaner future
Reality Drop: Spread Science about Climate Change, Global Warming
Climate CHIP is a non-profit website supported by charitable grants from organizations and individuals concerned about local and global threats to human health and society from climate change. We aim to provide a range of information and resources about heat stress and other health impacts of climate change. News & Events Global Public Health data on the web via Gapminder.....more Collection of scientific papers on Workplace Heat and Occupational Health: The Journal Industrial Health (from the Japan National Institute of Occupational Health) published in February 2013 ...more.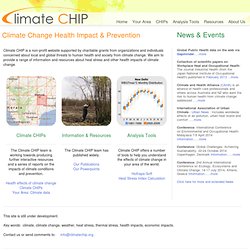 Climate Change Health Impact & Prevention | Climate CHIP
▶ Gapminder Video #10 - Carbon Dioxide
Population growth and climate change explained by Hans Rosling
This video is currently unavailable. Sorry, this video is not available on this device. Video player is too small.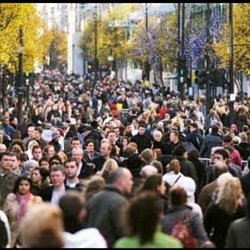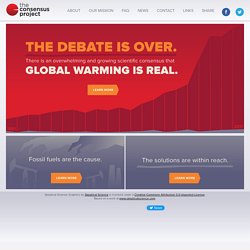 The Consensus Project measured the level of consensus in published, peer-reviewed climate research that humans are causing global warming. In the most comprehensive analysis to date, we analysed 21 years worth of peer-reviewed papers on "global warming" or "global climate change". Among the 12,465 papers, we identified over 4,014 abstracts authored by 10,188 scientists that stated a position on human-caused global warming. Among those 4,014 abstracts, 97.1% endorse the consensus. Among the 10,188 scientists, 98.4% endorse the consensus.
the consensus project
Climate & Capitalism : An ecosocialist journal
Global warming is a serious problem, and we're working to decrease carbon emissions in Canada. On the national level, we are developing a clean, renewable energy plan for Canada through the Trottier Energy Futures Project. On the provincial level, we're encouraging friendly competition to see which province can adopt the best climate policies through our Race to the Top campaign. For individuals, we offer resources on how to go carbon neutral at home and at work. Together, we can turn back climate change.
Climate change | Issues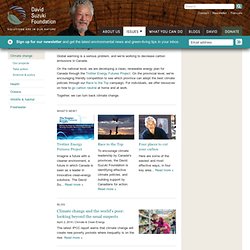 Climate Change Documentaries
The Climate Group
About cookies Cookies are files stored in your browser and are used by most websites to help personalise your web experience. Some features on this site will not function if you do not allow cookies. Click each category for more information on the cookies this website uses. Compliance cookie
Hello Australia Carbon Visuals has created some simple images to show the potential for engaging Australians in their country's 'carbon story'. The images support an article for The Conversation by David Holmes, journalist and lecturer in Communications and Media - Visualising Australia's carbon emissions. A One Ton Time Bomb Ted Flanigan of EcoMotion contacted us at Carbon Visuals last year having seen one of our early images of a London Bus next to one metric tonne of Carbon Dioxide. At that point EcoMotion had recently designed and produced a giant inflatable representation of a ton of carbon dioxide.
Carbon Visuals: Home
Risk, Uncertainty, Climate Change, and 'March Madness' Americans' fascination with college basketball's 'March Madness' may shed light on the analytical skills they can apply to addressing challenges posed by a warming climate. MIT Scientist: An Obligation to Take on 'Tail Risk' vs. Alarmism
Global Warming / Climate Change
Good evening. How are we for signal, very good, I am Stewart Brand from the Long Now Foundation. You maybe wonder what this Twitter thing is about.
Saul Griffith: Climate Change Recalculated
La Era De La Estupidez - La película (Subtítulos en Español) - Age of Stupid (Spanish subtiltes)
CLIMATE 101 on Vimeo