Historical Photography
Powerful. Rare Historical Images. 20 Rare Historical Photos. Easter in WWII. 15 Mind-Blowing Old-Timey Photos You Won't Believe Are Real. As we've reminded you before, people in the past just didn't give a shit.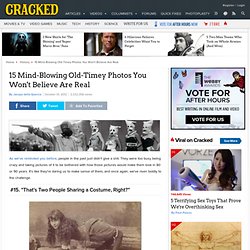 They were too busy being crazy and taking pictures of it to be bothered with how those pictures would make them look in 80 or 90 years. It's like they're daring us to make sense of them, and once again, we've risen boldly to the challenge. #15. America Before Pearl Harbor. Color presents an entirely different image.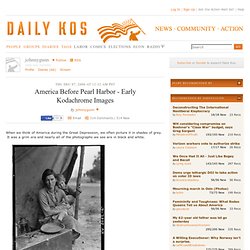 This is a photograph of Faro and Doris Caudill, farmers in Pietown, New Mexico. They lived in a dugout and struggled to survive on Resettlement Administration land. As the 1930s came to a close, Kodak came out with Kodachrome film – the first commercially viable color film available to the general public.
In 1937 and 1938, the colors were still not stable and accurate, but by 1939 Kodachrome was producing color images of remarkable precision. Now, not just anybody could buy this film. Moonshiners hide their tracks. 20 Very Interesting Photos From The '30s. I love old photos because this is the only way I can really see our history.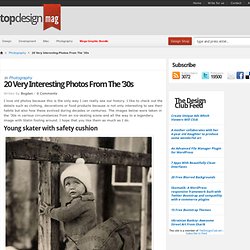 I like to check out the details such as clothing, decorations or food products because is not only interesting to see their habits but also how these evolved during decades or centuries. The images below were taken in the '30s in various circumstances from an ice-skating scene and all the way to a legendary image with Stalin fooling around. Adolf Hitler [far left] with fellow WWI German soldiers. A famous explosion -- in color. An Alternative Perspective (1989) 30 Unique And Must-See Photos From Our Past. 1.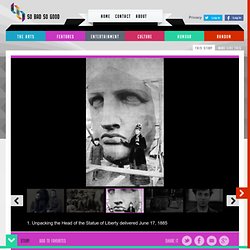 Unpacking the Head of the Statue of Liberty delivered June 17, 1885 Photographs have long been used to record special and unique moments - birthdays, weddings and the occasional selfie are all commonplace. But these next 30 photographs go beyond the norm - they encapsulate the mood, tone and values of yesteryear, a compelling account of the evolution of our values if you will. From landmarks in history, strange feats of physical endurance through to peculiar devices & oddball characters we hope this series of images will astound, confound and enthrall you. German soldiers discover what Hitler has done. America 1870-1920.
Solider and a pet kangaroo joey, 1942. Random photo Submit your photo Stumble Thru animal photography, black and white photography, people photography Tags: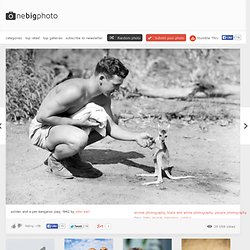 Old New York in Colour - Lower East Side. New York, NY - Franny Wentzel - Saturday, April 3rd, 2010 : goo Browsing articles link - [previous] :: [next] From the Charles W.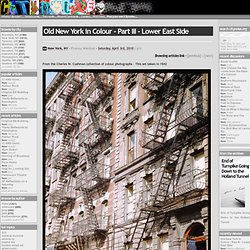 Cushman collection of colour photographs - This set taken in 1942. Charlie Chaplin gets a boost in NYC (1918) Japan in the 1950s. After Japan surrendered in 1945, ending World War II, Allied forces led by the United States occupied the nation, bringing drastic changes.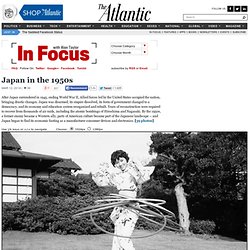 Japan was disarmed, its empire dissolved, its form of government changed to a democracy, and its economy and education system reorganized and rebuilt. Years of reconstruction were required to recover from thousands of air raids, including the atomic bombings of Hiroshima and Nagasaki. By the 1950s, a former enemy became a Western ally, parts of American culture became part of the Japanese landscape -- and Japan began to find its economic footing as a manufacturer consumer devices and electronics. [39 photos] Use j/k keys or ←/→ to navigate Choose: The Photographs Behind Norman Rockwells Iconic Paintings. The People of the United States. Photographs Renewed. Captured man-eating tiger of Calcutta (1903) 25 of the Most Influential News Images of All Time. News Photography is all about capturing the decisive moment in an aesthetic way.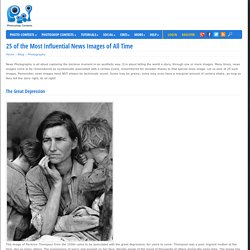 It is about telling the world a story, through one or more images. Many times, news images come to be remembered as symbolically associated with a certain event, remembered for decades thanks to that special news image. Let us look at 25 such images. Remember, news images need NOT always be technically sound. High school fashions, 1969. 50 Years of Nat Geo Covers. Color Photos of New York from the 1940s. A set of rare images captures the city's classic buildings along with its timeless spirit All photos courtesy of the Charles W.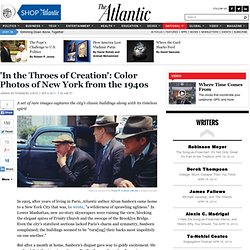 Cushman collection at Indiana University. Historical photos superimposed on the same spot. Gunnar Kaasen & Balto (1925) All the Best WTF Retro Pics in One Page. These pics are old, they are black and white, but they are very WTF.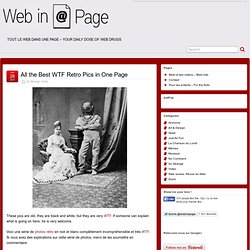 If someone can explain what is going on here, he is very welcome. Voici une série de photos rétro en noir et blanc complètement incompréhensible et très WTF. Si vous avez des explications sur cette série de photos, merci de les soumettre en commentaire. Want more ? Watch also : Charging Rhino (1910) Amazing Mystery Photographer Comes To Fame After Her Death. Old-timey Kids Who Are Way Tougher Than Modern Adults. 25 Amazing Vintage Photos. Oldest Known Tornado Photograph (1884)
John F. Kennedy out with the family. Mythical pictures in black and white, digitally colored. The History of the Bikini. Lincoln photo (penny) restored. Troops recreate the countenance of W. Wilson. Early 1900s in Colour. Rare and very interesting photos. A proud mother (1916) Top 10 Pictures That Shocked The World. 9 Old-Timey Animal Photos You Won't Believe Are Real. Photos by Henri Cartier-Bresson.
Mongolian woman condemned to starve (1913) 1930's Circus photos. Woman photographed in 1938. The Extinct Barbary Lion (1897) Bill Clinton meets John F. Kennedy. Newly freed POWs in Vietnam. Otto Frank returns to the attic he hid in during WWII. Unknown Woman (c.1907) The real life models for Classic Pin-Up paintings. Accidental photo of a man falling to his death.
---