Historical Photography
Powerful.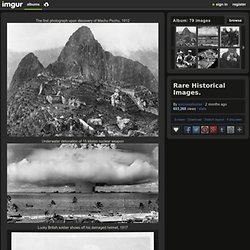 Rare Historical Images
albums browse your computer drag and drop here Ctrl + V paste from your clipboard By uploading, you agree to our terms of service
In 1972, as part of the Apollo 16 mission to the moon, astronaut Charles Duke embarked on a mission to the explore the moon's surface in a lunar roving vehicle. While there, he shot a picture of a photo of himself, his wife, and his two sons which was enclosed in plastic on the moon's surface, where it remains to this day. This is The Statue of Liberty under construction in Paris in 1884. Drug kingpin Pablo Escobar and his son stand in front of The White House in the early 1980s. In 1947, 23-year-old Evelyn McHale jumped from the observation deck of the Empire State Building onto a limousine which was parked below.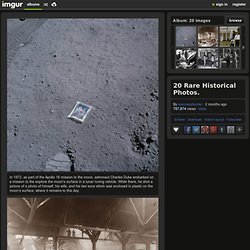 20 Rare Historical Photos
Easter in WWII
15 Mind-Blowing Old-Timey Photos You Won't Believe Are Real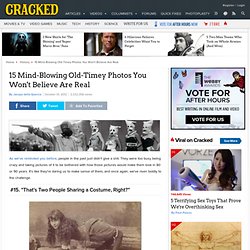 As we've reminded you before, people in the past just didn't give a shit. They were too busy being crazy and taking pictures of it to be bothered with how those pictures would make them look in 80 or 90 years. It's like they're daring us to make sense of them, and once again, we've risen boldly to the challenge. #15.
Color presents an entirely different image. This is a photograph of Faro and Doris Caudill, farmers in Pietown, New Mexico. They lived in a dugout and struggled to survive on Resettlement Administration land. As the 1930s came to a close, Kodak came out with Kodachrome film – the first commercially viable color film available to the general public. In 1937 and 1938, the colors were still not stable and accurate, but by 1939 Kodachrome was producing color images of remarkable precision. Now, not just anybody could buy this film.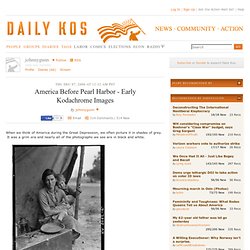 America Before Pearl Harbor
Moonshiners hide their tracks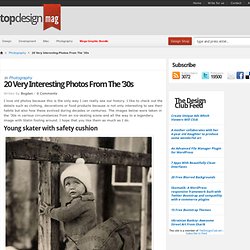 20 Very Interesting Photos From The '30s
I love old photos because this is the only way I can really see our history. I like to check out the details such as clothing, decorations or food products because is not only interesting to see their habits but also how these evolved during decades or centuries. The images below were taken in the '30s in various circumstances from an ice-skating scene and all the way to a legendary image with Stalin fooling around.
An Alternative Perspective (1989)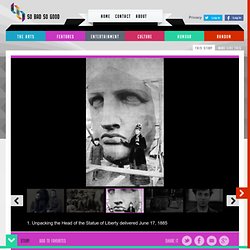 Photographs have long been used to record special and unique moments – birthdays, weddings and the occasional selfie are all commonplace. But these next 30 photographs go beyond the norm – they encapsulate the mood, tone and values of yesteryear, a compelling account of the evolution of our values if you will. From landmarks in history, strange feats of physical endurance through to peculiar devices & oddball characters we hope this series of images will astound, confound and enthrall you. 1. Unpacking the Head of the Statue of Liberty delivered June 17, 1885
30 Unique And Must-See Photos From Our Past
German soldiers discover what Hitler has done
America 1870-1920
solider and a pet kangaroo joey, 1942
Random photo Submit your photo Stumble Thru animal photography, black and white photography, people photography Tags: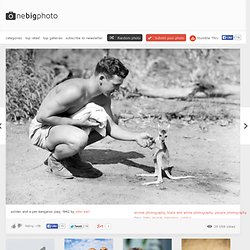 New York, NY - Franny Wentzel - Saturday, April 3rd, 2010 : goo Browsing articles link - [previous] :: [next] From the Charles W. Cushman collection of colour photographs - This set taken in 1942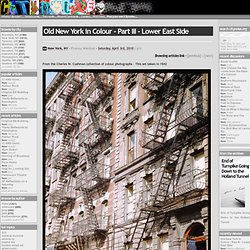 Old New York in Colour - Lower East Side
Charlie Chaplin gets a boost in NYC (1918)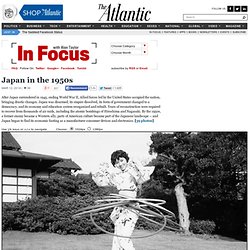 After Japan surrendered in 1945, ending World War II, Allied forces led by the United States occupied the nation, bringing drastic changes. Japan was disarmed, its empire dissolved, its form of government changed to a democracy, and its economy and education system reorganized and rebuilt. Years of reconstruction were required to recover from thousands of air raids, including the atomic bombings of Hiroshima and Nagasaki. By the 1950s, a former enemy became a Western ally, parts of American culture became part of the Japanese landscape -- and Japan began to find its economic footing as a manufacturer consumer devices and electronics. [39 photos] Use j/k keys or ←/→ to navigate Choose:
Japan in the 1950s
The Photographs Behind Norman Rockwells Iconic Paintings
Photographs Renewed
Captured man-eating tiger of Calcutta (1903)
25 of the Most Influential News Images of All Time
News Photography is all about capturing the decisive moment in an aesthetic way. It is about telling the world a story, through one or more images. Many times, news images come to be remembered as symbolically associated with a certain event, remembered for decades thanks to that special news image. Let us look at 25 such images. Remember, news images need NOT always be technically sound.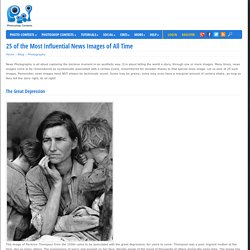 High school fashions, 1969
50 Years of Nat Geo Covers
Photograph by B. Anthony Stewart July 1959—First Photograph Appears on the CoverSeventy years after its founding in 1888, the National Geographic Society introduces the first photograph on the cover of its increasingly popular journal. Following a tradition of American flag covers in July that began during World War II, the July 1959 issue features the new, 49-star banner. Alaska, admitted to the Union in January 1959, is profiled in several articles, and a map of the newest state is included as a supplement with the issue.
Color Photos of New York from the 1940s
Historical photos superimposed on the same spot
Gunnar Kaasen & Balto (1925)
All the Best WTF Retro Pics in One Page
Charging Rhino (1910)
Amazing Mystery Photographer Comes To Fame After Her Death
Old-timey Kids Who Are Way Tougher Than Modern Adults
25 Amazing Vintage Photos
Oldest Known Tornado Photograph (1884)
John F. Kennedy out with the family
Mythical pictures in black and white, digitally colored
The History of the Bikini
Lincoln photo (penny) restored
Early 1900s in Colour
Rare and very interesting photos
Top 10 Pictures That Shocked The World
9 Old-Timey Animal Photos You Won't Believe Are Real
photos by Henri Cartier-Bresson
Mongolian woman condemned to starve (1913)
1930's Circus photos
Woman photographed in 1938
31+ Great Iconic Photos from History
The Extinct Barbary Lion (1897)
Bill Clinton meets John F. Kennedy
Otto Frank returns to the attic he hid in during WWII
The real life models for Classic Pin-Up paintings
Recent Photography (2000 - 2014)