Then & Now Photography
Two Brothers Re-Create Childhood Photos. EmailEmail There's a fun new trend in contemporary photography – digging through one's old childhood photos and creating detailed replicas.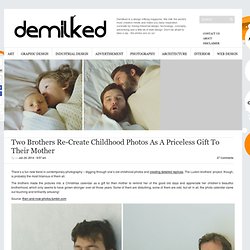 The Luxton brothers' project, though, is probably the most hilarious of them all. D-Day Landing Sites Then and Now: Normandy Beaches in 1944 and 70 Years Later. On June 6, 1944, Allied soldiers descended on the beaches of Normandy for D-Day, an operation that turned the tide of the Second World War against the Nazis, marking the beginning of the end of the conflict.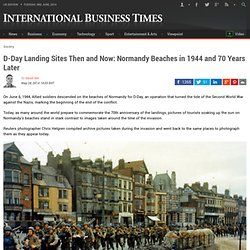 Today, as many around the world prepare to commemorate the 70th anniversary of the landings, pictures of tourists soaking up the sun on Normandy's beaches stand in stark contrast to images taken around the time of the invasion. Reuters photographer Chris Helgren compiled archive pictures taken during the invasion and went back to the same places to photograph them as they appear today. Dear Photograph. Love can last.
Heartwarming Photos of People and Their Pets Growing Up Together. My Modern Metropolis Heartwarming Photos of People and Their Pets Growing Up Together Here on My Modern Met, we're big fans of "then and now" photo projects like Irina Werning's Back to the Future, so when we came across these images of "pets growing up with their humans" on BuzzFeed, we felt an inherent need to share them.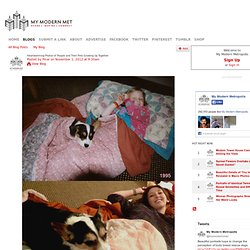 The adorable set of photos show us how time has changed physical appearances but unhindered the bond between people and their pets. Some of these folks even try to recreate their candid portraits from up to 20 years ago. 9 Haunting Then-And-Now Photos Of World War II. Muslim and Jewish Woman Protest Together. Novartis "Reflections" Portraits of Soldiers Before, During, and After War. Private Chris MacGregor, 24 Photographer Lalage Snow, who is currently based in Kabul, Afghanistan, embarked on an 8-month-long project titled We Are The Not Dead featuring portraits of British soldiers before, during, and after their deployment in Afghanistan.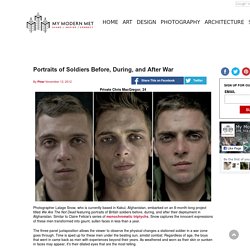 Similar to Claire Felicie's series of monochromatic triptychs, Snow captures the innocent expressions of these men transformed into gaunt, sullen faces in less than a year. BACK TO THE FUTURE : Irina Werning. I love old photos.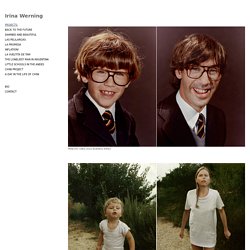 I admit being a nosey photographer. As soon as I step into someone else's house, I start sniffing for them. BACK TO THE FUTURE 2 2011 : Irina Werning. Now its time for KOREA, TAIWAN AND TOKYO.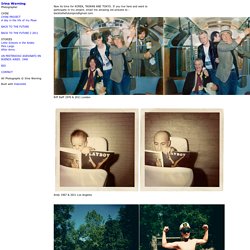 If you live here and want to participate in my project, email me amazing old pictures to : backtothefuturepics@gmail.com Riff Raff 1976 & 2011 London Andy 1967 & 2011 Los Angeles Johanes 1994 & 2011 Hamburg Maarje 1990 & 2011 Amsterdam. War Collections. 'Titanic' Cast: Then and Now. Lignières: Then and Now.
---