Pinterest Info
Get flash to fully experience Pearltrees
There's something refreshing about Pinterest . What got off the blocks as a narrowly focused social network for women has raced ahead onto the main track. It is the third most popular social network today. Without a doubt, it's the image boards. It is an artful eyeful that saves us the labor of reading through serpentine feeds.
It doesn't matter who you are—a blogger interested in food and fashion or a B2B marketer working for a custom plastic molding company —you've probably been hearing about Pinterest and how it could be good for your brand. This social phenomenon with skyrocketing popularity rates higher than Twitter, LinkedIn and Google+ combined has become the latest craze for marketers of all kinds, used to increase online exposure and bring in new traffic, as well as connect with others in the industry and enhance a company's overall image. Yet even as Pinterest's traffic and membership numbers have continued to grow, for many people, it's still been the site that doesn't make much sense. Why is it popular? Why does it matter? What do you need to know?
If you've browsed Pinterest 's "Everything" categories, you may have come across a scandalous photo or two. And some of you aren't happy about it. The question is: Is the highly public nature of the publishing network itself making this issue problematic? On Friday, we published a poll that asked our community whether they forgave most of Pinterest's nudity as art, or whether they were offended by nude images in general. We found that the majority of people who have encountered such content consider Pinterest's nude content art.
Oh, Pinterest… Over the course of the past few months, what was once a colorful haven for Midwestern mothers and Mormons is now an even more colorful haven for even more pin-tastic peeps. The growth has been staggering, even in what many would call an overly social era. But surrounded by Facebook, Twitter, Google+, etc., Pinterest has really made a name for itself .
According to Experian Hitwise, the Pinterest train keeps rolling and with 21% growth in traffic in Feburary this year, the site has broken into the top 30 for pageviews in the U.S.: Pintererst total US page views increased 21% in Feb-12 & ranks among the top-30 US sites overall in terms of total page views — Experian Hitwise (@Hitwise_US) March 12, 2012 Last month we told you about how Pinterest's growth may have been breaking records on the web , following a hockey-stick-like growth curve to glory. According to Experian, Pinterest also had 103M visitors from January 12th to February 12th, an increase of 36% during that time period:
By Eddie Wrenn PUBLISHED: 16:25 GMT, 17 May 2012 | UPDATED: 07:35 GMT, 18 May 2012 Social networking site Pinterest has already raised $100million from a group of investors in a deal that reportedly values the three-year-old U.S. company at $1.5 billion. The investors, headed by Japanese online retailing giant Rakuten Inc, means the value of the company has shot up at a staggering rate, following a valuation at the end of last year which pegged the company at $200m. Pinterest is an online scrapbook where users can 'pin' images and follow images by other people. It had less than one million users in May 2011 - but that jumped to about 20million by this April, according to comScore.
Digital pin-board site Pinterest is scorching hot. People are pinning like crazy. Publishers are benefiting from an uptick in Pinterest-driven traffic . And venture capitalists are tripping over themselves to get a piece of the social property.
Though it launched nearly two years ago , Pinterest has recently taken the internet by storm with its clean, image-heavy interface and fresh take on social networking. The pinboard-style, taste-sharing website recently hit 10 million unique monthly views faster than any standalone site in U.S. history. The image "pinning" model, on which Pinterest is based, has already spawned nearly a dozen look-alike sites that focus on everything from Jeremy Lin to pornography. But who exactly are the users who have brought Pinterest so quickly to the top of the social heap, and how are they putting the site to use?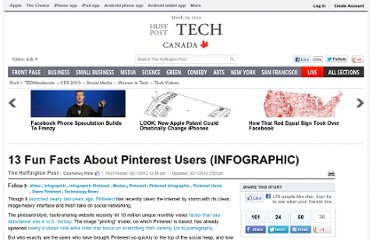 Ever find yourself in the rabbit hole of the internet, bookmarking and screengrabbing things you want to buy or images that inspire you? Well, judging from Pinterest's hockey-stick growth , you're not alone in your digital collecting and curating. The invite-only social discovery platform launched in March 2010, the brainchild of Paul Sciarra, Evan Sharp and Ben Silbermann, with the mission to "connect everyone in the world through the 'things' they find interesting," opining that books, recipes and items can bridge the gap between strangers. In October, the site surpassed 421 million pageviews , which means that each of its 3 million users are spending quite a bit of time there, pinning and organizing images to help them plan their weddings, decorate their (oftentimes, dream) homes, create bucket lists and manage an inventory of favorite images — no small feat on the ever-growing web.
As if I didn't already spend enough time on the Internet, I have fallen prey to another site and have added Pinterest.com to my daily rounds. I had heard about the site months ago but dismissed it. Then, I dipped in for a few minutes and was hooked, line and sinker. At Pinterest, users create online bulletin boards categorized by topics such as gardening, art and travel. As a virtual hunter and gatherer, you spot something on the Internet you'd like to share, "pin" it to one of your bulletin boards, and then the related photograph and site link appear on the Pinterest home page for others to see.