Pinterest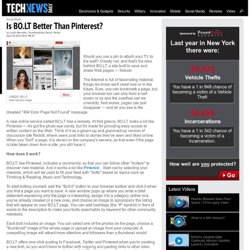 Would you use a pin to attach your TV to the wall?
Is BO.LT Better Than Pinterest?
Teachers are known for their organizational skills, so chances are they'll love Pinterest's intuitive and logical design.
Home, Arts and Crafts, and Style/Fashion are the most popular categories on Pinterest, a third-party study released Monday indicates. According to business intelligence firm RJ Metrics, 17.2% of all pinboards are categorized under Home, followed by Arts and Crafts (12.4%), Style/Fashion (11.7%), Food (10.5%) and Inspiration/Education (9.0%).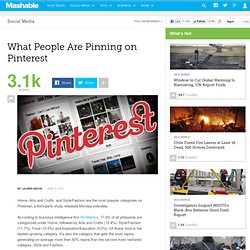 10 Strategies for Non-Profits on Pinterest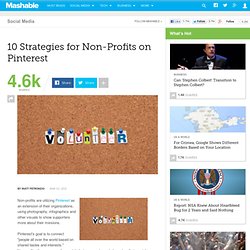 Non-profits are utilizing Pinterest as an extension of their organizations, using photography, infographics and other visuals to show supporters more about their missions.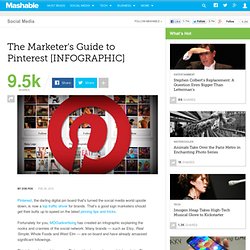 The Marketer's Guide to Pinterest
Pinterest, the darling digital pin board that's turned the social media world upside down, is now a top traffic driver for brands.
Flickr vs. Pinterest: Flickr Users Can Now Implement Pinterest Opt-Out
Users on the Yahoo-owned photo social network Flickr can now block Pinterest aficionados from tacking Flickr pictures onto their beloved online image boards. Flickr users can block pinning by changing a "Yes" to a "No" in user Privacy Settings. Simply state "No" in the area where you "Allow others to share your stuff."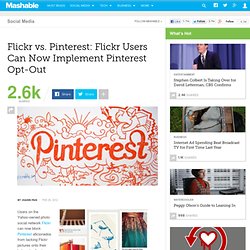 It's hard to write a story or post about Pinterest and copyright law without at least one reader leaving a comment along the lines of "What about Tumblr?"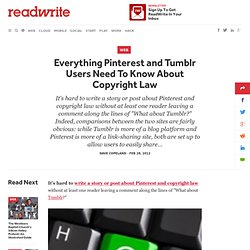 Everything Pinterest and Tumblr Users Need To Know About Copyright Law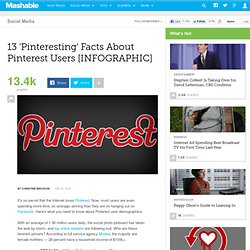 It's no secret that the Internet loves Pinterest.
The Boston Business Journal stopped using Pinterest one day after setting up its account after realizing it could be sued for images it uploaded to the site. Web editor Galen Moore started playing around with the rapidly-growing social network on Thursday as a possible way to share the visual images that the Boston Business Journal uses in its coverage of real estate development: things like blueprints, artists conceptions and photos. But by Friday afternoon he had pulled the content after taking a careful read of Pinterest's user agreement and finding out the company reserves the right to sell images users upload. "Exceptions for publishers of user-generated content protect Pinterest, but they don't protect you," Moore wrote with a link back to an earlier ReadWriteWeb article. "Unless you know you have a 'worldwide, irrevocable,' perpetual, non-exclusive, transferable, royalty-free license,' you'd better tread carefully."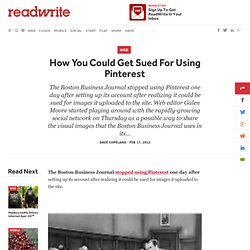 How You Could Get Sued For Using Pinterest
Attorney Says Pinterest Needs To Change It Digital Copyright Policy
Questions continue to mount about Pinterest's uneasy relationship with copyright law, with one attorney (and avid Pinterest user) saying the company needs to upgrade its Digital Millenium Copyright Act policies or risk being shut down. Connie Mableson, an attorney in Phoenix, offers a point-by-point breakdown of where Pinterest's DMCA policy could get the increasingly popular social network into trouble. The problems range from simple clerical errors, like forgetting to update its registered designated agent as required by the act, to more serious problems, like failing to include "repeat infringer" language in the policy as required by federal digital copyright law. "A few simple changes will make this DMCA lawyer much more comfortable knowing her pins will not suddenly disappear one day when Pinterest is out of business due to paying other lawyers exorbitant amounts of money to defend it against claims of copyright infringement," Mableson wrote.
Pinterest has emerged as the runaway social media hit of early 2012. You probably knew that already. But did you know the company just has 12 people?
Chill transformed from a Turntable.fm for video to a Pinterest for video when it launched its redesign last month. The startup completes its metamorphosis on Wednesday with a new 'categories' feature that looks suspiciously like Pinterest's pinboards.
Pinterest for Video? Chill Completes its Latest Makeover
Pinterest, the social image-sharing site that has exploded in popularity over the past few months, has found itself with a strange bedfellow: the U.S.
The U.S. Army Uses Pinterest? Sir, Yes Sir!
Do you think that one is more inherently social than the other? I find I don't get a lot of comments on my pearls (except this one). But, that could just b/c no one is interested in the same things I am :( by pattychanman Feb 1
Pinterest: The 10 Most-Followed Users
Zoomsphere has released a list of the 10 most-followed users on Pinterest. The most popular user?
Like a certain social network that came before it, Pinterest already appears to be doing a few things behind the scenes. CNN reports that the popular virtual pinboard social network site has been "appending affiliate links to some pins," particularly those featuring goods from Amazon, eBay, Target and thousands more merchants. If someone clicks on one of those affiliate links and buys a product featured in one of the pins, Pinterest makes money.
How Pinterest is Making Money
Pinterest's TOS pretty much allows them to do anything they want with users' pins. by pattychanman Feb 15
"This is My Jam" is Like Pinterest For Music
Pinterest Drives More Traffic Than Google+, YouTube and LinkedIn
"Pinterest accounted for 3.6% of referral traffic, while Twitter just barely edged ahead of the newcomer, accounting for 3.61% of referral traffic. In July 2011, Pinterest accounted for just 0.17% of referral traffic, proving the site's blockbuster growth." by pattychanman Feb 2
It's Time to Ditch StumbleUpon for Pinterest
Pinterest: A Beginner's Guide to the Hot New Social Network