Pinterest
Is BO.LT Better Than Pinterest? Would you use a pin to attach your TV to the wall?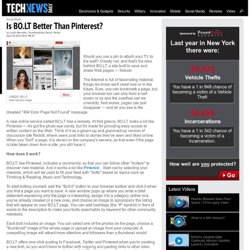 Clearly not, and that's the idea behind BO.LT, a site built to save and share Web pages — forever. The Internet is full of fascinating material, things we know we'll need now or in the future. Sure, you can bookmark a page, but your browser bar can only hold a half dozen or so and the overflow can be unwieldy. And worse, pages can just disappear — and all you see is the dreaded "404 Error Page Not Found" message. 16 Ways Educators Can Use Pinterest [INFOGRAPHIC] Teachers are known for their organizational skills, so chances are they'll love Pinterest's intuitive and logical design.
The social network's user experience has helped it earn a top spot among today's most popular social networks. Therefore, we predict that teachers will give it a gold star, too. Our friends at OnlineUniversities.com have put together the following infographic, which details how teachers can use Pinterest to organize lesson plans, distribute curricula, collaborate with other faculty, and even encourage student participation. SEE ALSO: 9 Ways to Engage Your Employees on Pinterest. What People Are Pinning on Pinterest [STATS] Home, Arts and Crafts, and Style/Fashion are the most popular categories on Pinterest, a third-party study released Monday indicates.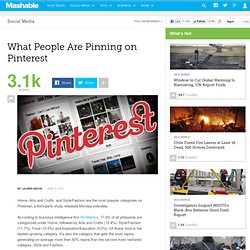 According to business intelligence firm RJ Metrics, 17.2% of all pinboards are categorized under Home, followed by Arts and Crafts (12.4%), Style/Fashion (11.7%), Food (10.5%) and Inspiration/Education (9.0%). Of those, food is the fastest-growing category. It's also the category that gets the most repins, generating on average more than 50% repins than the second most reshared category, Style and Fashion. The results were drawn across a sample of approximately 1 million pins across 9,200 different users. The study also identified the most popular board names on Pinterest. 10 Strategies for Non-Profits on Pinterest.
Non-profits are utilizing Pinterest as an extension of their organizations, using photography, infographics and other visuals to show supporters more about their missions.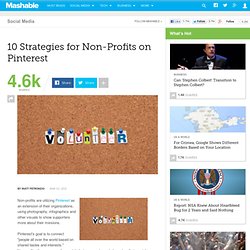 Pinterest's goal is to connect "people all over the world based on shared tastes and interests. " Non-profits, then, can use the social site to connect people based on their social passions, and since non-profits work with and for the community, Pinterest can certainly come in handy. Last week, we covered 10 non-profits that are particularly awesome at leveraging Pinterest for social good, but how did they get there? The Marketer's Guide to Pinterest. Pinterest, the darling digital pin board that's turned the social media world upside down, is now a top traffic driver for brands.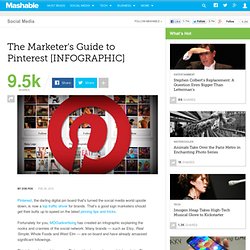 That's a good sign marketers should get their butts up to speed on the latest pinning tips and tricks. Fortunately for you, MDGadvertising has created an infographic explaining the nooks and crannies of the social network. Many brands — such as Etsy, Real Simple, Whole Foods and West Elm — are on board and have already amassed significant followings. Flickr vs. Pinterest: Flickr Users Can Now Implement Pinterest Opt-Out. Users on the Yahoo-owned photo social network Flickr can now block Pinterest aficionados from tacking Flickr pictures onto their beloved online image boards.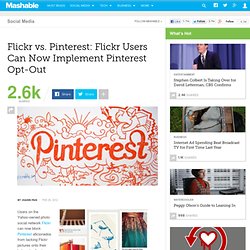 Flickr users can block pinning by changing a "Yes" to a "No" in user Privacy Settings. Simply state "No" in the area where you "Allow others to share your stuff. " Everything Pinterest and Tumblr Users Need To Know About Copyright Law. It's hard to write a story or post about Pinterest and copyright law without at least one reader leaving a comment along the lines of "What about Tumblr?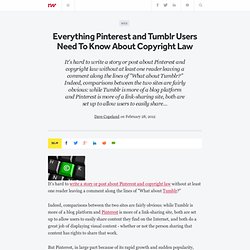 " Indeed, comparisons between the two sites are fairly obvious: while Tumblr is more of a blog platform and Pinterest is more of a link-sharing site, both are set up to allow users to easily share content they find on the Internet, and both do a great job of displaying visual content - whether or not the person sharing that content has rights to share that work. But Pinterest, in large part because of its rapid growth and sudden popularity, gets the lion's share of heat when people talk about what social networks can and can't do when it comes to copyright. Must-Know Pinterest User Demographics. It's no secret that the Internet loves Pinterest.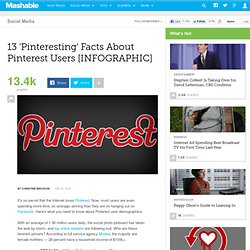 Now, most users are even spending more time, on average, pinning than they are on hanging out on Facebook. Here's what you need to know about Pinterest user demographics. With an average of 1.36 million users daily, the social photo pinboard has taken the web by storm, and top online retailers are following suit. Who are these feverish pinners? How You Could Get Sued For Using Pinterest. The Boston Business Journal stopped using Pinterest one day after setting up its account after realizing it could be sued for images it uploaded to the site.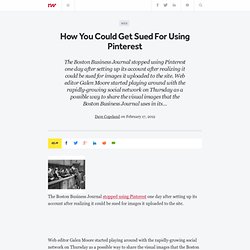 Web editor Galen Moore started playing around with the rapidly-growing social network on Thursday as a possible way to share the visual images that the Boston Business Journal uses in its coverage of real estate development: things like blueprints, artists conceptions and photos. But by Friday afternoon he had pulled the content after taking a careful read of Pinterest's user agreement and finding out the company reserves the right to sell images users upload.
"Exceptions for publishers of user-generated content protect Pinterest, but they don't protect you," Moore wrote with a link back to an earlier ReadWriteWeb article. "Unless you know you have a 'worldwide, irrevocable,' perpetual, non-exclusive, transferable, royalty-free license,' you'd better tread carefully. " Attorney Says Pinterest Needs To Change It Digital Copyright Policy. Questions continue to mount about Pinterest's uneasy relationship with copyright law, with one attorney (and avid Pinterest user) saying the company needs to upgrade its Digital Millenium Copyright Act policies or risk being shut down.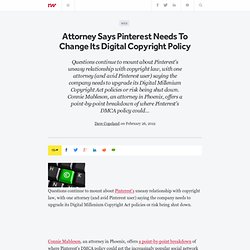 Connie Mableson, an attorney in Phoenix, offers a point-by-point breakdown of where Pinterest's DMCA policy could get the increasingly popular social network into trouble. The problems range from simple clerical errors, like forgetting to update its registered designated agent as required by the act, to more serious problems, like failing to include "repeat infringer" language in the policy as required by federal digital copyright law. Pinterest: Everything You Wanted to Know About 2012's Hottest Startup. Pinterest has emerged as the runaway social media hit of early 2012. You probably knew that already. But did you know the company just has 12 people? Pinterest for Video? Chill Completes its Latest Makeover. Chill transformed from a Turntable.fm for video to a Pinterest for video when it launched its redesign last month. The startup completes its metamorphosis on Wednesday with a new 'categories' feature that looks suspiciously like Pinterest's pinboards.
Now when you bookmark videos, you can sort them into categories of your choice. Chill co-founder Brian Norgard, for instance, has category pages for underwater cinematography, big wave surfing and nature time-lapse videos. Other users can follow your specific category pages in order to see updates to them on their home boards. Previously they had a choice between following all of your updates or none of them. The U.S. Army Uses Pinterest? Sir, Yes Sir! Pinterest, the social image-sharing site that has exploded in popularity over the past few months, has found itself with a strange bedfellow: the U.S.
Army. The Army's Pinterest boards include topics such as "Goodwill," "Humanitarian Relief," and "HOOAH!. " Each board is designed to show some aspect of Army life and the Army's mission or to connect with Army families ("DIY & Decor," for instance, might be a favorite among Army moms). Pinterest / Home. Pinterest: The 10 Most-Followed Users. Zoomsphere has released a list of the 10 most-followed users on Pinterest. The most popular user? Co-founder Ben Silbermann's mom, Jane Wang. Although Pinterest has not been able to confirm that the account is in fact run by Silbermann's mother, we do know that is his mother's name.
A look at her Facebook profile, which is linked to her Pinterest profile, further indicates Wang's identity: She is friends with several other members of the Silbermann family, including Ben, and is a fan of just about everything Pinterest on Facebook. Interestingly, the profile had made its way onto a number of "top users to follow on Pinterest" lists, all apparently unaware of Wang's biological tie to the founder. How Pinterest is Making Money. Like a certain social network that came before it, Pinterest already appears to be doing a few things behind the scenes. CNN reports that the popular virtual pinboard social network site has been "appending affiliate links to some pins," particularly those featuring goods from Amazon, eBay, Target and thousands more merchants.
If someone clicks on one of those affiliate links and buys a product featured in one of the pins, Pinterest makes money. But no one would have known this if the following blog post on LLSocial.com had not appeared. "This is My Jam" is Like Pinterest For Music. Pinterest Drives More Traffic Than Google+, YouTube and LinkedIn. It's Time to Ditch StumbleUpon for Pinterest. Pinterest: A Beginner's Guide to the Hot New Social Network.