Market structuration
De nouveaux sites réunissent aujourd'hui les passionnés autour de centres d'intérêt communs. Un défi pour le géant américain et son moteur de recherche. Le Web fait sa mue.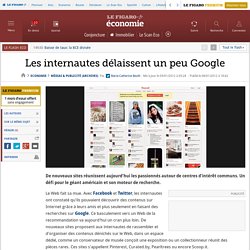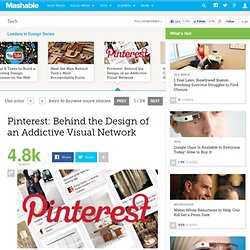 Pinterest: Behind the Design of an Addictive Visual Network
Ever find yourself in the rabbit hole of the internet, bookmarking and screengrabbing things you want to buy or images that inspire you? Well, judging from Pinterest's hockey-stick growth, you're not alone in your digital collecting and curating. The invite-only social discovery platform launched in March 2010, the brainchild of Paul Sciarra, Evan Sharp and Ben Silbermann, with the mission to "connect everyone in the world through the 'things' they find interesting," opining that books, recipes and items can bridge the gap between strangers.
You are what you curate: why Pinterest is hawt
Evolution of social media by Elad Gill (graphic courtesy of Elad Gill)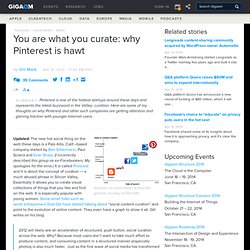 A Guy's Guide To Pinterest
One of the first things I noticed when I signed up for Pinterest earlier this week is that several of my female friends and acquaintances were already on the site. It was as if they had been holding out on what many are promising will be 2012's hot ticket in the social networking space. Of the 16 people Pinterest said I knew who were already using the site, 14 were women. Over the course of the first day, five more women I know added me and I suddenly felt like I had ventured behind some secret curtain. That is not surprising: in December, Mashable reported that 59 percent of the site's visitors were women between the ages of 25 and 44, and that 58 percent of its visitors in the previous 12 weeks had been female. Pinterest is a visual pin board where you can collect images you find on the Web and arrange them in categories with links back to the original site.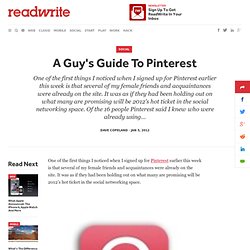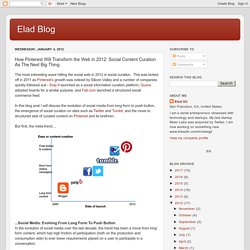 The most interesting wave hitting the social web in 2012 is social curation. This was kicked off in 2011 as Pinterest's growth was noticed by Silicon Valley and a number of companies quickly followed suit - Snip.It launched as a social information curation platform, Quora adopted boards for a similar purpose, and Fab.com launched a structured social commerce feed.