Social Web stories
Philip Rosedale: The Media Is Wrong, SecondLife Didn't Fail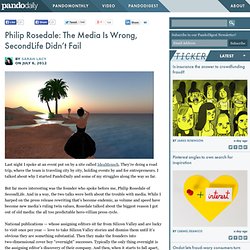 By Sarah Lacy On July 6, 2012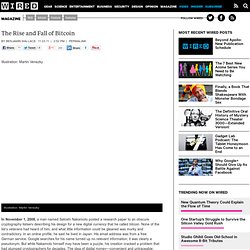 Illustration: Martin Venezky In November 1, 2008, a man named Satoshi Nakamoto posted a research paper to an obscure cryptography listserv describing his design for a new digital currency that he called bitcoin. None of the list's veterans had heard of him, and what little information could be gleaned was murky and contradictory. In an online profile, he said he lived in Japan. His email address was from a free German service.
The Rise and Fall of Bitcoin | Magazine
Yesterday we wrote about "EJ," a woman who had her San Francisco apartment burglarized and vandalized by someone who rented her home for a week via Airbnb. There was some confusion about how Airbnb was and is dealing with the situation. See the updates to that post above, and CEO Brian Chesky's post here on TechCrunch later yesterday talking about the situation.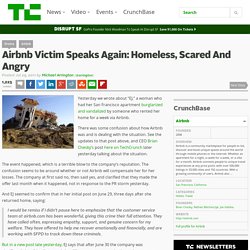 Airbnb Victim Speaks Again: Homeless, Scared And Angry
You Need to Win the Battle for Share of Mind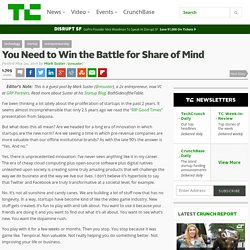 Editor's Note: This is a guest post by Mark Suster (@msuster), a 2x entrepreneur, now VC at GRP Partners. Read more about Suster at his Startup Blog, BothSidesoftheTable. I've been thinking a lot lately about the proliferation of startups in the past 2 years. It seems almost incomprehensible that only 2.5 years ago we read the "RIP Good Times" presentation from Sequoia. But what does this all mean? Are we headed for a long era of innovation in which startups are the new norm?
This weekend The Telegraph reported that Twitter had revealed the name, email address and telephone number of Ahmed Khan, a UK council whistleblower accused of libelling his local authority using a number of anonymous twitter accounts and blog Mr Monkey. The council in question, Tyneside, took the case to the legal superior court of California, which in turn issued a subpoena to Twitter on April 14th 2011. According to Khan, what Twitter handed over was "just a great long list of numbers" and ordered it to hand over 30 pieces of information relating to several Twitter accounts, including @fatcouncillor and @ahmedkhan01.
The Truth About That 'Landmark' Twitter Case - Twitter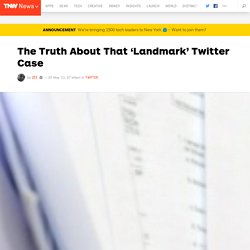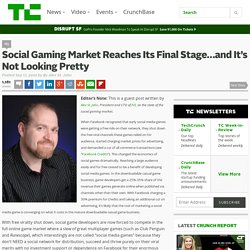 Editor's Note: This is a guest post written by Alex St. John, President and CTO of hi5, on the state of the social gaming market. When Facebook recognized that early social media games were getting a free ride on their network, they shut down the free viral channels these games relied on for audience, started charging market prices for advertising, and demanded a cut of all commerce transactions (see "Facebook Credits"). This changed the economics of social games dramatically. Reaching a large audience easily and for free ceased to be a benefit of developing social media games.
Social Gaming Market Reaches Its Final Stage…and It's Not Looking Pretty
A blogger code of confidentiality
Bloguing vs lifestreaming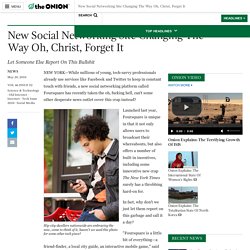 NEW YORK—While millions of young, tech-savvy professionals already use services like Facebook and Twitter to keep in constant touch with friends, a new social networking platform called Foursquare has recently taken the oh, fucking hell, can't some other desperate news outlet cover this crap instead? Hip city-dwellers nationwide are embracing the new, come to think of it, haven't we used this photo for some other tech piece? Launched last year, Foursquare is unique in that it not only allows users to broadcast their whereabouts, but also offers a number of built-in incentives, including some innovative new crap The New York Times surely has a throbbing hard-on for.
New Social Networking Site Changing The Way Oh, Christ, Forget I
Blogging Is Still the Foundation In A World of Streams - louisgr
Last week, Edelman's Steve Rubel made an aggressive jump - away from traditional blogging, turning over his site to a lifestream, which captures all of his activity from around the Web. His move, he reported, was due to a feeling that blogging "feels old" and that the new reality is about the flow of information. This followed on to a conversation he, Steve Gillmor and I had a month or so ago, which led to my post saying that RSS felt slow. But while I see some of the same issues Steve has, I haven't made a full move away from the blog, don't ever plan to do so, and for any company I give advice to, I tell them to do so would be a mistake. The blog is the foundation and center for who you are - either as an individual, or a brand. While I believe the best bloggers in the world are participating outside of their blog, on Twitter, FriendFeed, Facebook and everywhere else, to only participate in those areas leaves a gaping hole.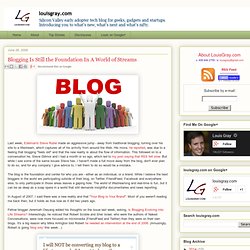 Paris Diary: The International Geek Brotherhood...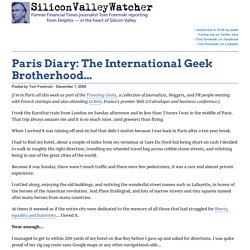 Posted by Tom Foremski - December 7, 2009 [I'm in Paris all this week as part of the Traveling Geeks, a collection of journalists, bloggers, and PR people meeting with French startups and also attending LeWeb, France's premier Web 2.0 developer and business conference.] I took the EuroStar train from London on Sunday afternoon and in less than 3 hours I was in the middle of Paris. That trip always amazes me and it is so much nicer, (and greener) than flying. When I arrived it was raining off and on but that didn't matter because I was back in Paris after a ten year break.
Apple bans Ulysses, again.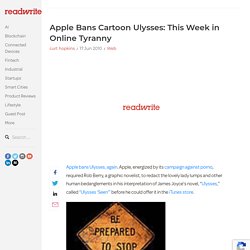 Apple Bans Cartoon Ulysses: This Week in Online Tyranny
Some Things Need To Change - Mozilla Firefox
Yesterday as I was leaving the DLD Conference in Munich, Germany someone walked up to me and quite deliberately spat in my face. Before I even understood what was happening, he veered off into the crowd, just another dark head in a dark suit. People around me stared, then looked away and continued their conversations. Generally at events people come up to me to talk about their startups. My reaction varies depending on how much sleep I've gotten and how many times I've been pitched in the previous hour.
Penny Arcade! - Green Blackboards (And Other Anomalies) - Mozill
Mort des médias et mutation de la démocratie - novövision - Mozi
Ceci n'est pas un blog.
Vers la fin de l'actualité « Cratyle.net
La crise du journalisme est l'ébranlement d'un monopole. Le mouvement est déjà largement discuté, mais ses causes et ses effets n'ont pas fini d'ébranler notre manière de voir le monde. C'est que le monopole était bien plus profond qu'on ne l'a souvent écrit. Ce n'était pas le seul monopole du choix, de l'ordonnancement et de l'interprétation d'information; car l'information n'existe simplement pas sans être choisie, ordonnancée et interprétée. C'était le monopole de la construction de l'information, c'est-à-dire de la construction du fait d'actualité, c'est à dire finalement la construction du concept même « d'actualité ».
Between our high traffic, our wacky insane number of edits, new software features, and the ever-growing amount of stuff on Wikipedia and friends, the demand on our servers is always going up. Our stack has several layers, from the MySQL database backend to the geographically distributed Squid caches, but the heavy lifting of all that wiki page formatting and editing logic is handled in (at last count) 156 Apache/PHP servers running MediaWiki. We last did a major expansion of these application servers in mid-2007, which ended up holding us a lot longer than we'd originally anticipated. In the last couple of weeks we've finally started hitting up against some capacity limits at peak times — especially Mondays, around the afternoon in North America and evening in Europe — making everything horribly slow.
leŭksman » Blog Archive » Your donations at work: new servers fo
The Mark Cuban Stimulus Plan - Open Source Funding « blog maveri
Collaborative Finance
Not so successfull yet.... But who nows by Patrice Mar 1
L'influence, l'influence sur le web, concept largement débattu par de nombreux blogueurs . Sans revenir sur le débat, l'influence des blogueurs se vend comme un service, proposé par de nombreuses agences : Influence, AdRider, BlogRider, Buzzparadise, YoutoYou, etc. Ces agences tissent des liens contractuels avec des blogueurs (généralement dans un contrat proche d'un contrat de mise en régie), pour autant que ceux-ci disposent d'une audience relative importante et une thématique "grand public" - le classement "top des blogs" de Wikio donne une idée assez précise de ce que sont les intérêts des internautes (hélas), et illustre donc les thématiques les plus porteuses : High Tech, Gadget, Mode, Buzz, etc. Vendre de l'influence, c'est vendre du temps passé. Je ne connais qu'Heaven/Influence à titre personnel, ayant été en régie chez eux dans une vie passée avec un blog chiant et défunt depuis.
La fabrique de l'influence - Mozilla Firefox
SMOB: du micro-blogging pour le web des données
Comment provoquer un buzz pour pas cher