Quantum mechanics
How was Schrodinger equation perceived pre-Born
Ab initio quantum chemistry methods are computational chemistry methods based on quantum chemistry.[1] The term ab initio was first used in quantum chemistry by Robert Parr and coworkers, including David Craig in a semiempirical study on the excited states of benzene.[2][3] The background is described by Parr.[4] In its modern meaning ('from first principles of quantum mechanics') the term was used by Chen[5] (when quoting an unpublished 1955 MIT report by Allen and Nesbet), by Roothaan[6] and, in the title of an article, by Allen and Karo,[7] who also clearly define it. Almost always the basis set (which is usually built from the LCAO ansatz) used to solve the Schrödinger equation is not complete, and does not span the Hilbert space associated with ionization and scattering processes (see continuous spectrum for more details).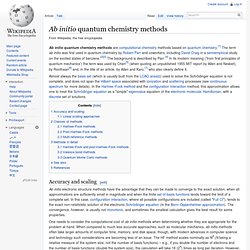 Ab initio quantum chemistry methods
DFT has been very popular for calculations in solid-state physics since the 1970s. However, DFT was not considered accurate enough for calculations in quantum chemistry until the 1990s, when the approximations used in the theory were greatly refined to better model the exchange and correlation interactions. In many cases the results of DFT calculations for solid-state systems agree quite satisfactorily with experimental data.
Density functional theory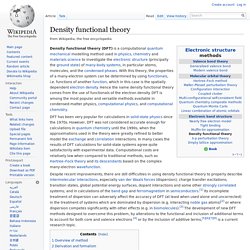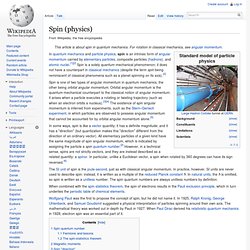 In quantum mechanics and particle physics, spin is an intrinsic form of angular momentum carried by elementary particles, composite particles (hadrons), and atomic nuclei.[1][2] Spin is a solely quantum-mechanical phenomenon; it does not have a counterpart in classical mechanics (despite the term spin being reminiscent of classical phenomena such as a planet spinning on its axis).[2]
Spin (physics)
Fermi hole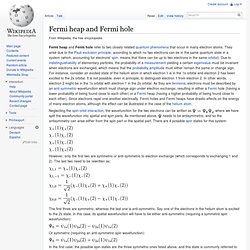 Neglecting the spin-orbit interaction, the wavefunction for the two electrons can be written as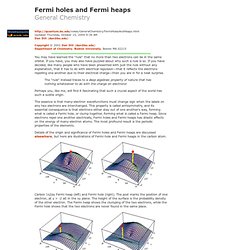 You may have learned the "rule" that no more than two electrons can be in the same orbital. If you have, you may also have puzzled about why such a rule is so.
Fermi holes and Fermi heaps, Fall 2002, CH352 Physical Chemistry
A vibrating string can be modeled as a point in a Hilbert space. The decomposition of a vibrating string into its vibrations in distinct overtones is given by the projection of the point onto the coordinate axes in the space.
Hilbert space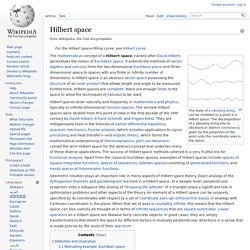 Ethan Hein's answer to Particle Physics: Why don't electrons crash into the nucleus