Lieux Perdus ou Abandonnés
Ruine et Vestige en France
Les lieux abandonnés / Urbex [Topik Etrange] - Loisirs - Discuss
Bienvenue sur le topic des lieux abandonnés Avertissement modération La visite de lieux à l'abandon est une activité dangereuse et principalement interdite (sauf si autorisation du propriétaire).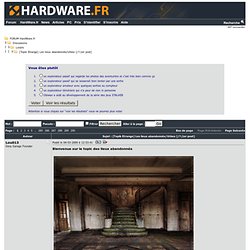 ABNF's Blog
Expect the unexpected
Le Jour ni l'Heure : château de Fourchaud, entre Besson et Bresn
Aérotrain et Naviplanes - Galerie photos
Dadipark, parc d'attraction abandonné
Blog de 1987mirapolis2008 - mir@polis de 1987 a 2008 - Skyrock.c
Forgotten Detroit
La gare internationale de Canfranc
Mike Tyson Abandoned Mansion Gallery
Index - Illicitohio.com
Urban Exploring with Henny
Friche - OtObOxBlOg
English Russia » An Abandoned Horror
Galerie de never ends
Info presse française
Une cité fantôme, derrière les barbelés, sur la côte est de Chypre... Marie-Michèle Martinet Le Figaro - 06/05/2005 Après l'échec en avril 2004 de la réunification de l'île, seule la partie grecque, au sud, a intégré l'Union européenne.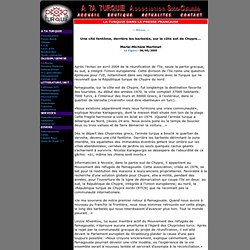 Buzludja
Bonjour à tous, chose promise..., je réponds à mon topic précédent vous annoncant mon déplacement pour Tchernobyl. Tout d'abord, pour aller visiter Tchernobyl, c'est facile. J'ai trouvé beaucoup d'agence de Kiev qui proposaient.. toutes indiquaient plus ou moins 400$ pour 4 personnes (presque le meme prix pour 1,2 ou 3 d'ailleurs).. En revanche, elles me disaient que, fetes obligent (le 28 décembre), il fallait penser payer plutot 600$.... Alors j'ai contacté une agence, et j'ai payé 600$... comme un con devrais-je dire... car en fait, il suffit de passer par l'agence Interform de l'Etat et c'était 400$...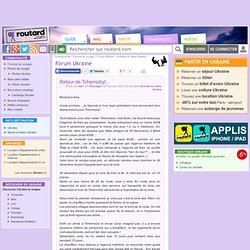 Retour de Tchernobyl... :: Forum Ukraine
gunkanjima-81f
exploration urbaine :: friches industrielles et batiments abando