Human Behavior
By christine on August 17th, 2012 A while back someone tweeted me this question: "What breaks your heart most for Africa?" Lately, anyway, the answer is jealousy . Jealousy is only 8 characters long and easily tweeted, but I thought it needed more than 140 characters to explain.
What breaks my heart most for Africa? | Into the Mud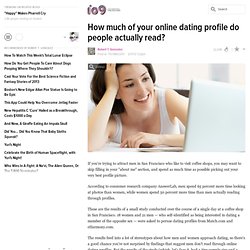 SExpand If you're trying to attract men in San Francisco who like to visit coffee shops, you may want to skip filling in your "about me" section, and spend as much time as possible picking out your very best profile picture. According to consumer research company AnswerLab, men spend 65 percent more time looking at photos than women, while women spend 50 percent more time than men actually reading through profiles. These are the results of a small study conducted over the course of a single day at a coffee shop in San Francisco. 18 women and 21 men — who self-identified as being interested in dating a member of the opposite sex — were asked to peruse dating profiles from Match.com and eHarmony.com.
How much of your online dating profile do people actually read?
Why I Quit Cooking: Women in the Kitchen May 10, 2010, 1:37 pm 15 Comments Photograph via Reuther Library There's been a lot of talk recently about women and professional cooking. New York chef Amanda Cohen posted a rant concerning female chefs, the Beard Awards, and the women's access to funding in the restaurant world, and EMD's Helen Rosner responded at her main gig on Grub Street by saying what many essayists on this topic have been trying to tip-toe around: the restaurant world is sexist. I worked in the restaurant industry for six years, largely in the kitchen.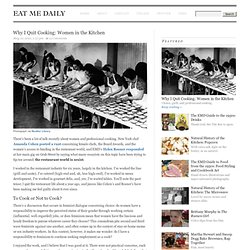 Why I Quit Cooking: Women in the Kitchen
Level 3 of Consciousness by Richard Brodie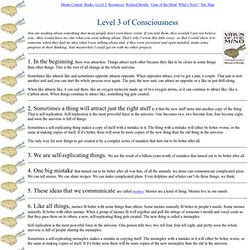 Meme Central Books Level 3 Resources Richard Brodie Virus of the Mind What's New? Site Map Level 3 of Consciousness You are reading about something that most people don't even know exists. If you told them, they wouldn't just not believe you—they would have no clue what you were talking about.
(Washington, D.C.) Population Action International is proud to announce the selection of President and CEO Suzanne Ehlers as one of the World Economic Forum's Young Global Leaders for 2012. The honor, bestowed each year by the Forum, recognizes up to 200 outstanding young leaders from around the world for their professional accomplishments, commitment to society and potential to contribute to shaping the future of the world. For 2012, the Forum has selected 192 young global leaders from 59 countries. The leaders come from all sectors, including business, civil society, government, the arts, and media.
PAI President Suzanne Ehlers Named 2012 Young Global Leader - Population Action International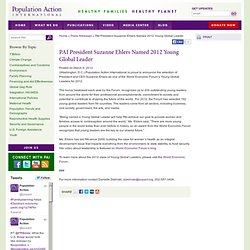 According to Fortune, CEOs are getting talkative these days—about politics, about high unemployment, about same-sex marriage. Of course, shareholders don't hire them to spout off and cause trouble. And shareholders come first. Or is it that they came first? Fortune suggests that thoughts about maximizing shareholder value could be changing. "Perhaps some CEOs have begun to question the prioritization of shareholder value over the company's defining values," the magazine avers.
Maximize This!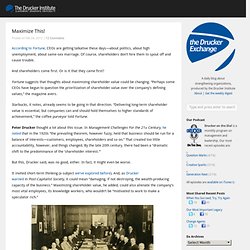 Ice-T on changing minds.
The Breath of God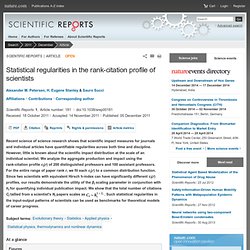 A Quantitative Model for ci(r) For each scientist i, we find that ci(r) can be approximated by a scaling regime for small r values, followed by a truncated scaling regime for large r values. Recently a novel distribution, the discrete generalized beta distribution (DGBD) has been proposed as a model for rank profiles in the social and natural sciences that exhibit such truncated scaling behavior20, 21.
Statistical regularities in the rank-citation profile of scientists : Scientific Reports
Violet De Lazlo - Famous Quotations.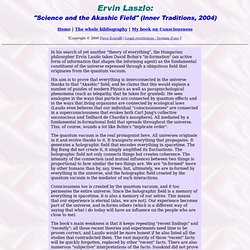 Book review of Ervin Laszlo
In his search of yet another "theory of everything", the Hungarian philosopher Ervin Laszlo takes David Bohm's "in-formation" (an active form of information that shapes the informing agent) as the fundamental constituent of the universe expressed through a ubiquitous field that originates from the quantum vacuum. His aim is to prove that everything is interconnected in the universe thanks to that "Akashic" field, and he claims that this would explain a number of puzzles of modern Physics as well as parapsychological phenomena (such as telepathy, that he takes for granted). He sees analogies in the ways that particle are connected by quantum effects and in the ways that living organisms are connected by ecological laws (Laszlo even believes that our individual "consciousnesses" are connected in a superconsciousness that evokes both Carl Jung's collective unconscious and Teilhard de Chardin's noosphere).
February 7, 2012 | Like this article? Join our email list: Stay up to date with the latest headlines via email. Republican candidates have been traveling the country pledging to end Obama's war.
5 Big Lies About the Phony 'War on Religion'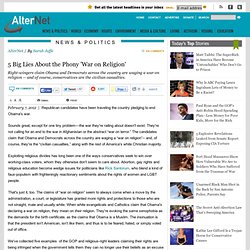 Detained China artist unaware of New York success
Dark, bare photos of modern Chinese society by Liu Xia, detained wife of China's best known dissident, went on show in New York without her knowledge after they were spirited out of her country. A visitor is seen looking at a Chinese artist Liu Xia photo during an exhibition in Boulogne-Billancourt, France, in 2011. The photos were brought out of China under the noses of the authorities by French academic, writer and economist Guy Sorman, a friend of the artist and her Nobel Peace prize-winning husband Liu Xiaobo.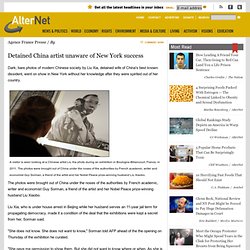 Warren Buffett has a lot that his assistant Debbie Bosanek does not, including a figurative arsenal to fight for lower taxes. After ABC interviewer Bianna Golodryga cited claims by Republicans that the tax code debate is a form of class warfare, Buffett admitted that, while he wouldn't use that term, the tax code is inherently "a struggle." The problem, however, is that people like his assistant lack the artillery to compete. "If this is a war, my side has had the nuclear bomb," Buffett told ABC News.
Warren Buffett: 'My Side Has Nuclear Bomb' In Tax Code Struggle
Raising Your Frequency
Jesus Teaches about the Widow's Mites
The dance is over. After quietly dating for eight years, Mila Kunis and Macaulay Culkin have quietly ended their relationship. "The split was amicable, and they remain close friends," a Kunis rep told the New York Post. The paper also reported that the pair ended things a while back, but kept it quiet while Kunis promoted her Golden Globe-nominated film. Culkin, 30, the beloved child star of 'Home Alone,' began dating 'Black Swan' star Kunis, 27, in 2002, when she starred in both 'That 70's Show' and 'Family Guy.' Culkin has stated that his love for the animated show helped begin their relationship.
Mila Kunis & Macaulay Culkin SPLIT: Breakup For Actor & Actress
In what may be one of the most 'aww'-inducing stories of the day, two sick dogs from Corpus Christi, Texas, made their way to a human hospital and waited patiently in the lobby, KIII TV reports. According to the station, hospital staff treated the "emaciated" pups, and a doctor carried them to the station's van, which then transported them to the Gulf Coast Humane Society. This isn't the first time a furry friend has figured out how to get the help and attention of humans.
Two Sick Puppies Walk To Human Hospital, Wait In Lobby (VIDEO)
15th August. Samuel Coleridge-Taylor born to white English mother and black African father (Dr Daniel Peter Hughes Taylor) in Holborn, London. Soon after this Dr Taylor returns to Sierre Leone and Samuel and his family move to Croydon. Croydon music teacher Joseph Beckwith meets 5 year old Coleridge-Taylor and starts to give him violin lessons. Coleridge-Taylor joins choir of St Mary Magdalene, Addiscombe under the baton of Colonel Herbert Walters.
Coleridge-Taylor, Samuel Coleridge-Taylor, Black Mahler
the Eye in Hand / el Ojo en la Mano
The Choctaws believed that the Sun watched them with its great blazing Eye, and so long as the Eye was on them they were all right, but if the Eye was not on them they were doomed. p 126 Perhaps the Mississippian Hand-and-Eye design represents a crystal held in a man's Hand, symbolizing the ability to see into the future, although this interpretation must remain conjectural until other evidence presents itself.73 p 169 note 73: James Howard has suggested that the Hand and Eye design had something of the meaning the Hand design had for the Plains Indians in more recent times. Namely, that it was associated with warfare, and that it might have meant, as among the Omahas and Dakotas, that the warrior wearing it had been struck or wounded by the enemy (Southeastern Ceremonial Complex, 29-34).
Nothing but Motion: CHAPTER 10
Zuckerberg May Need to Fail - Joshua Gans
Fundamental Characteristics of Chinese Medicine
EBCC Patient Day/EBCC Patientinnentag
home
Could the wars of the future be fought with mind control?
Testosterone and Estrogen
George Diller, Marine Vet at 'Occupy Long Beach,' Claims Police Brutality During Smoking Citation
Citizens Urged To Report Dispensaries To IRS For Cash Rewards
Change the World
Marijuana Legalization Pioneer Is Against Proposed Ballot Initiative to Regulate and Tax Pot Shops in California
Awesome Blog that changes Lives - Think. Believe. Act.
culture.jpg (820×2102)
With Funding In Tow, Uniiverse Launches A Platform For Collaborative Living
Path (social network)
Doomsday Capitalists' winning strategy
Doomsday Capitalists' winning strategy - Paul B. Farrell
A very mysterious foundation : Nature News
Neuroscientists unite for 'Moon shot' : Nature News
Alternative funding: Sponsor my science
Japan finds a key to unlock philanthropy
'Europe is poor so should live within its means'
9 ideas for campaign readiness
Charities Profiting Via Online Retail Sites
Buddha Dharma Network