Common connotations of ORANGE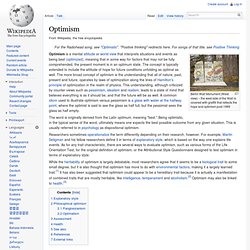 Optimism
For the Radiohead song, see " Optimistic ". "Positive thinking" redirects here. For songs of that title, see Positive Thinking . Berlin Wall Monument (West view) - the west side of the Wall is covered with graffiti that reflects the hope and optimism post-1989 Optimism is a mental attitude or world view that interprets situations and events as being best ( optimized ), meaning that in some way for factors that may not be fully comprehended, the present moment is in an optimum state. The concept is typically extended to include the attitude of hope for future conditions unfolding as optimal as well.
Endurance
Endurance (also called Sufferance , Stamina , Resilience ) is the ability of an organism to exert itself and remain active for a long period of time, as well as its ability to resist, withstand, recover from, and have immunity to trauma , wounds, or fatigue . In humans, it is usually used in aerobic or anaerobic exercise . The definition of 'long' varies according to the type of exertion – minutes for high intensity anaerobic exercise, hours or days for low intensity aerobic exercise.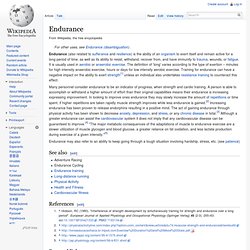 Compassion
Compassion personified: a statue at the Epcot center in Florida Compassion is the understanding or empathy for the suffering of others. It is regarded as a fundamental part of human love , and a cornerstone of greater social interconnection and humanism —foundational to the highest principles in philosophy, society, and personhood . Compassion is often regarded as emotional in nature, and there is an aspect of compassion which regards a quantitative dimension, such that individual's compassion is often given a property of "depth," "vigour," or " passion ." The etymology of "compassion" is Latin, meaning "co-suffering." More virtuous than simple empathy , compassion commonly gives rise to an active desire to alleviate another's suffering.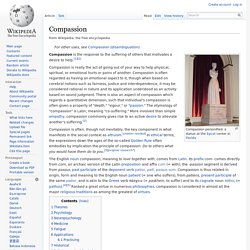 Determination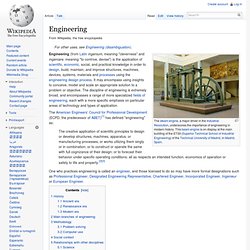 Engineering
Engineering is the application of scientific , economic , social, and practical knowledge, in order to design , build, and maintain structures, machines, devices, systems, materials and processes . It may encompass using insights to conceive, model and scale an appropriate solution to a problem or objective. The discipline of engineering is extremely broad, and encompasses a range of more specialized fields of engineering , each with a more specific emphasis on particular areas of technology and types of application.
Indian religions
A Statue of the Hindu deity Shiva . Indian religions , also known as dharmic religions , are the religions that originated in the Indian subcontinent ; namely Hinduism , Jainism , Buddhism and Sikhism . [ 1 ] These religions are also classified as Eastern religions . Although Indian religions are connected through the history of India , they constitute a wide range of religious communities and Indian religions are not confined to the Indian subcontinent. [ 1 ] The documented history of Indian religions begins with the historical Vedic religion , the religious practices of the early Indo-Aryans , which were collected and later redacted into the Samhitas (usually known as the Vedas), four canonical collections of hymns or mantras composed in archaic Sanskrit . These texts are the central shruti (revealed) texts of Hinduism . The period of the composition, redaction and commentary of these texts is known as the Vedic period , which lasted from roughly 2000 to 1500 BCE.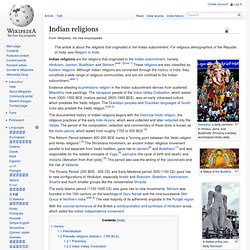 Unionism in Ireland
In Ireland, unionism, also called Ulster unionism in the context of Northern Ireland or – chiefly historically – Ulster specifically, refers to an ideology which favours the continuation of some form of political union between the islands of Ireland and Great Britain . Since the separation of the Irish Free State from the United Kingdom as a Dominion and its subsequent emergence as an independent state, unionism in Ireland has focused primarily on maintaining and preserving the place of Northern Ireland within the United Kingdom . The political relationship between England and Ireland dates from the 12th century Norman invasion. In the Act of Union 1800 , the United Kingdom of Great Britain and Ireland was created. In 1922, twenty-six counties of Ireland gained autonomy from the UK as the Dominion of the Irish Free State ; in 1949, this Dominion became a Republic and ipso facto, left the Commonwealth .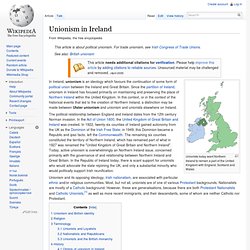 Orangism (Netherlands)
For Orangism in Belgium, see Orangism (Belgium) , for Orangism in Luxembourg see Orangism (Luxembourg) , and for Orangism in Northern Ireland see Orange Institution . Orangism is a monarchist political support for the House of Orange-Nassau as monarchy of the Netherlands . It played a significant role in the political history of the Netherlands since the Dutch revolt . Since the mid-19th century, the Netherlands has been a constitutional monarchy , meaning that the term 'Orangism' is no longer in general use and that the House of Orange, and the colour orange are now national symbols without much other political significance.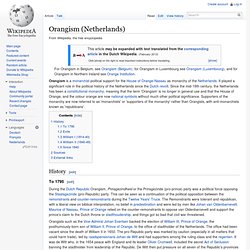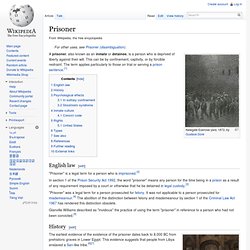 A prisoner , also known as an inmate , is a person who is deprived of liberty against their will. This can be by confinement, captivity, or by forcible restraint. The term applies particularly to those on trial or serving a prison sentence . [ 1 ] [ edit ] English law Prisoner is a legal term for a person who is imprisoned . [ 2 ]
Prisoner
Thanksgiving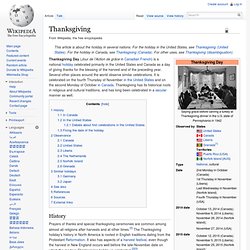 Thanksgiving Day is a national holiday celebrated primarily in the United States and Canada as a day of giving thanks for the blessing of the harvest and of the preceding year. Several other places around the world observe similar celebrations. It is celebrated on the fourth Thursday of November in the United States and on the second Monday of October in Canada .
Halloween
Halloween or Hallowe'en (a contraction of "All Hallows ' Evening "), [ 5 ] also known as All Hallows' Eve , [ 6 ] is a yearly celebration observed in a number of countries on October 31, the eve of the Western Christian feast of All Hallows (or All Saints) and the day initiating the triduum of Hallowmas . According to many scholars, All Hallows' Eve is a Christianised feast originally influenced by western European harvest festivals , [ 7 ] and festivals of the dead with possible pagan roots, particularly the Celtic Samhain . [ 6 ] [ 8 ] [ 9 ] Other scholars maintain that it originated independently of Samhain and has solely Christian roots. [ 10 ] Typical festive Halloween activities include trick-or-treating (also known as " guising "), attending costume parties , carving pumpkins into jack-o'-lanterns , lighting bonfires , apple bobbing , visiting haunted attractions , playing pranks , telling scary stories, and watching horror films . [ edit ] Etymology
Fire
The ignition and extinguishing of a pile of wood shavings. Slow motion fire sequence 1000 frame/s Fire is the rapid oxidation of a material in the exothermic chemical process of combustion , releasing heat , light , and various reaction products . [ 1 ] Slower oxidative processes like rusting or digestion are not included by this definition.
Desire
Desire is a sense of longing for a person or object or hoping for an outcome. The same sense is expressed by emotions such as "craving" or "hankering". When a person desires something or someone, their sense of longing is excited by the enjoyment or the thought of the item or person, and they want to take actions to obtain their goal. The motivational aspect of desire has long been noted by philosophers; Hobbes (1588–1679) asserted that human desire is the fundamental motivation of all human action.
Autumn
Fall [ 1 ] ( pron.: / ˈ ɔː t əm / , / ˈ ɑː t əm / or / f ɔː l / , / f ɑː l / , respectively) is one of the four temperate seasons . Fall marks the transition from summer into winter , in September ( Northern Hemisphere ) or March ( Southern Hemisphere ) when the arrival of night becomes noticeably earlier. The equinoxes might be expected to be in the middle of their respective seasons, but temperature lag (caused by the thermal latency of the ground and sea) means that seasons appear later than dates calculated from a purely astronomical perspective. The actual lag varies with region. Some cultures regard the fall equinox as "mid-fall", others with a longer lag treat it as the start of fall. [ 2 ] Meteorologists (and most of the temperate countries in the southern hemisphere) [ 3 ] use a definition based on months, with fall being September, October and November in the northern hemisphere, [ 4 ] and March, April and May in the southern hemisphere.
Warning