Common connotations of BLUE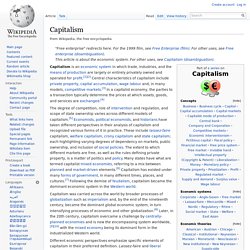 Capitalism is an economic system based on the private ownership of capital goods and the means of production , with the creation of goods and services for profit . [ 1 ] [ 2 ] Elements central to capitalism include capital accumulation , competitive markets , and a price system . [ 3 ] There are multiple variants of capitalism, including laissez-faire , welfare capitalism , and state capitalism .
Democratic Party (United States)
The Democratic Party is one of the two major contemporary political parties in the United States along with the Republican Party . Since the 1930s, the party has promoted a socially liberal and progressive platform, [ 2 ] [ 3 ] [ 4 ] and its Congressional caucus is composed of progressives , liberals , and centrists . [ 5 ] The party has the lengthiest record of continuous operation in the United States and is among the oldest political parties in the world. [ 6 ]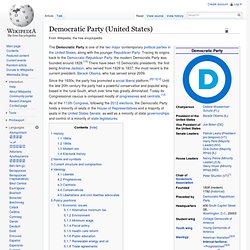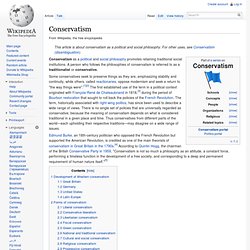 Conservatism ( Latin : conservare , "to retain") is a political and social philosophy that promotes retaining traditional social institutions.
Conservatism
Truth is most often used to mean in accord with fact or reality , [ 1 ] or fidelity to an original or to a standard or ideal. [ 1 ] The opposite of truth is falsehood , which, correspondingly, can also take on a logical, factual, or ethical meaning.
Truth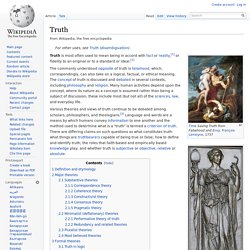 Magic is the art of producing a desired effect or result through the use of incantation , ceremony, ritual, the casting of spells or various other techniques that presumably assure human control of supernatural agencies or the forces of nature . [ 1 ] Magic has been practiced in many cultures, and utilizes ways of understanding, experiencing and influencing the world somewhat akin to those offered by religion , though it is sometimes regarded as more focused on achieving results than religious worship. [ 2 ] Magic is often viewed with suspicion by the wider community, and is commonly practiced in isolation and secrecy. [ 3 ]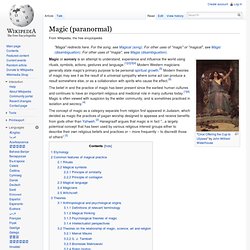 Calm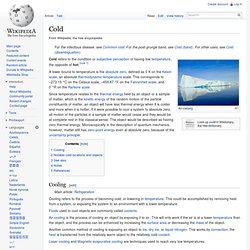 Cold refers to the condition or subjective perception of having low temperature , the opposite of hot . [ note 1 ] A lower bound to temperature is the absolute zero , defined as 0 K on the Kelvin scale , an absolute thermodynamic temperature scale. This corresponds to −273.15 °C on the Celsius scale, −459.67 °F on the Fahrenheit scale , and 0 °R on the Rankine scale . Since temperature relates to the thermal energy held by an object or a sample of matter, which is the kinetic energy of the random motion of the particle constituents of matter, an object will have less thermal energy when it is colder and more when it is hotter. If it were possible to cool a system to absolute zero, all motion of the particles in a sample of matter would cease and they would be at complete rest in this classical sense.
Cold
A boy is a young male human , usually child or adolescent . When he becomes an adult he's described as a man . The most apparent thing that differentiates a boy from a girl is that a boy typically has a penis while girls have a vagina . However some intersex children with ambiguous genitals, and genetically female transgender children, may also be classified or self-identify as a boy. The term "boy" is primarily used to indicate biological sex distinctions, cultural gender role distinctions or both. The latter most commonly applies to adult men, either considered in some way immature or inferior, in a position associated with aspects of boyhood, or even without such boyish connotation as age-indiscriminate synonym.
Boy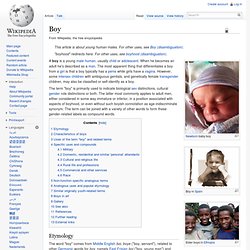 Royal family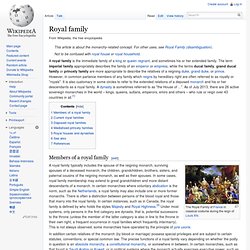 A royal family is the extended family of a king or queen regnant . The term imperial family appropriately describes the extended family of an emperor or empress , while the terms "ducal family", "grand ducal family" or "princely family" are more appropriate to describe the relatives of a reigning duke , grand duke , or prince . However, in common parlance members of any family which reigns by hereditary right are often referred to as royalty or "royals". It is also customary in some circles to refer to the extended relations of a deposed monarch and his or her descendants as a royal family. [ edit ] Members of a royal family A royal family typically includes the spouse of the reigning monarch, surviving spouses of a deceased monarch, the children, grandchildren, brothers, sisters, and cousins of the reigning monarch, as well as their spouses.
Police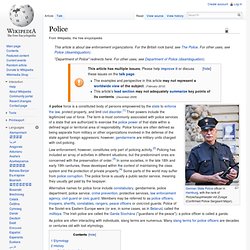 The famous "black and white" LAPD police cruiser Metropolitan police BMW 3 series in London
Winter ( / ˈ w ɪ n t ər / WIN -tər ) is the coldest season of the year in temperate climates , between autumn and spring. It is caused by the axis of the Earth in the respective hemisphere being oriented away from the Sun. Different cultures define different dates as the start of winter, and some use a definition based on weather, but when it is winter in the Northern Hemisphere it is summer in the Southern Hemisphere, and vice versa. In many regions, winter is associated with snow and freezing temperatures.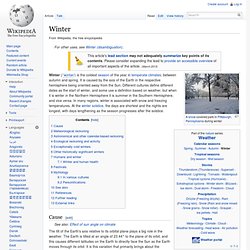 Winter
A detail of the 1672 sculpture Entombment of Christ , showing Mary Magdalene crying. Sadness is emotional pain associated with, or characterized by feelings of disadvantage, loss, despair, helplessness and sorrow. An individual experiencing sadness may become quiet or lethargic, and withdraw themselves from others. Crying is often an indication of sadness. [ 1 ] Sadness is one of Paul Ekman 's "six basic emotions – happy , sad, angry , surprised , afraid , disgusted ". [ 2 ] Sadness can be viewed as a temporary lowering of mood , whereas depression is more chronic. [ edit ] In childhood
Sadness
The sky , also known as the celestial dome , commonly refers to everything that lies a certain distance above the surface of Earth , including the atmosphere and the rest of outer space . In the field of astronomy , the sky is also called the celestial sphere . This is an imaginary dome where the sun, stars, planets, and the moon are seen to be traveling.
Sky
Water in three states: liquid, solid ( ice ), and (invisible) water vapor in the air. Clouds are accumulations of water droplets, condensed from vapor-saturated air.
Ice
A natural block of (water) ice