Learning American Sign Language
ASL Music Video: Opposites Attract by Paula Abdul. Sign Language - ASL. 50 States and Capital cities in ASL. Learn Sign Language » Sign of the Week – "I" How To Say 'Abortion' And 'Fucktard' In Sign Language. One of my best friends in college was a Delta Zeta, and their charity they focused on was at a school for the deaf and blind, so they'd raise money for them and occasionally volunteer.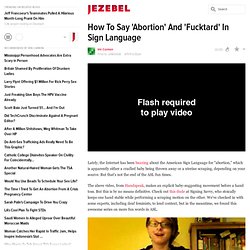 One day, my friend tried explaining to the deaf students that they were in a sorority called Delta Zeta. This consisted of her loudly saying "DEEELLLTTAAA ZZAAAYYYYTTTAAA" and making what she thought would be the sigh language symbol for their sorority (which is Greek is a triangle and a letter Z) Said friend did not know sign language. After horrifying several children, a teacher pulled her aside and asks her what she told the kids. I Will Always Love You - Whitney Houston - Sign Language Music. Table Waffles. Fingerspelled alphabet. Dr. Bill Vicars' American Sign Language (ASL) Fingerspelling Practice Site. Aslpro. Sign language added to high school course offerings. Making the Scotland connection Local artist weaving tartans for exchange trip AnnLynn Whiteside can often be found these days tucked away in her small studio just outside of Newnan, working diligently at her weaving lo ...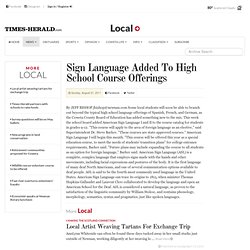 Read More Published on Sunday, April 13, 2014.
---