Android Hardware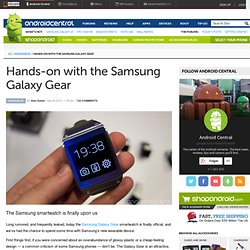 The Samsung smartwatch is finally upon us Long rumored, and frequently leaked, today the Samsung Galaxy Gear smartwatch is finally official, and we've had the chance to spend some time with Samsung's new wearable device. First things first, if you were concerned about an overabundance of glossy plastic or a cheap-feeling design — a common criticism of some Samsung phones — don't be. The Galaxy Gear is an attractive, well-built piece of technology that looks like a premium sports watch. The front is furnished in metal and sapphire glass, while the matte plastic body blends seamlessly into the soft-touch, rubberized strap. It's comfortable to use and comfortable to wear.
Hands-on with the Samsung Galaxy Gear
Go Clever 9in Tablet with keyboard Android 4.0 8GB WiFi Multi Touch Capacitive Tablet £55.99 :: www.svp.co.uk
Starting in 2007, capacitive touchscreen technology began revolutionizing first the smartphone market, and now the tablet market. Not everyone wants a flat touch display for input, however, causing some to cling to devices with physical buttons. What if you could have the best of both worlds with buttons that rise up from a flat touch screen as needed? That's the promise Tactus Technology plans to deliver on.
New screen tech has buttons that rise on command — Mobile Technology News
Enjoy Smart TV Box, Powered by Android 2.3 - ATV1000 Enjoy TV Basic
Androids running amok on iPads
Android To Run On Intel Chips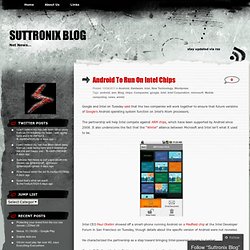 Google and Intel on Tuesday said that the two companies will work together to ensure that future versions of Google's Android operating system function on Intel's Atom processors. The partnership will help Intel compete against ARM chips, which have been supported by Android since 2008. It also underscores the fact that the "Wintel" alliance between Microsoft and Intel isn't what it used to be. Intel CEO Paul Otellini showed off a smart-phone running Android on a Medfield chip at the Intel Developer Forum in San Francisco on Tuesday, though details about the specific version of Android were not revealed. He characterized the partnership as a step toward bringing Intel-powered phones to market. Google SVP of mobile Andy Rubin showed up too, signalling the two companies' continued commitment to a relationship that encompasses Intel's involvement in Chrome OS, Google TV, and its effort to port Android 3.0 "Honeycomb" to the x86 chip architecture.
Swappa (Android) Buy and sell Android devices
Want to install Google Maps on your brand-new, fresh-out-of-the-box Kindle Fire? You can't, because the stock Kindle Fire is limited to downloading apps from the Amazon Appstore. If you love to tinker with devices and improve them, however, you can follow our separate guide to rooting your Kindle Fire. Afterward, you can use your newfound superuser powers to install the Google Android Market on your device. It isn't a simple process, but it is pretty straightforward--and it's worth the time if you wish to turn your $200 Kindle Fire into a robust Android tablet.
How to Install the Android Market on Your Kindle Fire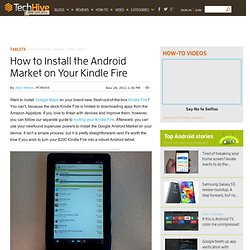 Galaxy Nexus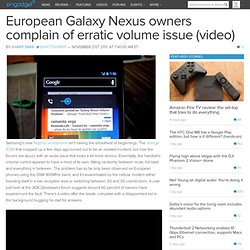 Samsung's new flagship smartphone isn't having the smoothest of beginnings. The strange ROM that cropped up a few days ago turned out to be an isolated incident, but now the forums are abuzz with an audio issue that looks a lot more serious. Essentially, the handset's volume control appears to have a mind of its own, flitting randomly between mute, full blast and everything in between. The problem has so far only been observed on European phones using the GSM 900MHz band, and it's exacerbated by the cellular modem either boosting itself in a low reception area or switching between 2G and 3G connections. A user poll over at the XDA Developers forum suggests around 60 percent of owners have experienced the fault. There's a video after the break, complete with a disappointed kid in the background bugging his dad for answers.
European Galaxy Nexus owners complain of erratic volume issue (video)
Android 4.0 is coming, and it's going to be glorious. Now that we know exactly what the Ice Cream Sandwich is made of, only one question remains: exactly which phones will get the green light to upgrade to the newest version of Google's mobile OS? Details are beginning to trickle out from the woodwork, and below the break you can check out our list of lucky devices that have been confirmed to get the official refresh at some point in time. We're still awaiting official word from a few companies regarding their upgrade intentions, so we'll continue to add more to the list as they stream in. For now, join us after the break to find out which ones have been given the stamp of approval -- or the cold hard rejection letter. Note: If you don't see your device listed, don't fret... yet.
Which devices will get Ice Cream Sandwich?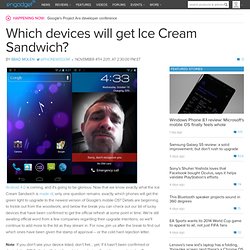 The Blade II was released in March 2012 with Qualcomm Snapdragon MSM7227A 1 GHz processor and Android 2.3 Gingerbread.[5] The Blade III was released in September 2012 with a 4 in screen, 4 GB storage, a 1600 mAh Li-Ion battery and Android 4.0 Ice Cream Sandwich.[6] The Blade brand has since been applied to successor models such as Blade C and Blade L. Variants[edit] In some countries, the ZTE Blade is available in customized versions with different cameras and touchscreen displays and often bears a different brand name: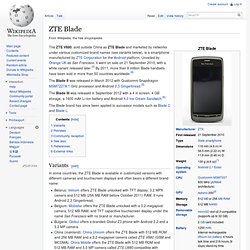 ZTE Blade
ZTE Blade
Sumvision Android Cyclone Media Player - Android 2.3 | CYCLONEANDROID