Extra Hardware
Helix. Wang Buds :: Fannywang.com. How to Keep One Ear Open When Using Headphones. Audio-Technica ATH-M30 -Technica ATH-M30 - Best headphones for under $50 (pictures) The Monoprice 8320s Are the Best Earbuds You'll Find Under $10. For anyone curious, these are the aftermarket tips I used for my 8320s: The stock ones were much too big and made the headphones sound like crap.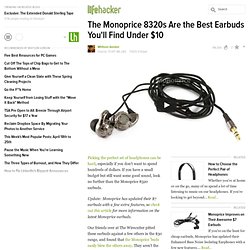 After switching to a size small tip, the headphones sounded incredible. It's crazy how much difference a good seal makes. ZIK design by Starck - The headset for the smartphone generation. (55) Fab.com | Heavy-Duty Accessories. Quirky Wired Headphones. Listening to music when you're not near your surround sound system should be easy.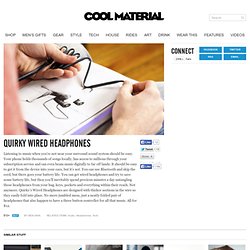 Your phone holds thousands of songs locally, has access to millions through your subscription service and can even beam music digitally to far off lands. It should be easy to get it from the device into your ears, but it's not. You can use Bluetooth and skip the cord, but there goes your battery life. You can get wired headphones and try to save some battery life, but then you'll inevitably spend precious minutes a day untangling those headphones from your bag, keys, pockets and everything within their reach. Not anymore. Light Pick. Unless you're Dave Grohl or some other mega-famous guitar player (we'll assume you aren't, our apologies to Dave who is no doubt reading this) you may not want to be chucking these bad boys into the crowd after your next gig.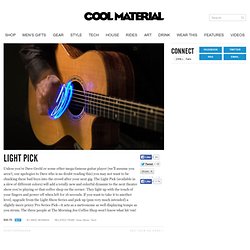 The Light Pick (available in a slew of different colors) will add a totally new and colorful dynamic to the next theater show you're playing or that coffee shop on the corner. They light up with the touch of your fingers and power off when left for 16 seconds. The History of Headphones. Surprisingly, not everyone wants to hear our music.
When we were pumping our LCD Soundsystem mixtape, others in the office said they couldn't "concentrate" and they "wished we were fired." For this, and for many other reasons, headphones are an absolute necessity in our daily lives. It was long before Steve Jobs produced white earbuds and Dr. Koostik Mini Koo iPhone Amplifier & Dock. Miniaturization goes hand in hand with most technological marvels.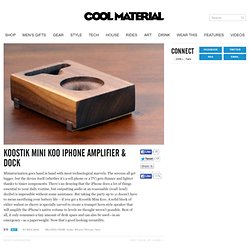 The screens all get bigger, but the device itself (whether it's a cell phone or a TV) gets thinner and lighter thanks to tinier components. There's no denying that the iPhone does a lot of things essential to your daily routine, but outputting audio at an reasonable (read: loud) decibel is impossible without some assistance. Unleash Your Headphones' Full Potential with a USB DAC and Amplifier. For many people, using the right headphones will make a bigger difference.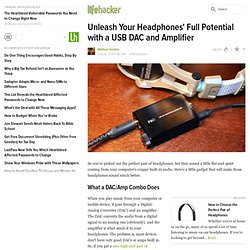 I'm still using a pair of inexpensive (for the time — $100) 20-25-year-old Sony MDR V7's (I think it's the V7 as opposed to the V6 — it's at work, and I'm currently at home). This is a closed, over-the-ear headphone. The low-end-bass, crispness, and dynamic range are amazing (yes, I know that the frequency response isn't flat, but I like the colored sound of the Sony).