Spotters - photos d'avions
Avialogs: Aviation E-Library and more. Apache Roll, le blog de la patrouille Breitling v2. Spot'Air : L'association des passionnés d'aéronautique ! Bienvenue dans le cockpit - PilotsEYE.tv. 2012 Raytheon Award Video - Amazing F-15 Aerial Dogfighting. In flight. Portail de vos vols. Thirty Thousand Feet - Aviation Podcasts. Aviation Podcast Program Guide This Program Guide lists the most recent episodes of selected aviation podcasts.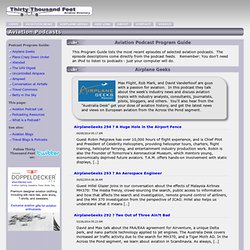 The episode descriptions come directly from the podcast feeds. Remember: You don't need an iPod to listen to podcasts - just your computer will do. Airplane Geeks Max Flight, Rob Mark, and David Vanderhoof are guys with a passion for aviation. Airplane Geeks Podcast - Aviation Podcast. Direction Générale de l'Aviation Civile. Airliners.net | Airplanes - Aviation - Aircraft- Aircraft Photos & News.
---