Spotters - photos d'avions
Avialogs: Aviation E-Library and more
Apache Roll, le blog de la patrouille Breitling v2
Spot'Air : L'association des passionnés d'aéronautique !
Bienvenue dans le cockpit - PilotsEYE.tv
2012 Raytheon Award Video - Amazing F-15 Aerial Dogfighting
In flight
Portail de vos vols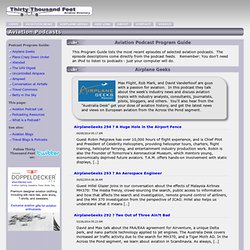 Aviation Podcast Program Guide This Program Guide lists the most recent episodes of selected aviation podcasts. The episode descriptions come directly from the podcast feeds. Remember: You don't need an iPod to listen to podcasts - just your computer will do. Airplane Geeks Max Flight, Rob Mark, and David Vanderhoof are guys with a passion for aviation.
Thirty Thousand Feet - Aviation Podcasts
Airplane Geeks Podcast - Aviation Podcast
Direction Générale de l'Aviation Civile
Airliners.net | Airplanes - Aviation - Aircraft- Aircraft Photos & News