Spotters - photos d'avions
Avialogs: Aviation E-Library and more
Apache Roll, le blog de la patrouille Breitling v2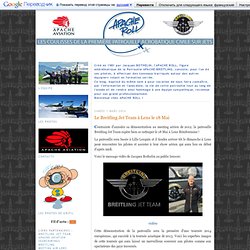 Jacques et Luc sont allés à Las Végas pour assister à l'International Council of Airshow (ICAS). Cette convention regroupe chaque année tous les participants des meetings aériens, qu'ils soient organisateurs, pilotes ou commentateurs, mais c'est aussi l'occasion d'y rencontrer des patrouilles telles que les Blue Angels, les Snowbirds et notamment les Thunderbirds, de nouveau autorisés à voler et que nos pilotes ont pu admirer à l'entrainement. Le repère des Thunderbirds se situe sur la base de l'USAF de Nellis dans le Nevada, au milieu d'un grand nombre d'aéronefs comme les F-16, les F-22 et F-5 et aussi des Chinook. Tout est à l'image de cette célèbre patrouille comme par exemple le salon officiel ou les hangars décorés à leurs couleurs. Une ambiance professionnelle de qualité qui ne peut que plaire à la marque Breitling !
Spot'Air : L'association des passionnés d'aéronautique !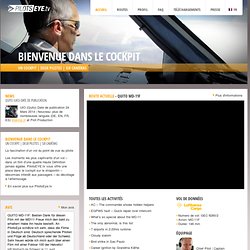 News QUITO (UIO) Date de publication UIO (Quito) Date de publication 24 Mars 2014 | Nouveau: plus de nombreuses langues (DE, EN, FR, ES) Making of at Prof.Production Bienvenue dans le cockpit UN cockpit | DEUX pilotes | SIX caméras
Bienvenue dans le cockpit - PilotsEYE.tv
2012 Raytheon Award Video - Amazing F-15 Aerial Dogfighting
In flight
Portail de vos vols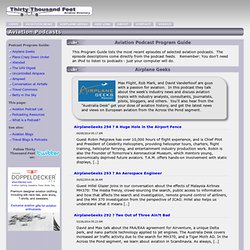 Aviation Podcast Program Guide This Program Guide lists the most recent episodes of selected aviation podcasts. The episode descriptions come directly from the podcast feeds. Remember: You don't need an iPod to listen to podcasts - just your computer will do. Airplane Geeks Max Flight, Rob Mark, and David Vanderhoof are guys with a passion for aviation.
Thirty Thousand Feet - Aviation Podcasts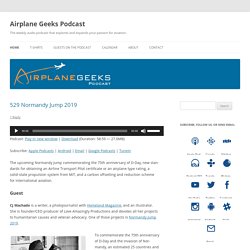 Bill English is Investigator in Charge with the Office of Aviation Safety at the National Transportation Safety Board (NTSB) and he walks us through the NTSB investigation of the July 6, 2013 crash of Asiana Flight 214 at San Francisco International Airport, from the first call to the investigative hearing December 11, 2013. Boarding the FAA airplane We talk about the assembly of the team and go-bag preparation, gathering initial information, and transport to the site. Bill continues with the on-site command post set up, securing the scene and harvesting perishable evidence. Site access and support area
Airplane Geeks Podcast - Aviation Podcast
Direction Générale de l'Aviation Civile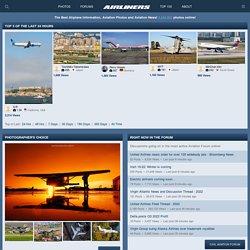 New on Airliners.net Every type from fighters to helicopters from air forces around the globe Props and jets from the good old days Views from inside the cockpit Passenger cabin shots showing seat arrangements as well as cargo aircraft interior Pictures of great freighter aircraft
Airliners.net | Airplanes - Aviation - Aircraft- Aircraft Photos & News