Epistémologie et histoire des sciences
Pathological science. Pathological science is the process by which "people are tricked into false results ... by subjective effects, wishful thinking or threshold interactions".[1][2] The term was first[3] used by Irving Langmuir, Nobel Prize-winning chemist, during a 1953 colloquium at the Knolls Research Laboratory.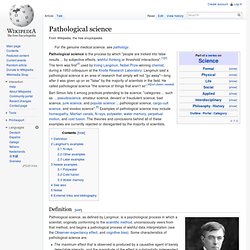 Langmuir said a pathological science is an area of research that simply will not "go away"—long after it was given up on as "false" by the majority of scientists in the field. He called pathological science "the science of things that aren't so".[4][full citation needed] Voodoo science: the road from ... Pathological science. Maux d'artistes. La recherche biomédicale en danger - Philippe EVEN. L'expérience de l'auteur, sa documentation et son style acéré sont uniques.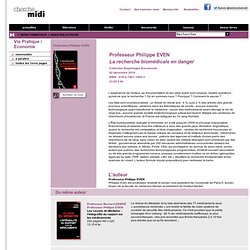 Quatre questions : qu'est-ce que la recherche ? Où en sommes-nous ? Perdons nous connaissance, par Lionel Naccache. Biblionet.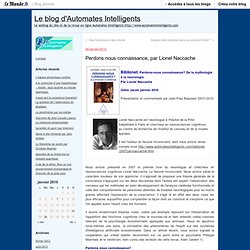 Perdons-nous connaissance? De la mythologie à la neurologie Par Lionel Naccache Odile Jacob janvier 2010. Les jardiniers de la folie. Petit traité de l'imposture scientifique. Collections BELIN/Pour la Science - Regards 224 pages 14 x 22 cm Livre et assimilé.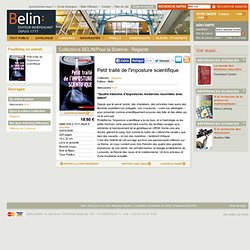 Disturbances of the Mind. Sergei Korsakoff, Alois Alzheimer, James Parkinson, Hans Asperger and other eminent scientists, are all names which have become synonymous with a disease, a syndrome, or an autistic disorder.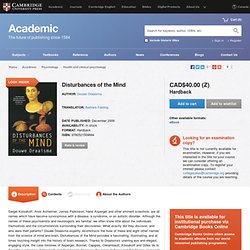 Although the names of these psychiatrists and neurologists are familiar, we often know little about the individuals themselves and the circumstances surrounding their discoveries. What exactly did they discover, and who were their patients? Douwe Draaisma expertly reconstructs the lives of these and eight other 'names' from the science of mind and brain. Disturbances of the Mind provides a fascinating, illuminating, and at times touching insight into the history of brain research. Un iceberg dans mon whisky. Claude Bernard (1813-1878), Introduction à l'étude de la médecine expérimentale (1865)
Histoire de la folie Claude Quetel. Biographie de Claude Quétel Claude Quétel, ancien directeur de recherches au CNRS, est un historien spécialiste de l'histoire de l'enfermement et de la psychiatrie.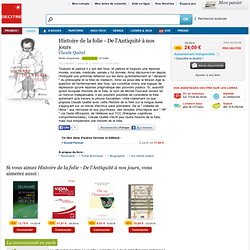 Il a été codirecteur et coauteur de l'ouvrage de référence Nouvelle histoire de la psychiatrie (éd Privat, 1983, rééd Dunod 1994 et 2004).
---