Investigative reporters
E. D. Morel. Background[edit] Morel was born in the Avenue d'Eylau, Paris.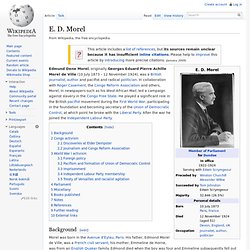 His father, Edmond Morel de Ville, was a French civil servant; his mother, Emmeline de Horne, was from an English Quaker family. Edmond died when the boy was four and Emmeline subsequently fell out with her late husband's family. George Seldes. George Seldes (/ˈsɛldəs/ SEL-dəs;[aa][1] November 16, 1890 — July 2, 1995) was an American investigative journalist and media critic.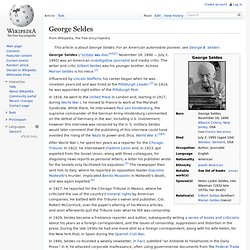 The writer and critic Gilbert Seldes was his younger brother. Actress Marian Seldes is his niece.[2] Influenced by Lincoln Steffens, his career began when he was nineteen years old and was hired at the Pittsburgh Leader.[2] In 1914, he was appointed night editor of the Pittsburgh Post. In 1916, he went to the United Press in London and, starting in 1917, during World War I, he moved to France to work at the Marshall Syndicate. While there, he interviewed Paul von Hindenburg, the supreme commander of the German Army. Seymour Hersh. Seymour Myron "Sy" Hersh (born April 8, 1937) is an American investigative journalist and author based in Washington, D.C.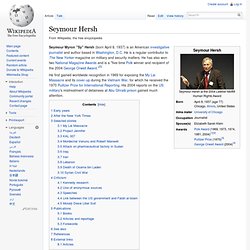 He is a regular contributor to The New Yorker magazine on military and security matters. He has also won two National Magazine Awards and is a "five-time Polk winner and recipient of the 2004 George Orwell Award. Ida M. Tarbell. Ida Minerva Tarbell (November 5, 1857 – January 6, 1944) was an American teacher, author and journalist.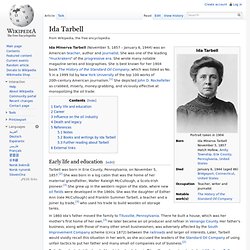 She was one of the leading "muckrakers" of the progressive era. She wrote many notable magazine series and biographies. She is best known for her 1904 book The History of the Standard Oil Company, which was listed as No. 5 in a 1999 list by New York University of the top 100 works of 20th-century American journalism.[1] She depicted John D. Rockefeller as crabbed, miserly, money-grabbing, and viciously effective at monopolizing the oil trade. Lincoln Steffens. Steffens in 1914 Lincoln Steffens (April 6, 1866 – August 9, 1936) was a New York reporter who launched a series of articles in McClure's that would later be published together in a book titled The Shame of the Cities.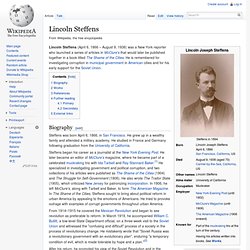 He is remembered for investigating corruption in municipal government in American cities and for his early support for the Soviet Union. Upton Sinclair. Early life and education[edit] Sinclair was born in Baltimore, Maryland to Upton Beall Sinclair and Priscilla Harden.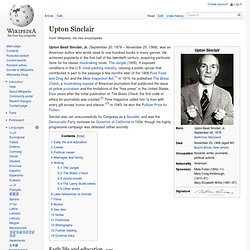 His father was a liquor salesman whose alcoholism shadowed his son's childhood. Priscilla Harden Sinclair was a strict Episcopalian who disliked alcohol, tea, and coffee. Sinclair did not get along with her when he became older because of her strict rules and refusal to allow him independence. The Official Website of I.F. Stone.
---