Investigative reporters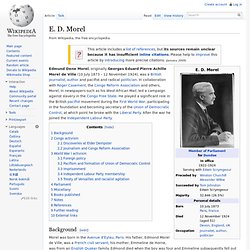 E. D. Morel
Edmund Dene Morel , originally Georges Eduard Pierre Achille Morel de Ville (10 July 1873 – 12 November 1924), was a British journalist , author and socialist politician . In collaboration with Roger Casement , the Congo Reform Association and others, Morel, in newspapers such as his West African Mail , led a campaign against slavery in the Congo Free State . He played a significant role in the British pacifist movement during the First World War , participating in the foundation and becoming secretary of the Union of Democratic Control , at which point he broke with the Liberal Party . After the war he joined the Independent Labour Party .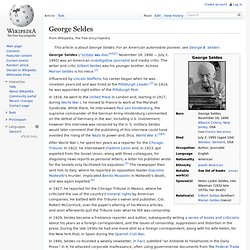 George Seldes
George Seldes ( / ˈ s ɛ l d ə s / SEL -dəs ; [aa] [ 4 ] November 16, 1890 – July 2, 1995) was an American investigative journalist and media critic. The writer and critic Gilbert Seldes was his younger brother. Actress Marian Seldes is his niece. [ 5 ] Influenced by Lincoln Steffens , his career began when he was nineteen years old and was hired at the Pittsburgh Leader . [ 5 ] In 1914, he was appointed night editor of the Pittsburgh Post . In 1916, he went to the United Press in London and, starting in 1917, during World War I , he moved to France to work at the Marshall Syndicate. While there, he interviewed Paul von Hindenburg , the supreme commander of the German Army.
Seymour Hersh
Seymour (Sy) Myron Hersh (born April 8, 1937) is an American Pulitzer Prize -winning investigative journalist and author based in Washington, D.C.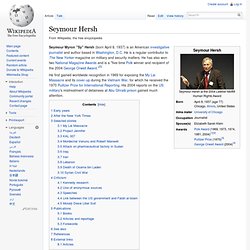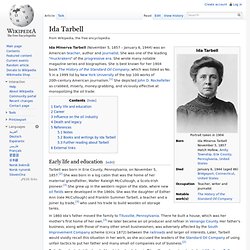 Ida M. Tarbell
Ida Minerva Tarbell (November 5, 1857 – January 6, 1944) was an American teacher , author and journalist .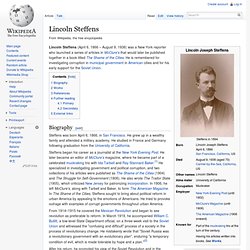 Steffens in 1914 Lincoln Steffens (April 6, 1866 – August 9, 1936) was a New York reporter who launched a series of articles in McClure's that would later be published together in a book titled The Shame of the Cities . He is famous for investigating corruption in municipal government in American cities and for his early support for the Soviet Union .
Lincoln Steffens
Upton Sinclair
Upton Beall Sinclair Jr.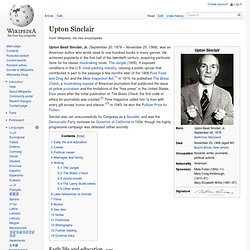 The Official Website of I.F. Stone