CLIMATE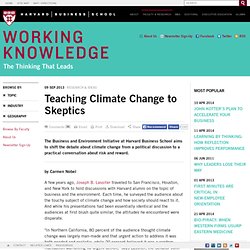 A few years ago, Joseph B. Lassiter traveled to San Francisco, Houston, and New York to hold discussions with Harvard alumni on the topic of business and the environment. Each time, he surveyed the audience about the touchy subject of climate change and how society should react to it. And while his presentations had been essentially identical and the audiences at first blush quite similar, the attitudes he encountered were disparate.
Teaching Climate Change to Skeptics
Heaviest rains in 60 years kill 37 in Beijing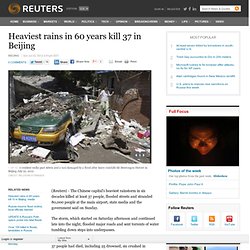 BEIJING Sun Jul 22, 2012 2:41pm EDT BEIJING (Reuters) - The Chinese capital's heaviest rainstorm in six decades killed at least 37 people, flooded streets and stranded 80,000 people at the main airport, state media and the government said on Sunday. The storm, which started on Saturday afternoon and continued late into the night, flooded major roads and sent torrents of water tumbling down steps into underpasses. The Beijing city government said on its official microblog at least 37 people had died, including 25 drowned, six crushed in collapsing homes, five electrocuted and one struck by lightning.
Connect4Climate | A campaign, a competition, and a community that cares about climate change
WeForest | WeForest.org | Global | Reforestation | NGO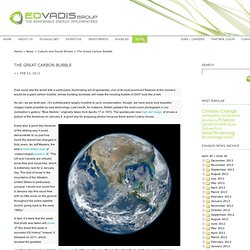 The Great Carbon Bubble – EoVadis Ltd
>> Feb 22, 2012 If we could see the world with a particularly illuminating set of spectacles, one of its most prominent features at the moment would be a giant carbon bubble, whose bursting someday will make the housing bubble of 2007 look like a lark. As yet—as we shall see—it's unfortunately largely invisible to us.In compensation, though, we have some truly beautiful images made possible by new technology.
THE FUCKING WEATHER
Intergovernmental Panel on Climate Change
Naomi Klein: Why Climate Change Is So Threatening to Right-Wing Ideologues
AMY GOODMAN: Our guest for the hour is Naomi Klein, journalist and author. Her latest book, The Shock Doctrine: The Rise of Disaster Capitalism. She's writing a new book on climate change and the climate change deniers. Naomi, take it from there.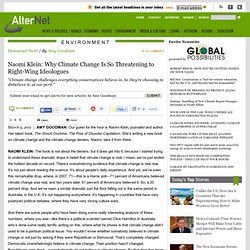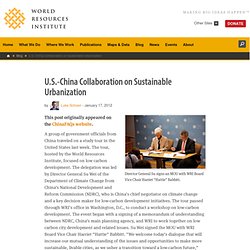 This post originally appeared on the ChinaFAQs website. A group of government officials from China traveled on a study tour in the United States last week. The tour, hosted by the World Resources Institute, focused on low carbon development. The delegation was led by Director General Su Wei of the Department of Climate Change from China's National Development and Reform Commission (NDRC), who is China's chief negotiator on climate change and a key decision maker for low-carbon development initiatives.
U.S.-China Collaboration on Sustainable Urbanization
World Resources Institute | Global Warming, Climate Change, Ecosystems, Sustainable Markets, Good Governance & the Environment
City goes back to school on climate change » Local News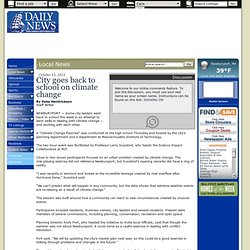 NEWBURYPORT — Some city leaders went back to school this week in an attempt to learn skills in dealing with climate change — and working with each other. A "Climate Change Exercise" was conducted at the high school Thursday and hosted by the city's planning department and a department at Massachusetts Institute of Technology. The two-hour event was facilitated by Professor Larry Susskind, who heads the Science Impact Collaborative at MIT. Close to two-dozen participants focused on an urban problem created by climate change.