Environmental/Public Policy/Public Partic.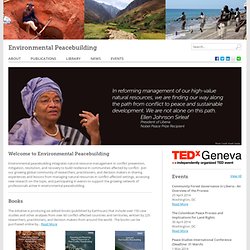 Environmental peacebuilding integrates natural resource management in conflict prevention, mitigation, resolution, and recovery to build resilience in communities affected by conflict. Join our growing global community of researchers, practitioners, and decision makers in sharing experiences and lessons from managing natural resources in conflict-affected settings, accessing new research on the topic, and participating in events to support the growing network of professionals active in environmental peacebuilding. The initiative is producing six edited books (published by Earthscan) that include over 150 case studies and other analyses from over 60 conflict-affected countries and territories, written by 225 researchers, practitioners, and decision makers from around the world. The books can be purchased online by... Read More
Environmental Peacebuilding
Jatropha for local development The Hivos Green Entrepreneurship programme has engaged in various pilot biofuel projects in the recent past, mostly involving the Jatropha plant. These aimed to provide additional cash income for small-scale farmers who grow the crops, and may have additional aims, such as adapting engines, converting the pure plant oil into bio-diesel, or even broader goals such as providing the community with...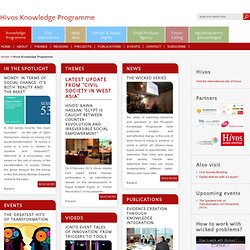 Hivos Knowledge Programme / Home - Ontwikkelingsorganisatie Hivos
Resesource Disputes in Climate change
The Governance Commons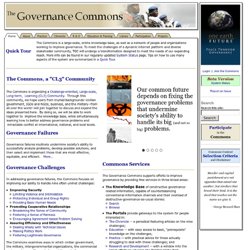 The Commons, a "CL3" Community The Commons is organizing a Challenge-oriented, Large-scale, Long-term, Learning (CL3) Community . Through this community, we hope users from myriad backgrounds--civilian government, IGOs and NGOs, business, and the military--from all over the world--will join together to discuss and expand the ideas presented here. By doing so, we will be able to work together to improve the knowledge base, while simultaneously learning how to better address governance problems and intractable conflict at international, national, and local levels. Governance Failures
Case Studies from the SCN Website
Whereas some case studies from the previous Sustainable Communities Network website are no longer available, Sustainability in Action: Profiles of Community Initiatives Across the United States is included on this website and is available in PDF format. These profiles of sustainability initiatives, one from each state and the District of Columbia, were originally prepared in 1995 for the U.S. Environmental Protection Agency's Office of Urban and Economic Development Office which became the Office of Sustainable Communities in 2010.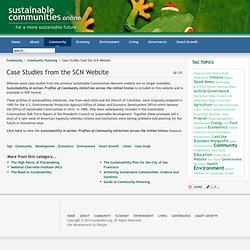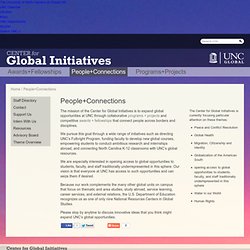 CGI | About Us
The mission of the Center for Global Initiatives is to expand global opportunities at UNC through collaborative programs + projects and competitive awards + fellowships that connect people across borders and disciplines. We pursue this goal through a wide range of initiatives such as directing UNC's Fulbright Program, funding faculty to develop new global courses, empowering students to conduct ambitious research and internships abroad, and connecting North Carolina K-12 classrooms with UNC's global resources. We are especially interested in opening access to global opportunities to students, faculty, and staff traditionally underrepresented in this sphere.
Greetings! IEN works on challenging and innovative projects to ensure that communities are sustained ecologically, socially, and economically. We're pleased that you've found us and invite you to look around. You can learn about our services, explore our current projects, meet our team, apply for an internship, or read about IEN in the news.
IEN | Building a Sustainable Future for Virginia's Communities and Beyond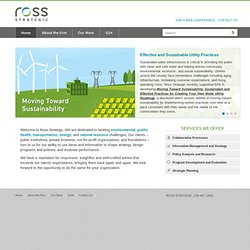 Ross & Associates
Welcome to Ross Strategic. We are dedicated to tackling environmental, public health, transportation, energy, and natural resource challenges. Our clients – public institutions, private business, not-for-profit organizations, and foundations – turn to us for our ability to use ideas and information to shape strategy, design programs and policies, and evaluate performance. We have a reputation for responsive, insightful, and well-crafted advice that exceeds our clients' expectations, bringing them back again and again. We look forward to the opportunity to do the same for your organization.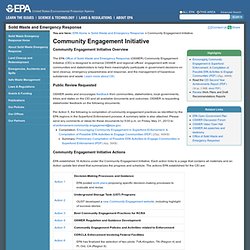 Community Engagement Initiative | Solid Waste and Emergency Response
You are here: EPA Home Solid Waste and Emergency Response Community Engagement Initiative Community Engagement Initiative Overview The EPA Office of Solid Waste and Emergency Response (OSWER) Community Engagement Initiative (CEI) is designed to enhance OSWER and regional offices' engagement with local communities and stakeholders to help them meaningfully participate in government decisions on land cleanup, emergency preparedness and response, and the management of hazardous substances and waste. Learn more about CEI. Public Review Requested
The Arava Institute for Environmental Studies
Ismael, 27, is a Palestinian from the Fawwar refugee camp in Hebron. One of 7 siblings, Ismael has a Bachelor of Science in Education and worked for 3 years as a science teacher prior to attending the Arava Institute. The atmosphere of acceptance at the Arava Institute left an impression on Ismael who stated, "The people there are special. Everyone was equal.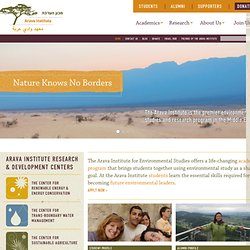 Register NOW for Quivira Coalition FREE Workshops Volunteer Work and Monitoring Weekend at Red Canyon ReserveMay 2-4, Friday - Sunday Near Socorro, New Mexico Tools to Manage Drought and DisturbanceWith Kirk Gadzia of Resource Management Services, LLC May 8-9, Thursday and Friday Silver City, New Mexico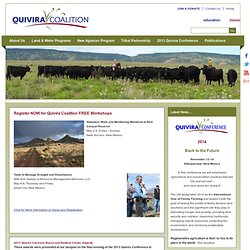 Quivira Coalition:
Training opportunity: Citizen Participation and Accountability at the Hague Academy 17-28 June 2013, The Hague Academy, The Netherlands Questions to be discussed in this innovative training course are: How can municipalities increase social and financial accountability towards their citizens? What are the different steps for communication and participation in the policy process?
PG Exchange
ACR Environment and Public Policy Section
Welcome to the ACR Environment & Public Policy Section Website! A place for EPP Section members and other interested folks to share ideas and information about applying alternative dispute resolution methods and processes to solve complex public problems. subscribe
Dexter is the founder of Intrinsic Consulting, LLC, a public involvement, citizen outreach, and stakeholder facilitation firm headquartered in Flagstaff, Arizona, and specializing in environmental, community infrastructure, and transportation issues. He is a Navajo tribal member and traditionalist, with ties to the Hopi Reservation and experience with many tribes and rural communities in the Southwest and across the US. Dexter has presented at a variety of conferences and symposia throughout the US, most recently at the 2007 Navajo Transportation Conference in Albuquerque.
Public Decisions
community planning | welcome
Imagine the Gulf coast of the United States, and you likely envision a dolphin jumping playfully out of the water – it is an image that the tourism industry has carefully cultivated for decades. But that picture has been replaced by the impact of the Deepwater Horizon oil spill which dumped millions of barrels of crude oil into the waters of the Gulf where the dolphins live and play. Many pictures were broadcast around the world of dolphins trying to jump through the oil slick that spread on the water's surface, and there has been great concern raised about the effect on wildlife of the toxic chemicals dispersants that were dumped into the water in unprecedented quantities in an attempt to break up the oil.
environmentalframing.org
More News Headlines | Discuss the News learn about xml syndication EnviroLink Forum Join the discussion! Debate environmental issues in the EnviroLink Forum with other members of the EnviroLink community. Animal Concerns A project of EnviroLink, Animal Concerns is the online community for people concerned about the welfare and rights of animals.
About IIED
Sanda Kaufman's HomePage
International Association for Public Participation
The World's Water
default
Conflict Prevention and Resolution Center
Welcome to the Marasco Newton Group, Ltd. Home Page
National Network for Collaboration
FCRC Consensus Center Main Page
Welcome to The Massachusetts Office of Dispute Resolution
Environmental Problem-Solving Center
FMCS
RESOLVE
Consensus Building Institute | Negotiation Training, Coaching, Consulting; Facilitation, Mediation; Process Design; CSR Stakeholder Engagement
The Loka Institute
The Community Based Collaboratives Research Consortium (CBCRC) is a national network comprised of researchers, mediators and faciliators, government agencies, community and environmental groups and others who are seeking to understand and assess collabora
National Civic League - Helping communities thrive since 1894
U.S. Institute for Environmental Conflict Resolution