GLOBAL DIALOG
Think On Your Own
What is The Free World Charter?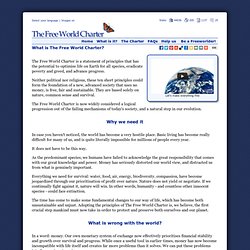 What is The Free World Charter? Let's make everything free The Free World Charter is a statement of principles that has the potential to optimise life on Earth for all species, eradicate poverty and greed, and advance progress. Neither political nor religious, these ten short principles could form the foundation of a new, advanced society that uses no money, is free, fair and sustainable.
Over 865,200 Gallons of Fracked Oil Spill in ND, Public In Dark For Days Due to Government Shutdown
Global Voices · Citizen media stories from around the world
World Values Survey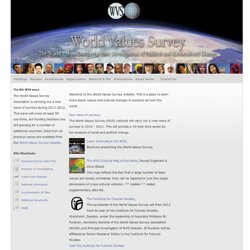 The 6th WVS wave The World Values Survey Association is carrying out a new wave of surveys during 2011-2012. This wave will cover at least 50 countries, but funding decisions are still pending for a number of additional countries. Data from all previous waves are available from the World Values Survey website .
Green Links - Throwplace.com - earth friendly resources
International Council of Thirteen Indigenous Grandmothers
Recycling Directory - Throwplace.com - earth friendly resources
Center for Global Development (CGD)
Global Voices - Global Voices | Strengthening Governance Through Participation
World Economic Forum: Global Town Hall On the opening day of the 2005 World Economic Forum in Davos, Switzerland, 700 world leaders participated in a 21st Century Summit® to prioritize and address some of the toughest issues facing the global community. Global Voices led a Global Town Hall Meeting that helped these leaders narrow their focus to six priorities for the year. Over the following three days, World Economic Forum participants discussed, debated, and produced recommendations for action in all six areas. At the closing plenary, they determined, by vote, a series of actions that were their highest priority for implementation.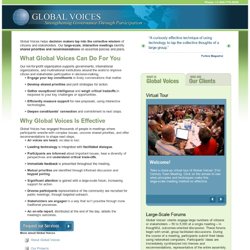 IGC Internet -- The Progressive Community
(Official Movie) THRIVE: What On Earth Will It Take?
Settlers Of the Shift by Tomi Astikainen on Prezi
THE SHIFT - A Movie Being Made by a Movement
The Global-Dialog Project - Home
At the threshold of a new millennium, it is time for humanity to bring the information, insight, and wisdom of all peoples to bear on the future that lies before us. Our planet and its inhabitants need our attention. The Global Dialog Project is a place for sharing the multiplicity of viewpoints among us -- for connecting, exploring, cooperating, and coordinating our emerging evolutionary path.
Global Dialog - Initial Vision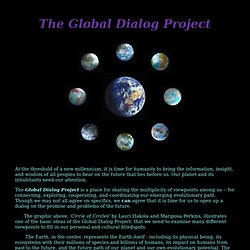 Valerie Gremillion . com
There are two big shifts happening in culture as we transition to digital – the move from individualism to being viewed as an individual, marketable data point, and the move to becoming a collaborative society. Beyond Tocqueville's Telescope: The Personalized Brand and the Branded Self, in the Fall 2011 issue of Hedgehog Review (article not available online) got me to thinking about another dynamic occurring as people establish their online identities. Marketing has effectively taken over the data behind the scenes in Social Media with every permission and access given. Now it is moving to the front and center of the stage as people begin branding themselves – using all the techniques of marketing to push and shape their digital identities for maximum exposure and connectivity, higher Klout scores, and improved social reputation.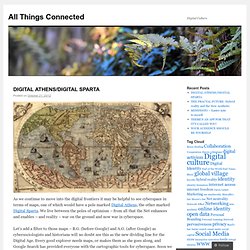 All Things Connected | Digital Culture
Part 1 of FIVE EASY PIECES: On Curation, Content as Experience and Federated Systems #ThinkState - goonth's posterous
Media and Culture Journal
Our World Digitized: The Good, the Bad, the Ugly | MIT World
Network neutrality: A tangled web