Climate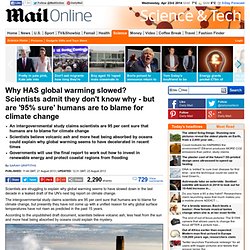 Why HAS global warming has slowed? Scientists admit they don't know why
An intergovernmental study claims scientists are 95 per cent sure that humans are to blame for climate changeScientists believe volcanic ash and more heat being absorbed by oceans could explain why global warming seems to have decelerated in recent timesGovernments will use the final report to work out how to invest in renewable energy and protect coastal regions from flooding By Sarah Griffiths PUBLISHED: 11:44 GMT, 21 August 2013 | UPDATED: 12:31 GMT, 23 August 2013
Climate models failed to predict that the temperature rise would slowTheories for the pause include that deep oceans have taken up more heat with the result that the surface is cooler than expected By Daily Mail Reporter Published: 14:02 GMT, 16 April 2013 | Updated: 14:05 GMT, 16 April 2013 Scientists are struggling to explain a slowdown in climate change that has exposed gaps in their understanding and defies a rise in global greenhouse gas emissions. Often focused on century-long trends, most climate models failed to predict that the temperature rise would slow, starting around 2000.
The climate change slowdown baffling scientists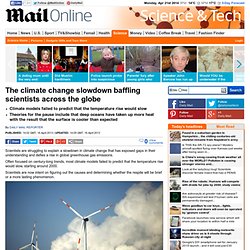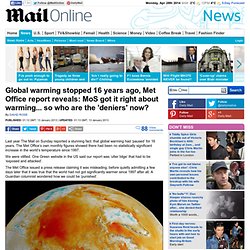 Global warming stopped 16 years ago, Met Office report reveals: MoS got it right about warming... so who are the 'deniers' now?
By David Rose Published: 01:12 GMT, 13 January 2013 | Updated: 01:13 GMT, 13 January 2013 Last year The Mail on Sunday reported a stunning fact: that global warming had 'paused' for 16 years. The Met Office's own monthly figures showed there had been no statistically significant increase in the world's temperature since 1997.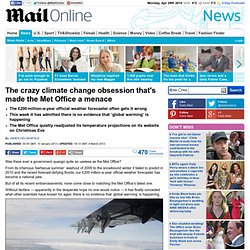 The crazy climate change obsession that's made the Met Office a menace
The £200 million-a-year official weather forecaster often gets it wrongThis week it has admitted there is no evidence that 'global warming' is happeningThe Met Office quietly readjusted its temperature projections on its website on Christmas Eve By James Delingpole Published: 00:45 GMT, 10 January 2013 | Updated: 18:13 GMT, 8 March 2013 Was there ever a government quango quite so useless as the Met Office?
High performance access to file storage An international alliance of climate scientists says that contrary to the general perception, and despite widely-reported rises in global temperature towards the end of the 20th century, there has in fact been no measurable increase in droughts over the past 60 years. Writing in heavyweight boffinry journal Nature, the team from America's Princeton and the Australian National University have this to say: Here we show that the previously reported increase in global drought is overestimated because [the current method] uses a simplified model of potential evaporation that responds only to changes in temperature and thus responds incorrectly to global warming in recent decades.
Climate NON-change: No increase in droughts since 1950, say boffins
Global warming still stalled since 1998, WMO Doha figures show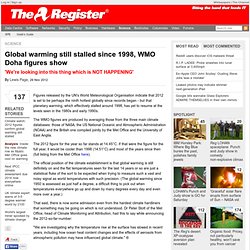 High performance access to file storage Figures released by the UN's World Meteorological Organisation indicate that 2012 is set to be perhaps the ninth hottest globally since records began - but that planetary warming, which effectively stalled around 1998, has yet to resume at the levels seen in the 1980s and early 1990s. The WMO figures are produced by averaging those from the three main climate databases: those of NASA, the US National Oceanic and Atmospheric Administration (NOAA) and the British one compiled jointly by the Met Office and the University of East Anglia. The 2012 figure for the year so far stands at 14.45°C. If that were the figure for the full year, it would be cooler than 1998 (14.51°C) and most of the years since then (full listing from the Met Office here).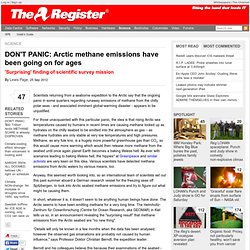 DON'T PANIC: Arctic methane emissions have been going on for ages
High performance access to file storage Scientists returning from a seaborne expedition to the Arctic say that the ongoing panic in some quarters regarding runaway emissions of methane from the chilly polar seas - and associated imminent global-warming disaster - appears to be unjustified. For those unacquainted with this particular panic, the idea is that rising Arctic sea temperatures caused by humans in recent times are causing methane locked up as hydrates on the chilly seabed to be emitted into the atmosphere as gas – as methane hydrates are only stable at very low temperatures and high pressures.
High performance access to file storage A group of Swedish scientists at the University of Gothenburg have published a paper in which they argue that spreading peatlands are inexorably driving planet Earth into its next ice age, and the only thing holding back catastrophe is humanity's hotly debated atmospheric carbon emissions. "We are probably entering a new ice age right now. However, we're not noticing it due to the effects of carbon dioxide," says Professor of Physical Geography Lars Franzén, from the Department of Earth Sciences at Gothenburg uni. Franzén and his colleagues have examined various scenarios for the peatlands of Sweden, which are a continually expanding "dynamic landscape element".
Swedish boffins: An ICE AGE is coming, only CO2 can save us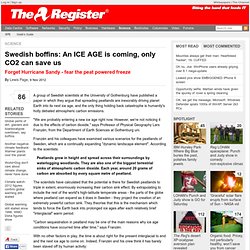 Polar sea ice could set ANOTHER record this year
High performance access to file storage The world's media is extremely excited at the thirty-year record low extent of sea ice at the North Pole which occurred just days ago: but almost nobody is reporting on the fact that something almost equally unusual is going on down around the coasts of Antarctica. Whoa, that's a lot of ice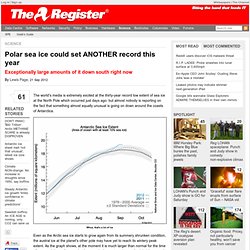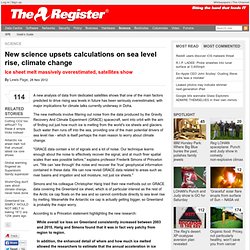 High performance access to file storage A new analysis of data from dedicated satellites shows that one of the main factors predicted to drive rising sea levels in future has been seriously overestimated, with major implications for climate talks currently underway in Doha. The new methods involve filtering out noise from the data produced by the Gravity Recovery And Climate Experiment (GRACE) spacecraft, sent into orbit with the aim of finding out just how much ice is melting from the world's ice sheets and glaciers.
New science upsets calculations on sea level rise, climate change
High performance access to file storage New ice core data from the Antarctic Peninsula has revealed that temperatures in the region during the past 10,000 years have often been higher than they are today, and that warming of the sort seen there recently has also occurred in the pre-industrial past. The new data are derived from a massive new 364m-long core extracted from the ice sheet lying on top of James Ross Island towards the northern tip of the Antarctic Peninsula in the freezing Weddell Sea. The core was extracted by scientists from the British Antarctic Survey, assisted by French boffins, who reached the area courtesy of the Royal Navy ice-patrol ship HMS Endurance and her helicopters.
Ice core shows Antarctic Peninsula warming is nothing unusual
Study of semi-fossilised trees gives accurate climate reading back to 138BCWorld was warmer in Roman and Medieval times than it is now By Science Reporter Published: 12:22 GMT, 11 July 2012 | Updated: 22:51 GMT, 11 July 2012 Rings in fossilised pine trees have proven that the world was much warmer than previously thought - with measurements dating back to 138BC
Tree-ring study proves that climate was WARMER in Roman and Medieval times than it is in the modern industrial age
Lost photos prove Greenland's ice was melting FASTER 80 years ago than today
80-year-old photo plates from Danish polar explorerProve that Greenland's glaciers melted faster in 30s than they did todayBrief cooling period mid-century re-froze icePre-satellite images of ice shelves are extremely rare By Rob Waugh Published: 08:06 GMT, 30 May 2012 | Updated: 11:54 GMT, 30 May 2012 The glacier named after Danish explorer Knud Rasmussen in Greenland A stash of 80-year-old photo plates in a Danish basement has proved that Greenland's ice was melting even faster then that it is now. In the thirties, Greenland's ice was melting rapidly, then there was a cooling period in the middle part of the twentieth century, and now it is melting again, accelerating in the 2000s.
It's no wonder the world's cooling on climate change
By James Delingpole PUBLISHED: 01:05 GMT, 17 June 2012 | UPDATED: 16:09 GMT, 18 June 2012 They used to call it 'Flaming June'.
Climate change is already proving to be a hot topic in the race to become the next U.S. president - and it's one of those issues that's just guaranteed to polarise voters. Charles Hanley draws on decades of climate reporting to offer a retrospective and analysis on global warming and the undying urge to deny it's happening at all. By Associated Press Updated: 06:05 GMT, 25 September 2011 Tucked between treatises on algae and prehistoric turquoise beads, the study on page 460 of an issue of the U.S. journal Science more than 35 years ago drew little attention. 'I don't think there were any newspaper articles about it or anything like that,' the author recalls.
Republican 'denialism' grows with climate change splitting voters down party lines
Global warming: 'Women at greater risk'
Butterflies and birds go north as climate warms: 250 species colonising new areas previously too cool for them
Scientists warn that Glacier National Park is melting even faster than before... and icecaps will be GONE by 2020
Satellite study of Asian mountains show that glaciers are NOT melting - and some are actually gaining new ice
Is this the 'cure' for global warming? Scientists flick the switch on Scottish trial that would 'bury' CO2 underground - and save the planet
NASA discovers Antarctica was pretty warm (at 7C) 20million years ago - however it did rain a lot
Oil Sands' CO2 Emissions Could be Higher Than Thought
Natural Sinks Still Sopping Up Carbon
Is Earth Alive? Scientists Seek Sulfur For An Answer
2011 VIDEO: Inhofe turns tables on global warming ambushers - and gets it on tape (Daily Caller)
First plants caused ice ages
Flopping Aces » Blog Archive » Man-made Global Warming debate stifled by censorship & intimidation
U.S. Senate Committee on Environment and Public Works
.: U.S. Senate Committee on Environment and Public Works :: Minority Page :.
.: U.S. Senate Committee on Environment and Public Works :: Minority Page :.
.: U.S. Senate Committee on Environment and Public Works :: Minority Page :.
Global Warming Petition Project
Blue Planet in Green Shackles | cooler heads
Scientists respond to Gore's warnings of climate catastrophe
Experts on Global Warming - Man Made Global Warming Debunking News and Links
Bjorn Lomborg: A Chipper Environmentalist
Bishop Compares Global Warming Skeptics To Pedophile Rapist
U.S. Senate Committee on Environment and Public Works
Flopping Aces » Blog Archive » Another Environmental "Solution" Starts To Fall Apart: EU Infatuation With Ethanol Grows Cold - Canada, Too [Reader Post]
Ice core drillers set record in Greenland
.: U.S. Senate Committee on Environment and Public Works :: Minority Page :.