1 Middle East
Nachrichten - The Doha Debates | Qatar's forum for free speech in the Arab world
Latest news 16 Oct 2012 Over the past eight years The Doha Debates has been discussing key issues in the Arab region and the world. It is one thing to get the views of the local audience at each Debate, but the Doha Debates are also keen to find out what the rest of the Arab world thinks about the issues we raise. YouGov, a research and polling company, has been commissioned to seek the views of thousands of people across the region after each of the debates.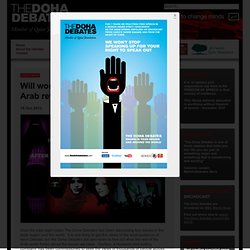 U B U W E B :: Bidoun - Art & Culture from the Middle East
In late June 2013, as neighboring Arab states continued their struggles against popular pressure for political reform or regime change, the Gulf emirate of Qatar undertook its own, voluntary transfer of power. Emir Hamad bin Khalifa Al Thani, patriarch of modern Qatar, appeared on state television to name as successor his 33-year old son, Sheikh Tamim. The outgoing leader was hobbled by serious health problems, it was said, and in any case most observers agreed that a recalibration of Qatar's domestic and international agendas was perhaps just what the doctor ordered.
While not as great as it had been in the recent past, the role of arms and military spending in the societies and economies of the Gulf states is still much larger than in any other area of the world. It was not until after the Iran-Iraq War and the 1991 Gulf war that these states felt that they could make reductions, necessitated by the 1980s fall in world oil prices, in their very large levels of military spending. Only in Kuwait, for understandable reasons, did military spending in 1995, measured in current dollars, exceed that of 1985. Excepting Kuwait, military expenditures per capita are down across the region, as is the percentage of gross domestic product (GDP) spent on the military. Those reductions, however, are in levels of military expenditure that were the highest in the world. Even today, the Gulf remains one of the most militarized areas of the world.
Arms Supplies and Military Spending in the Gulf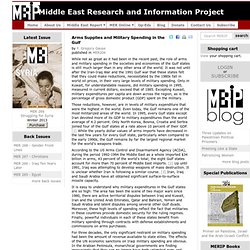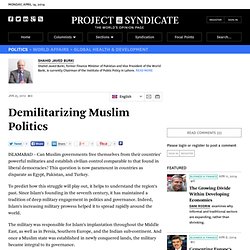 Exit from comment view mode. Click to hide this space ISLAMABAD – Can Muslim governments free themselves from their countries' powerful militaries and establish civilian control comparable to that found in liberal democracies? This question is now paramount in countries as disparate as Egypt, Pakistan, and Turkey. To predict how this struggle will play out, it helps to understand the region's past. Since Islam's founding in the seventh century, it has maintained a tradition of deep military engagement in politics and governance.
Demilitarizing Muslim Politics - Shahid Javed Burki - Project Syndicate
No one in Israel is calling the agreement signed for Gilad Shalit's freedom a good deal. On many levels it is terrible. Israel is releasing more than 1000 prisoners, several hundred of them hardened terrorists, for one soldier. For the first time, the Jewish state essentially acquiesced as a terrorist organization dictated the list of prisoners to be released, including several responsible for mass deaths of Israeli citizens, a notion that would once have been unthinkable. Israel may well have given its enemies incentive to kidnap more soldiers.
Why Netanyahu Made the Prisoner Swap Deal with Hamas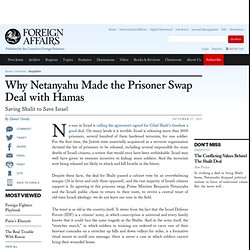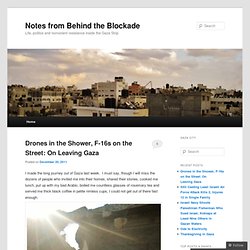 Notes from Behind the Blockade
It all started with a simple question from Jabar, a Palestinian farmer from Faraheen, during Eid al-Adha, the festival of sacrifice. "Is there an American eid (holiday) where you slaughter an animal?" he asked Nathan, a colleague here in Gaza, a few weeks ago. Thanksgiving and turkeys came to mind. And so, I found myself celebrating "Thanksgiving," Gazan-style, this afternoon in the small, southern Gazan village. Layla and her daughters with the turkey in Faraheen
The Majalla the leading political affairs magazine in the Arab world
QuiltingPoint
Middle East and North Africa
Middle East Resources - MSU Libraries: Guides
The Middle East 1916-2001 : A Documentary Record 1916 - The Sykes-Picot Agreement 1917 - Balfour Declaration; November 2 1922 - British White Paper on Palestine; June 1922 - The Palestine Mandate; July 24 1939 - British White Paper on Palestine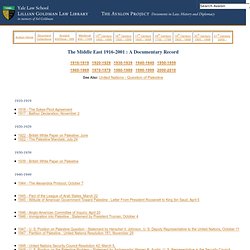 The Middle East 1916-2001 : A Documentary Recor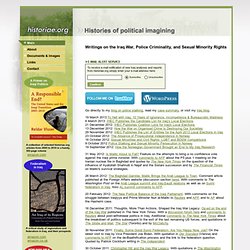 Basra and Southern Iraq Analysis
Go directly to my blog on police stalking, read my case summary, or visit my Iraq blog. 19 March 2013:To Hell with Iraq: 10 Years of Ignorance, Incompetence & Bureaucratic Madness 6 March 2013: IHEC Publishes the Candidate List for Iraq's Local Elections 21 December 2012: IHEC Publishes Coalition Lists for Iraq's Local Elections 13 December 2012: How the War on Organised Crime Is Destroying Our Societies 29 November 2012: IHEC Publishes the List of Entities for the April 2013 Local Elections in Iraq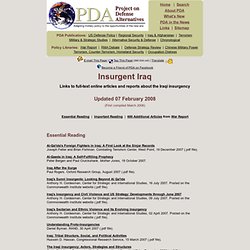 Essential Reading Al-Qa'ida's Foreign Fighters in Iraq: A First Look at the Sinjar Records Joseph Felter and Brian Fishman. Combating Terrorism Center, West Point, 19 December 2007 (.pdf file). Al-Qaeda in Iraq: A Self-Fulfilling Prophecy Peter Bergen and Paul Cruickshank. Mother Jones, 18 October 2007. Iraq After the Surge Paul Rogers.
Insurgent Iraq: Links to full-text online resources about the Iraqi insurgency
Middle East Policy Council
المحتوى باللغة العربية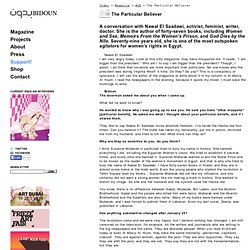 The Particular Believer | Bidoun Projects
A conversation with Nawal El Saadawi, activist, feminist, writer, doctor. She is the author of forty-seven books, including Women and Sex, Memoirs From the Women's Prison, and God Dies by the Nile. Seventy-nine years old, she is one of the most outspoken agitators for women's rights in Egypt. Nawal El Saadawi I am very angry today.
My attempt to give some sense of what the Arabic Al-Jazeera coverage of Israel's brutal massacres/invasion of Gaza. All times using US eastern time basis: 10:17pm) Been watching for 15 minutes or so, they had Abdul Lateef al-Qanoo3 on the phone, Hamas' spokesman in northern Gaza. He was spending a lot of time talking in general terms about how heavy and brutal the invasion was and making a call to recognize that viewers and especially Arab governments were now either for or against the Palestinian people.
A Non-Arab Arab / عربي غير عربي
Flashpoint Intelligence
What follows is a piece by Aaron Stein, a research associate at the Royal United Services Institute (RUSI) and a doctoral candidate at King's College London. Aaron has agreed to be an Arms Control Wonk "pinch hitter" and contribute posts about nuclear-related issues in the Middle East. He blogs at Turkey Wonk. Follow him on Twitter: @aaronstein1. A Turkish Success Story? After the revolts in Tunisia, Egypt, and Libya the Turkish model was, once again, back en vogue.
ArmsControlWonk
Middle East Program
Middle East Forum
review of The World through Arab Eyes Bandar bin Sultan's Botched Syrian Intervention The Iraqi Shiite Challenge to Tehran's Mullahs Iraq's Lessons on Political Will
The Mess in Afghanistan « BernardFinel.com
I think it is now pretty clear that the 2009 decision to dramatically escalate the war in Afghanistan was a tragic mistake. A few recent stories highlight this: Glenn Greenwald comments on a new Sunday Times report about drone strikes targeting rescuers: As I indicated, there have been scattered, mostly buried indications in the American media that drones have been targeting and killing rescuers. As the Bureau put it: "Between May 2009 and June 2011, at least fifteen attacks on rescuers were reported by credible news media, including the New York Times, CNN,Associated Press, ABC News and Al Jazeera." So, this is a war crime, just to be clear.
Afghanistan Conflict Monitor - Human Security Report Project