Middle Eastern Media
A Saudi woman and her son walk past the Imam Muhammad ibn Abdel-Wahhab Philanthropic School for Women's Quranic Studies in Riyadh, Saudi Arabia, March 21, 2003.AP Photo Occasional Paper, Combating Terrorism Center
The Failure of Jihad in Saudi Arabia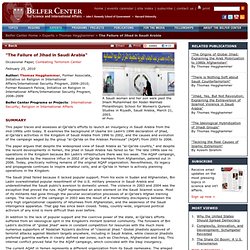 Egypt | Jadaliyya
Front Page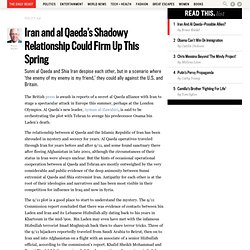 Inside Theater 10 in Tampa, moviegoers rushed to save Chad Oulson, who was shot in the chest after a feud over text messaging. His rescuers grew fearful as his pulse weakened. The off-duty nurse was calling 911 for help even as he and other bystanders fought to keep the man alive.
Iran and al Qaeda's Shadowy Relationship Could Firm Up This Spring
Somalia's al-Shabab join al-Qaeda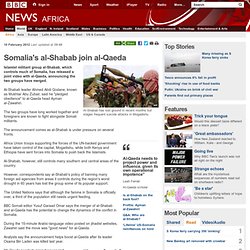 10 February 2012Last updated at 04:48 ET Al-Shabab has lost ground in recent months but stages frequent suicide attacks in Mogadishu Islamist militant group al-Shabab, which controls much of Somalia, has released a joint video with al-Qaeda, announcing the two groups have merged.
Mideast: Egyptian Islamic leader criticises Hamas - Adnkronos Se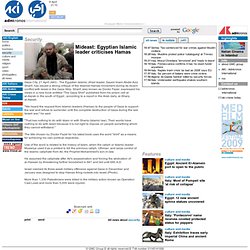 Gaza City, 21 April (AKI) - The Egyptian Islamic Jihad leader, Sayed Imam Abdel Aziz Sharif, has issued a strong critique of the Islamist Hamas movement during its recent conflict with Israel in the Gaza Strip.
The Future of the Marjayia
How will the leadership of the Shi'ite community evolve in the 21st Century?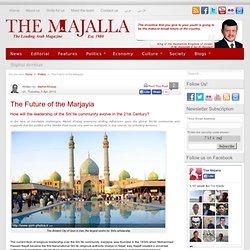 On March 21, Haaretz correspondent Ari Shavit wrote a powerful op-ed in the New York Times that began with this stark and stunning claim: "An Iranian atom bomb will force Saudi Arabia, Turkey, and Egypt to acquire their own atom bombs." Indeed, it has become axiomatic among Middle East watchers, nonproliferation experts, Israel's national security establishment, and a wide array of U.S. government officials that Iranian proliferation will lead to a nuclear arms race in the Middle East. President Barack Obama himself, in a speech to the American Israel Public Affairs Committee (AIPAC) last month, said that if Iran went nuclear, it was "almost certain that others in the region would feel compelled to get their own nuclear weapon."
Don't Fear a Nuclear Arms Race in the Middle East - By Steven A. Cook