My Politics
John Galt's Speech - Atlas Shrugged‬‏
AYN RAND's message to AMERICA‬‏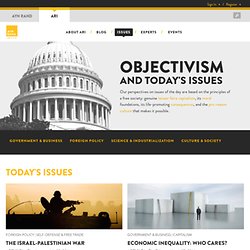 Objective Laws — Principles of a Free Society
Objective laws are laws that confine government to its one legitimate function: protecting individual rights. Laws must be objective in both form and substance. In form, the law must allow each individual to know, before taking any action, what conduct is illegal, why it is forbidden, and what will be the penalty for violation. In substance, the law must forbid only such private conduct as violates the individual rights of others. Laws against murder, for example, satisfy both requirements.
This 75-minute lecture by Leonard Peikoff is a brief introduction to the philosophy of Objectivism. Following the lecture, Dr. Peikoff answers questions from the students. Dr. Peikoff is Ayn Rand's legal and intellectual heir. He was a close associate of Ayn Rand for 30 years until her death in 1982, and is today the pre-eminent authority on Objectivism.
The Ayn Rand Institute: Introduction to Objectivism
Today, thousands of Americans are joining modern day tea parties, named after the Boston Tea Party of 1773. They are protesting a government that, in the wake of today's financial crisis, is rapidly strangling their freedom, with endless bailouts, mounting regulations, reckless spending, and the promise of a crippling tax burden. Correctly sensing that the American system is being discarded, they seek to battle this trend by taking to the streets to register their outrage.
The Ayn Rand Center for Individual Rights: ARC on the Tea Parties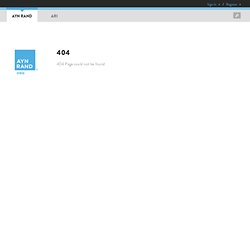 6 Questions for Environmentalists On Earth Day - FoxNews.com
This Earth Day , Obama renewed his call for "comprehensive energy and climate legislation that will safeguard our planet, spur innovation and allow us to compete and win in the 21st century economy." In lockstep with environmentalists, Obama has previously said the ultimate goal of legislation is "a hard cap on all carbon emissions at a level that scientists say is necessary to curb global warming--an 80% reduction by 2050." But this raises the question: What is going to replace the coal, oil, and natural gas that we use to heat our homes and offices, fuel our cars and airplanes, power up our computers, and light up the night?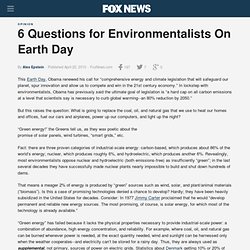 THE UNITED STATES CONSTITUTION - We the People
posted at 5:00 pm on June 23, 2011 by MadisonConservative This leaves Illinois as the only state without any legal concealed carry legislation, and a few states that need seriously improved laws(New York, New Jersey, California, Hawaii, and a couple of others). The GOP-controlled Assembly approved the bill on a bipartisan vote of 68-27.
Wisconsin residents finally regain their Second Amendment rights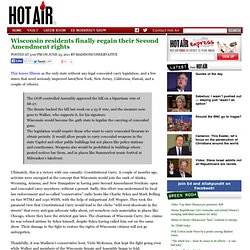 I took this: http://www.youtube.com/watch?
Founding Bloggers | In order to form a more perfect blog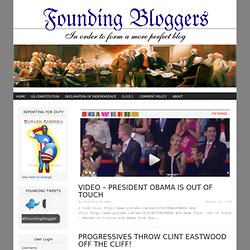 Bachmann Blasts Obama In Tea Party Response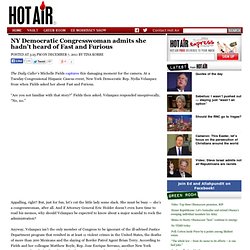 posted at 5:25 pm on December 7, 2011 by Tina Korbe The Daily Caller's Michelle Fields captures this damaging moment for the camera. At a Tuesday Congressional Hispanic Caucus event, New York Democratic Rep.
NY Democratic Congresswoman admits she hadn't heard of Fast and Furious