US politics
President Obama turns anti-tax message on Republicans - latimes.com. Reporting from Washington — President Obama visited New Hampshire to highlight the next big fight in Washington, as he urged Congress to not "be a Grinch" by allowing tax cuts to expire after the holidays, costing the average middle-class family $1,000 in 2012.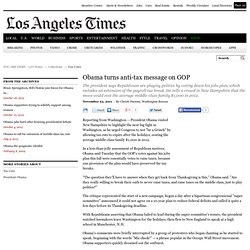 In a less-than-jolly assessment of Republican motives, Obama said Tuesday that the GOP's votes against his jobs plan this fall were essentially votes to raise taxes, because one provision of the plan would have preserved the tax breaks. "The question they'll have to answer when they get back from Thanksgiving is this," Obama said.
"Are they really willing to break their oath to never raise taxes, and raise taxes on the middle class, just to play politics? " The critique represented the start of a new campaign, begun a day after a bipartisan congressional "super committee" announced it could not agree on a 10-year plan to reduce federal deficits and called it quits a few days before its Thanksgiving deadline. We are the 1%, Bitches. US Health Care. Hell Yes, Mayor Bloomberg. I'm With You. New York City Mayor Bloomberg calls for major immigration reform: The Mayor proposed green cards for graduates with advanced degrees in essential fields; a new visa for entrepreneurs with investors ready to invest capital in their job-creating idea; more temporary and permanent visas for highly skilled workers…The Mayor also announced the results of a study conducted by the Partnership for a New American Economy – a bipartisan group of business leaders and mayors from across the country – that found more than 40 percent of Fortune 500 companies were founded by immigrants or the children of immigrants and those companies employ more than 10 million people worldwide and have combined revenues of $4.2 trillion. and.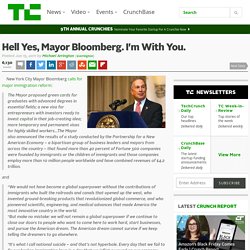 The Chorus For Immigration Reform Grows Louder. Yesterday, Mike Bloomberg went to Washington and spoke at the Council on Foreign Relations on the topic of immigration reform.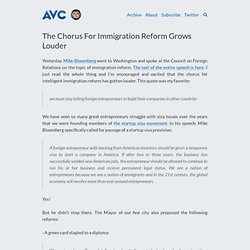 The text of the entire speech is here. I just read the whole thing and I'm encouraged and excited that the chorus for intelligent immigration reform has gotten louder. This quote was my favorite: we must stop telling foreign entrepreneurs to build their companies in other countries. Sarah Palin.
---