Politics and Human Rights in China
Crazy Things Happening In China
5 Things the Pentagon Isn't Telling Us About the Chinese Military - By Trefor Moss
Think of it like an iceberg: The top lies in plain sight, but a lot more hides beneath the surface. In its annual appraisal of the Chinese military published last week, the U.S. Department of Defense seems to be describing an object it finds both familiar and mysterious.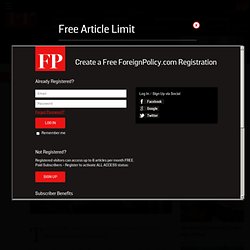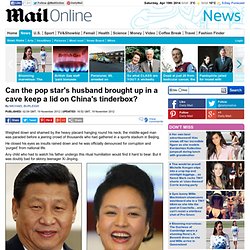 By Michael Burleigh PUBLISHED: 02:09 GMT, 19 November 2012 | UPDATED: 16:52 GMT, 19 November 2012 Weighed down and shamed by the heavy placard hanging round his neck, the middle-aged man was paraded before a jeering crowd of thousands who had gathered in a sports stadium in Beijing.
Xi Jinping: Can the pop star's husband brought up in a cave keep a lid on China's tinderbox?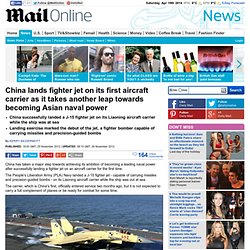 China lands fighter jet on its first aircraft carrier as it takes another leap towards becoming Asian naval power
China successfully landed a J-15 fighter jet on its Liaoning aircraft carrier while the ship was at seaLanding exercise marked the debut of the jet, a fighter bomber capable of carrying missiles and precision-guided bombs
Xie Jinghua and her husband were among five people who claim they were held against their will at the Holiday Inn Express in Nanhuizui, near ShanghaiThey were allegedly snatched on their way to complain after their homes were demolished to make way for Shanghai's Pudong International AirportTheir plan was to hand in a petition to the10-day annual meeting of China's legislature in MarchXie claims she was held for eight days under 24-hour guardWhen she tried to escape she was caught by seven guards and tied to bedIHG, who own Holiday Inn, says 'no indication' rooms were used as prisonsCampaigners say unofficial detentions in 'black jails' are rising in China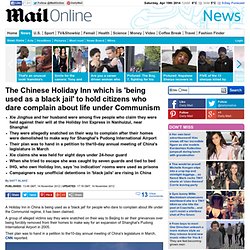 The Chinese Holiday Inn which is 'being used as a black jail' to hold citizens who dare complain about life under Communism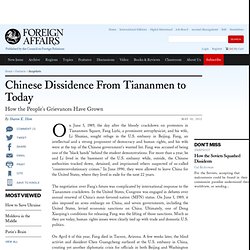 On June 5, 1989, the day after the bloody crackdown on protesters in Tiananmen Square, Fang Lizhi, a prominent astrophysicist, and his wife, Li Shuxian, sought refuge in the U.S. embassy in Beijing.
Chinese Dissidence From Tiananmen to Today
As the U.S. Presidential election campaign enters its final stages, both candidates are being criticized in the media for "bashing" China. This is in response to Obama administration filings of anti-subsidy complaints against China with the World Trade Organization (WTO) and to Governor Romney's strong criticism of Beijing's currency manipulation that undervalues its yuan (or RMB) as a way of subsidizing exports and acting as a tariff on imports.
It's not 'China bashing' if it's true!
Bachelor Padding - By Roseann Lake
For more photos of Beijing's housing bubble, click here. BEIJING — When Xiaobo Zhang got married in the early 1990s, he and his bride, like millions of other couples across China, were given a small room to live in by his danwei, or work unit.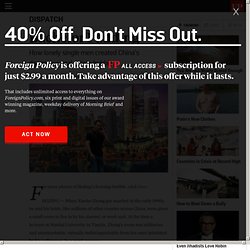 China updates 600-year-old guide to respecting parents
China's 'great revival' is 62 per cent finished
China: Population & the One Child Policy
Chinese Pollution & Environmental Problems
China: People in the News
China: Industry & Workers
China: Architecture & Construction
China v Japan: The Battle for the Senkaku Islands
China arrests top security official on suspicion of spying for U.S. in 'greatest breach of state intelligence for two decades'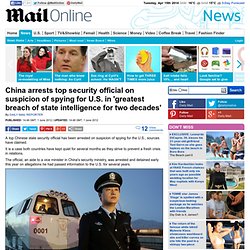 By Daily Mail Reporter PUBLISHED: 14:46 GMT, 1 June 2012 | UPDATED: 14:46 GMT, 1 June 2012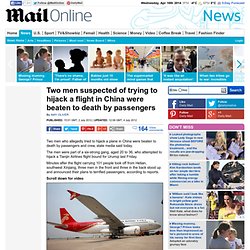 Two men suspected of trying to hijack a flight in China were beaten to death by passengers
By Amy Oliver PUBLISHED: 15:01 GMT, 2 July 2012 | UPDATED: 12:06 GMT, 4 July 2012 Two men who allegedly tried to hijack a plane in China were beaten to death by passengers and crew, state media said today.