Politics in Burma from 2009 to now on
The Leaderboard: Nyan Tun – The Leaderboard profiles the people behind the policies of the Asia-Pacific.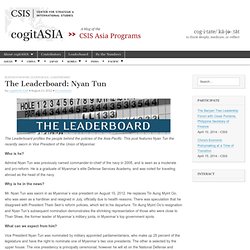 This post features Nyan Tun the recently sworn in Vice President of the Union of Myanmar. Who is he? Admiral Nyan Tun was previously named commander-in-chief of the navy in 2008, and is seen as a moderate and pro-reform. Myanmar 2010 elections.
Myanmar 2015 elections
Aung San Suu Kyi. Il faut maintenir la pression sur le régime birman. Le Monde.fr | | Par Frédéric Debomy, président d'Info Birmanie En demandant le 28 février 2011 le maintien des sanctions économiques à l'égard du régime birman, Aung San Suu Kyi et sa Ligue nationale pour la démocratie (LND) auront clarifié leur position sur un sujet toujours au centre de nombreuses polémiques.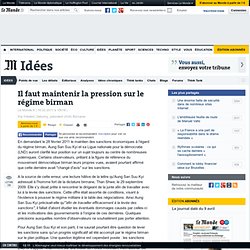 Certains observateurs, prêtant à la figure de référence du mouvement démocratique birman leurs propres vues, avaient pourtant affirmé que cette dernière avait "changé d'avis" sur les sanctions. A la source de cette erreur, une lecture hâtive de la lettre qu'Aung San Suu Kyi adressait à l'homme fort de la dictature birmane, Than Shwe, le 29 septembre 2009. Elle s'y disait prête à rencontrer le dirigeant de la junte afin de travailler avec lui à la levée des sanctions. Burma's parliament opens new session. 31 January 2011Last updated at 12:28 More than 1,000 deputies will gather for the session Parliament has convened in Burma for the first time in more than two decades, following elections late last year.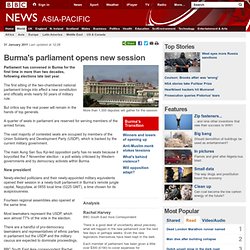 The first sitting of the two-chambered national parliament brings into effect a new constitution and officially ends nearly 50 years of military rule. But critics say the real power will remain in the hands of top generals. Factbox: Myanmar's new political structure.
China sticks its oars, Wa leader off to meet junta rep - Firefox. Thursday, 25 February 2010 14:40 S.H.A.N.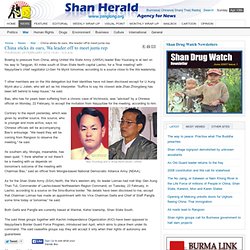 Bowing to pressure from China, ailing United Wa State Army (UWSA) leader Bao Youxiang is at last on his way to Tangyan, 83 miles south of Shan State North capital Lashio, for a "final meeting" with Naypyitaw's chief negotiator Lt-Gen Ye Myint tomorrow, according to a source close to the Wa leadership. 7 other members are on the Wa delegation but their identities have not been disclosed except for U Aung Myint aka Li Julieh, who will act as his interpreter. "Suffice to say his closest aide Zhao Zhongdang has been left behind to keep house," he said. Bao, who has for years been suffering from a chronic case of trichinosis, was "advised" by a Chinese official on Monday, 22 February, to accept the invitation from Naypyitaw for the meeting, according to him. Expert hopes to meet with Aung San Suu Kyi in upcoming trip - Fi. 11 February 2010 – A United Nations independent human rights expert today voiced hope that he will be able to hold talks with pro-democracy leader and Nobel Prize laureate Aung San Suu Kyi when he visits Myanmar next week.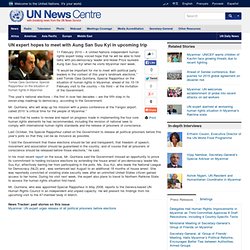 "It would be important for me to meet with political party leaders in the context of this year's landmark elections," said Tomás Ojea Quintana, Special Rapporteur on the situation of human rights in Myanmar, ahead of his 15-19 February visit to the country – his third – at the invitation of the Government. This year's national elections – the first in over two decades – are the fifth step in its seven-step roadmap to democracy, according to the Government.
Mr. Quintana, who will wrap up his mission with a press conference at the Yangon airport, called 2010 "a critical time for the people of Myanmar." UN envoy visits Burma in 'critical year' - Firefox. A special UN Human Rights envoy has met lawyers for Burma's opposition party on the first day of a five-day visit to the country.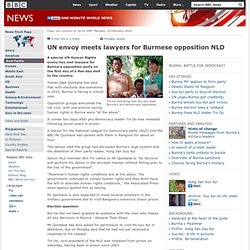 Tomas Ojea Quintana has said that with elections due sometime in 2010, Burma is facing a critical year. Opposition groups welcomed the UN visit, with one activist saying human rights in Burma were "at the abyss". UN envoy leaves Burma with very modest gains / The Christian Sci.
National Democratic Force
Wen Jiabao visits Burma. Selth-Regional-Outlook-25.pdf (Objet application/pdf)
---