Politics in Burma from 2009 to now on
NLD - National League for Democracy
The Leaderboard: Nyan Tun –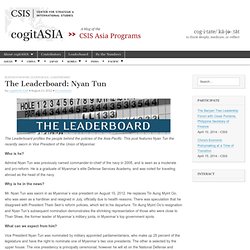 The Leaderboard profiles the people behind the policies of the Asia-Pacific.
Il faut maintenir la pression sur le régime birman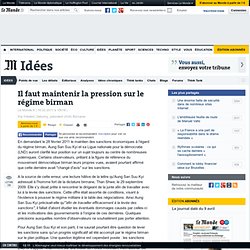 En demandant le 28 février 2011 le maintien des sanctions économiques à l'égard du régime birman, Aung San Suu Kyi et sa Ligue nationale pour la démocratie (LND) auront clarifié leur position sur un sujet toujours au centre de nombreuses polémiques.
Burma's parliament opens new session
31 January 2011 Last updated at 07:28 ET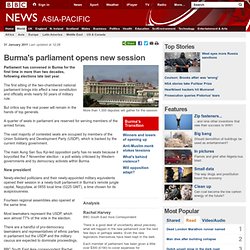 Factbox: Myanmar's new political structure
Political change in Burma ?
China sticks its oars, Wa leader off to meet junta rep - Firefox
Thursday, 25 February 2010 14:40 S.H.A.N.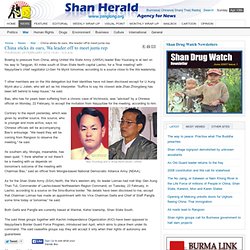 expert hopes to meet with Aung San Suu Kyi in upcoming trip - Fi
11 February 2010 – A United Nations independent human rights expert today voiced hope that he will be able to hold talks with pro-democracy leader and Nobel Prize laureate Aung San Suu Kyi when he visits Myanmar next week. "It would be important for me to meet with political party leaders in the context of this year's landmark elections," said Tomás Ojea Quintana, Special Rapporteur on the situation of human rights in Myanmar, ahead of his 15-19 February visit to the country – his third – at the invitation of the Government. This year's national elections – the first in over two decades – are the fifth step in its seven-step roadmap to democracy, according to the Government. Mr. Quintana, who will wrap up his mission with a press conference at the Yangon airport, called 2010 "a critical time for the people of Myanmar."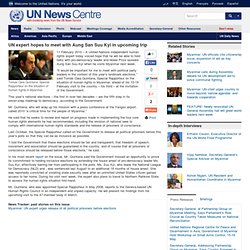 A special UN Human Rights envoy has met lawyers for Burma's opposition party on the first day of a five-day visit to the country. Tomas Ojea Quintana has said that with elections due sometime in 2010, Burma is facing a critical year. Opposition groups welcomed the UN visit, with one activist saying human rights in Burma were "at the abyss".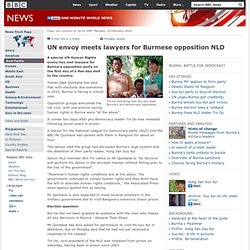 UN envoy visits Burma in 'critical year' - Firefox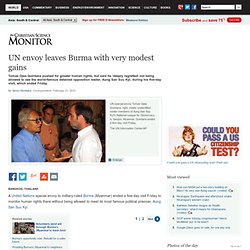 UN envoy leaves Burma with very modest gains / The Christian Sci
Tomas Ojea Quintana pushed for greater human rights, but said he 'deeply regretted' not being allowed to see the world-famous detained opposition leader, Aung San Suu Kyi, during his five-day visit, which ended Friday. By Simon Montlake, Correspondent / February 21, 2010
Nambiar Visit Yields Few Expectations
National Democratic Force
Selth-Regional-Outlook-25.pdf (Objet application/pdf)