Wiki
UK life 'healthier for longer', ONS figures show. 29 August 2012Last updated at 12:32 GMT By Anna-Marie Lever Health reporter, BBC News Men spend a greater proportion of their lives in favourable health compared to women People in the UK are living in good health for longer, the Office for National Statistics (ONS) reports.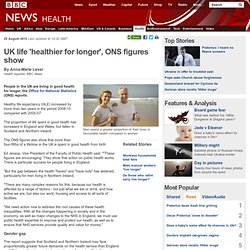 Healthy life expectancy (HLE) increased by more than two years in the period 2008-10 compared with 2005-07. The proportion of life spent in good health has increased in England and Wales, but fallen in Scotland and Northern Ireland. OtherAberdeen: Woonerf for the Denburn Valley Development. Word comes from the European Commission that, for the sake of the future, for the sake of sustainability and for the sake of liveability, it is their aspiration that petrol and diesel vehicles be banned from urban centres by 2050.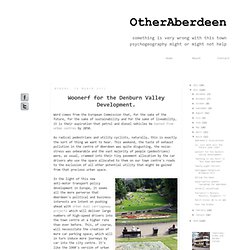 As radical pedestrians and utility cyclists, naturally, this is exactly the sort of thing we want to hear. This weekend, the taste of exhaust pollution in the centre of Aberdeen was quite disgusting, the noise-stress was unbearable and the vast majority of people (pedestrians) were, as usual, crammed into their tiny pavement allocation by the car drivers who use the space allocated to them on our town centre's roads to the exclusion of all other potential utility that might be gained from that precious urban space.
Www.openspace.eca.ac.uk/pdf/appendixf/OPENspacewebsite_APPENDIX_F_resource_9.pdf. Www.malcolmreading.co.uk/downloads/citygarden/110520_aberdeen_eoi_v3.pdf. Union Terrace Gardens plan approved | Aberdeen & North. Sir Ian Wood's £140million vision for Aberdeen's Union Terrace Gardens has been approved by councillors.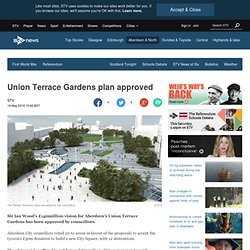 Aberdeen City councillors voted 20 to seven in favour of the proposals to accept the tycoon's £50m donation to build a new City Square, with 12 abstentions. The oil tycoon has offered to put forward £50million of his own money towards plans to raise the gardens to street level and turn it into a civic square. Zoe Corsi - Aberdeen Voice. Old Susannah looks back over a week in Aberdeen which felt like a month whizzing by in a day and wonders how much of it was real, and how much more connectivity she can make sense of.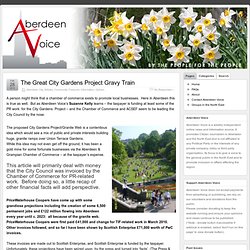 The past week in the Granite City was as vibrant and dynamic as you could have hoped for. There were walks and photos on Tullos Hill, and photos taken on Belmont Street, to the outrage of security guards. The opening of the exhibition at the Pier (that's one of the empty shops at the Academy shopping centre in case you didn't know) for the six design finalists was of course the pinnacle of everyone's week if not existence. On the VIP ONLY opening day, an entire 5 people showed up before 9am to marvel at the designs. These were our very own Lord Provost, Jennifer Craw, Aileen 'Ho'Malone, Kate Dean, and a charming blonde woman with clipboard, supposed by many to be Zoe Corsi from the BIG Partnership. Aberdeen's divisive City Garden project hangs in the balance | UK news.
It is touted as one of the most daring urban park projects seen in Scotland: a spider's web of arching concrete walkways, tree-lined paths and theatres capped by landscaped grounds for central Aberdeen, kickstarted with a £50m gift from the city's richest man.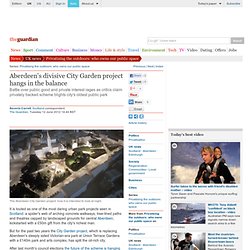 But for the past two years the City Garden project, which is replacing Aberdeen's steeply sided Victorian-era park at Union Terrace Gardens with a £140m park and arts complex, has split the oil-rich city. After last month's council elections the future of the scheme is hanging in the balance.
Five
Four. Three. Two. One. Www.stolaf.edu/depts/cis/wp/meyeramj/documents/The Nature and Need for Urban Parks.pdf. Aberdeengreenspace.org.uk.
---