Health
Children are suffering from rise of the 'Gameboy Back'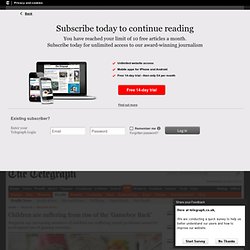 He said: "Essentially, it's like growing bonsai trees: bone responds in the same way as wood. If you force it in a certain direction over a prolonged period, that's how it ends up growing.' The experts said the simplest test for "Gameboy Back" is to see if children can bend over and touch their toes.
CrowdMed
Health Apps Library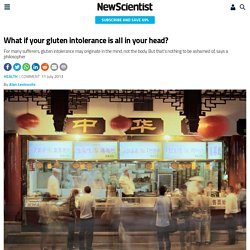 What if your gluten intolerance is all in your head?
Read full article
Making babies happy, healthy - and green
21 March 2013 Last updated at 08:26 ET By Helen Lennard BBC Audio and Music Dr Alice Roberts will have one of the 820,000 babies born in the UK this year This year 820,000 babies are expected to be born in the UK - part of a baby boom that has been quietly but unexpectedly taking place in the UK for the past 10 years.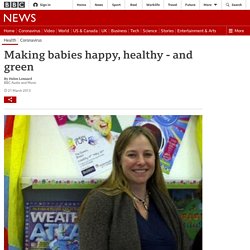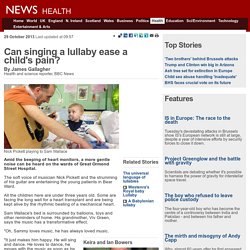 29 October 2013Last updated at 05:57 ET By James Gallagher Health and science reporter, BBC News Nick Pickett playing to Sam Wallace Amid the beeping of heart monitors, a more gentle noise can be heard on the wards of Great Ormond Street Hospital.
Can singing a lullaby ease a child's pain?
22 August 2012 Last updated at 13:11 ET
Older dads linked to rise in mental illness
Antibiotics can make young children heavier, says study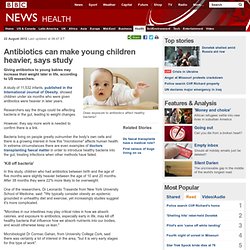 22 August 2012 Last updated at 09:47 ET Does exposure to antibiotics affect healthy bacteria?
The science of a long life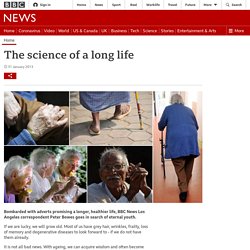 30 January 2013 Last updated at 19:54 ET
How to live beyond 100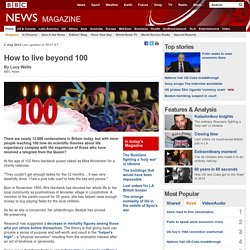 2 July 2012 Last updated at 05:51 ET By Lucy Wallis BBC News There are nearly 12,000 centenarians in Britain today, but with more people reaching 100 how do scientific theories about life expectancy compare with the experience of those who have received a telegram from the Queen? At the age of 102 Nora Hardwick posed naked as Miss November for a charity calendar.
21 August 2011 Last updated at 23:05 GMT A baby's lifetime health is largely decided before birth Why does one person die younger and another survive to old age?
Birthweight link to lifelong health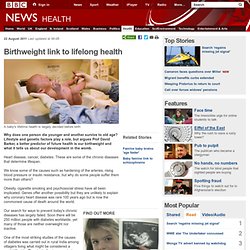 11 June 2012 Last updated at 22:24 ET By Michelle Roberts Health editor, BBC News website Delaying fatherhood may offer survival advantages, say US scientists who have found children with older fathers and grandfathers appear to be "genetically programmed" to live longer. The genetic make-up of sperm changes as a man ages and develops DNA code that favours a longer life - a trait he then passes to his children.
Children with older fathers and grandfathers 'live longer'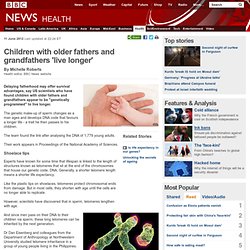 inactivity.png
Massive rise in Asian eye damage
3 May 2012 Last updated at 22:23 ET By Matt McGrath Science reporter, BBC World Service
1 May 2012 Last updated at 02:49 ET
Being bilingual 'boosts brain power'
10 July 2013 Last updated at 01:02 GMT Many of us categorise ourselves as either optimist or pessimist, but what can science tell us about how we got that way and can we change, asks Michael Mosley. Debbie and Trudi are identical twins.
Can science explain why I'm a pessimist?
Meditation boosts genes that promote good health - health - 02 May 2013
Feeling run-down?
Body clock 'alters' immune system
16 February 2012 Last updated at 20:43 ET By James Gallagher Health and science reporter, BBC News Will the time affect medicine? The time of the day could be an important factor in the risk of getting an infection, according to researchers in the US.
Caffeine energy drinks 'intensify heart contractions'
BBC Food - How healthy is your coffee?
How to optimize your caffeine intake
This Is Your Brain on Coffee
coffee addiction: Do people consume too much caffeine?
Why drugs often list headache as a side-effect
coffee v smoothies: Which is better for you?
Cold baths 'ease aching muscles, but may be risky'
15-minute daily exercise is 'bare minimum for health'
Saunas could heal your mood and your heart - health - 23 November 2011
Do you really need to drink eight cups of water a day?
How much better is standing up than sitting?
Grapefruit and pills mix warning