wiki
Get flash to fully experience Pearltrees
Alain Robert (born as Robert Alain Philippe on 7 August 1962), is a French rock and urban climber , from Digoin , Saône-et-Loire , Bourgogne , France . Known as "the French Spider-Man" (after the comic character Spider-Man ), or "the Human Spider", Robert is famous for scaling skyscrapers using no climbing equipment except for a small bag of chalk and a pair of climbing shoes. Robert is managed by English player's agent Bryan Yeubrey . [ 1 ]
George Bernard Shaw (26 July 1856 – 2 November 1950) was an Irish playwright and a co-founder of the London School of Economics . Although his first profitable writing was music and literary criticism , in which capacity he wrote many highly articulate pieces of journalism , his main talent was for drama , and he wrote more than 60 plays. He was also an essayist , novelist and short story writer.
Zeno of Citium ( Greek : Ζήνων ὁ Κιτιεύς , Zēnōn ho Kitiéŭs ; c. 334 BC – c. 262 BC) was a Greek thinker [ 1 ] from Citium ( Greek : Κίτιον , Kition ), Cyprus . He was probably of Phoenician descent. [ 2 ] Zeno was the founder of the Stoic school of philosophy, which he taught in Athens from about 300 BC. Based on the moral ideas of the Cynics , Stoicism laid great emphasis on goodness and peace of mind gained from living a life of Virtue in accordance with Nature . It proved very successful, and flourished as the dominant philosophy from the Hellenistic period through to the Roman era . [ edit ] Life Zeno was born c. 334 BC, [a] in Citium in Cyprus .
Epicurus ( Greek : Ἐπίκουρος, Epikouros , "ally, comrade"; 341 BCE – 270 BCE) was an ancient Greek philosopher as well as the founder of the school of philosophy called Epicureanism . Only a few fragments and letters of Epicurus's 300 written works remain. Much of what is known about Epicurean philosophy derives from later followers and commentators. For Epicurus, the purpose of philosophy was to attain the happy, tranquil life, characterized by ataraxia —peace and freedom from fear—and aponia —the absence of pain—and by living a self-sufficient life surrounded by friends.
Saint Patrick ( Latin : Patricius ; Proto-Irish : *Qatrikias ; [ 2 ] Modern Irish : Pádraig ; [ 3 ] Welsh : Padrig ; [ 4 ] c. 387 – 17 March c. 460 [ 5 ] or c. 492 [ 6 ] ) was a Romano-British Christian missionary and bishop in Ireland . Known as the "Apostle of Ireland", he is the primary patron saint of the island along with Saints Brigid and Columba . Two authentic letters from him survive, from which come the only generally accepted details of his life. [ 7 ] When he was about 16, he was captured from his home and taken as a slave to Ireland, where he lived for six years before escaping and returning to his family.
Edward Michael " Bear " Grylls (born 7 June 1974) is a British adventurer , writer and television presenter. He is best known for his television series Man vs. Wild , known as Born Survivor in the United Kingdom. In July 2009, Grylls was appointed the youngest ever Chief Scout at the age of 35. Personal life Grylls grew up in Donaghadee , Northern Ireland until the age of 4 when his family moved to Bembridge on the Isle of Wight . [ 6 ] [ 7 ] He is the son of the late Conservative party politician Sir Michael Grylls and Lady Sarah Grylls. [ 8 ] Lady Grylls was the daughter of Patricia Ford , [ 9 ] briefly an Ulster Unionist Party MP , and cricketer and businessman Neville Ford .
Immanuel Kant ( German: [ɪˈmaːnu̯eːl kant] ; 22 April 1724 – 12 February 1804) was a German philosopher. He is a central figure of modern philosophy, and set the terms by which all subsequent thinkers have had to grapple. He argued that human perception structures natural laws, and that reason is the source of morality. His thought continues to hold a major influence in contemporary thought, especially in fields such as metaphysics, epistemology, ethics, political philosophy, and aesthetics. [ 1 ] Kant's major work, the Critique of Pure Reason ( Kritik der reinen Vernunft , 1781), [ 2 ] aimed to unite reason with experience to move beyond what he took to be failures of traditional philosophy and metaphysics . He hoped to end an age of speculation where objects outside experience were used to support what he saw as futile theories, while opposing the skepticism of thinkers such as Hume .
Luigi Aloisio Galvani ( Latin : Aloysius Galvani ) (September 9, 1737 – December 4, 1798) was an Italian physician, physicist and philosopher who had also studied medicine and had practised as a doctor, lived and died in Bologna . In 1771, he discovered that the muscles of dead frogs legs twitched when struck by a spark. [ 1 ] This was one of the first forays into the study of bioelectricity , a field that still today studies the electrical patterns and signals of the nervous system . [ edit ] Early life Luigi Galvani was born to Domenico and Barbara Foschi in Bologna, Italy. His father was a goldsmith and his mother was Domenico's fourth wife. His family was not aristocratic, but they could afford to send at least one of their sons to study at a university.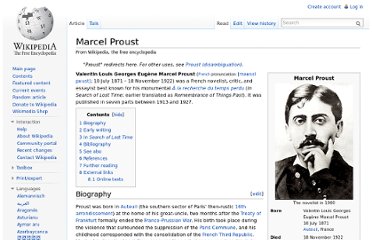 Valentin Louis Georges Eugène Marcel Proust ( French pronunciation: ​ [maʁsɛl pʁust] ; 10 July 1871 – 18 November 1922) was a French novelist, critic, and essayist best known for his monumental À la recherche du temps perdu ( In Search of Lost Time ; earlier translated as Remembrance of Things Past ). It was published in seven parts between 1913 and 1927. [ edit ] Biography
Irwin Allen Ginsberg ( pron.: / ˈ ɡ ɪ n z b ər ɡ / ; June 3, 1926 – April 5, 1997) was an American poet and one of the leading figures of the Beat Generation in the 1950s. He vigorously opposed militarism , economic materialism and sexual repression . Ginsberg is best known for his epic poem " Howl ", in which he celebrated his fellow "angel-headed hipsters" and harshly denounced what he saw as the destructive forces of capitalism and conformity in the United States. It is one of the classic poems of the Beat Generation. [ 1 ] The poem, which was dedicated to writer Carl Solomon , opens: I saw the best minds of my generation destroyed by madness, starving hysterical naked, dragging themselves through the negro streets at dawn looking for an angry fix... [ 2 ]
Pablo Ruiz y Picasso , known as Pablo Picasso ( Spanish: [ˈpaβlo piˈkaso] ; 25 October 1881 – 8 April 1973) was a Spanish painter , sculptor , printmaker , ceramicist , and stage designer who spent most of his adult life in France . As one of the greatest and most influential artists of the 20th century, he is widely known for co-founding the Cubist movement, the invention of constructed sculpture , [ 2 ] [ 3 ] the co-invention of collage , and for the wide variety of styles that he helped develop and explore. Among his most famous works are the proto-Cubist Les Demoiselles d'Avignon (1907), and Guernica (1937), a portrayal of the German bombing of Guernica during the Spanish Civil War .
Emo Philips is an American entertainer and comedian born in the Chicago suburb of Downers Grove . [ 1 ] Much of his standup comedy stems from the use of paraprosdokians and garden path sentences spoken in a wandering falsetto tone of voice and a confused, childlike delivery of his material to produce the intended comic timing in a manner invoking the 'wisdom of children' or the idiot savant . [ edit ] Career Philips has recorded three comedy albums.
Isaac Asimov ( / ˈ aɪ z ɨ k ˈ æ z ɨ m ɒ v / EYE -zək AZ -ə-mov ; [ 2 ] born Isaak Yudovich Ozimov ; Russian : Исаак Юдович Озимов ; c. January 2, 1920 [ 1 ] – April 6, 1992) was an American author and professor of biochemistry at Boston University , best known for his works of science fiction and for his popular science books. Asimov was one of the most prolific writers of all time, having written or edited more than 500 books and an estimated 90,000 letters and postcards . [ 3 ] His works have been published in nine out of ten major categories of the Dewey Decimal System . [ 4 ] His only works in the 100s—which covers philosophy and psychology—were forewords for The Humanist Way (1988) and In Pursuit of Truth (1982), a festschrift in honor of philosopher Sir Karl Popper 's 80th birthday. [ 5 ] Asimov is widely considered a master of hard science fiction and, along with Robert A. Heinlein and Arthur C.