Geography
Global Trek: Virtual Travel Around the World. A Sense of Place. Place and Location are two of the five themes of geography and a natural starting point for a study of the Arctic and Antarctica.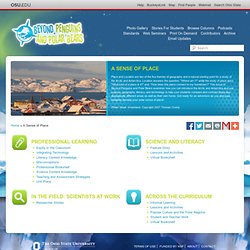 Location answers the question, "Where am I? " while the study of place asks, "What kind of a place is it? " and, "How does this place connect to my hometown? " Index Mundi - Country Facts. Social Studies. 25 National Flags And Their Meanings. Originating on battlefields as a means of identification, national flags have come a long way since their bloody conception.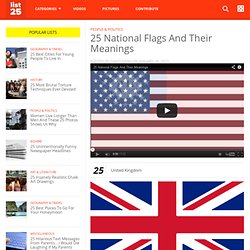 Flying in courthouses, classrooms, and fire stations they typically hold symbolic significance for the nation and have complex meanings ingrained into their designs. So go ahead and test yourself on your flag knowledge because these are 25 national flags and their meanings. Combining the crosses of the patron saints of England, Wales, and Scotland, the Union Jack as it is sometimes called is one of the oldest flags in the world having been around since 1801. It has been said that when Duke Leopold V. of Austria returned from war his white battledress was soaked with blood. When he took off his belt, however, the cloth underneath was still white. OpenStreetMap. Earth at Night 2012. Account Options Sign in Earth at Night 2012 This new global view and animation of Earth's city lights is a composite assembled from data acquired by the Suomi NPP satellite.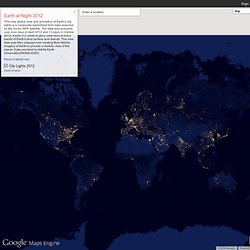 Kids' Corner, State of Alaska. Worldmapper: The world as you've never seen it before. Rader's GEOGRAPHY 4 KIDS.COM. GmapGIS - A web based GIS application to draw on Google maps: polygons, lines, markers and labels. Tours from Above – Aerial Virtual Tour Photography worldwide.
Geographical Association - home. Maps. TimeMaps - World History Atlas. Old Maps Online.
Geography Resources. With exam season fast approaching, chances are you're starting to think about how to encourage your KS4 students to make the most of the revision time they still have available.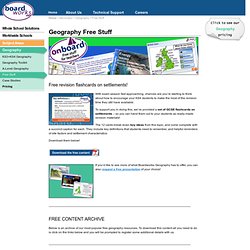 To support you in doing this, we've provided a set of GCSE flashcards on settlements – so you can hand them out to your students as ready-made revision materials! The 12 cards break down key ideas from this topic, and come complete with a succinct caption for each.
---