Cine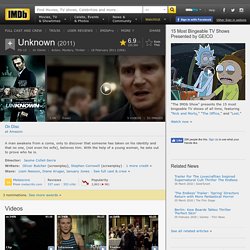 Sans identité (2011
Edit Storyline A biochemist and his dishy wife arrive in Berlin for a conference at which a scientist and his controversial Arab funder will announce breakthrough research. While his wife checks into the hotel, he grabs a cab to return to the airport for his briefcase, left at the curb. En route, an auto accident puts him in a coma, from which he awakes four days later without identification and with gaps in his memory. He goes to the hotel: his wife refuses to recognize him and another man has claimed his identity.
La historia de siempre (2009) on Vimeo
In looking at the first film of the Matrix trilogy, I am amazed by the influence that this film has exerted on modern culture. Specially taking into account the fact that the core idea of the film is not entirely new (actually the film could be called "Plato's Cave Myth revisited"). Most probably, the success of the film "The Matrix" resides in the way that the Greek philosopher's allegory is explained in a sci-fi context, with dazzling visual effects, ... It has to be admitted, nonetheless, that the "bullet time" effect deserves a special place in cinema history since the development of this effect is a beautiful exercise of pure scientific-technical research.
The Onion theory (II): which simulation are we in?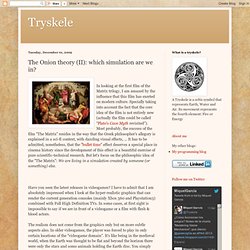 Tick Tock - student short film for Emory Campus MovieFest 2011
Edit Storyline Plot Summary | Plot Synopsis Taglines: Long hours. Low pay.
Adventureland - Job d'été à éviter (2009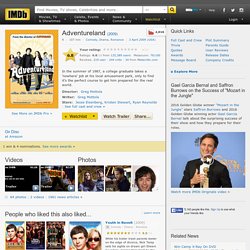 Carlos Boyero es crítico de cine y televisión. Lleva más de 20 años escribiendo artículos para distintas publicaciones. Trabaja como columnista en "El Mundo" desde su fundación y es un colaborador habitual de la Cadena Ser. Es una tecnología que envía automáticamente los titulares de un medio a un programa lector o agregador. Para utilizar las fuentes RSS existen múltiples opciones. La más común consiste en instalar un programa llamado 'agregador' o lector de noticias.
Blogs plus.es - El Video-Blog de Boyero y Cia
Ver peliculas de cine por internet. Videoclub online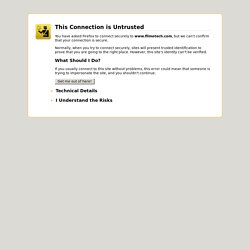 Tu portal de cine. Películas, estrenos, trailers, cartelera... e
Si has olvidado tu contraseña, por favor, introduce tu nombre de usuario y pulsa ENVIAR. filmotech.com te remitirá un correo para recordarte tu contraseña. enviar Conforme al artículo 5 de la Ley Orgánica 15/1999, de 13 de diciembre, de Protección de Datos de Carácter Personal, le informamos de que los datos que usted ha facilitado serán incorporados a los ficheros titularidad de EGEDA. La finalidad de dicha incorporación y tratamiento es la adecuada gestión de su solicitud en relación con los servicios ofrecidos. De acuerdo con el artículo 26 de la Ley 15/1999, los ficheros de EGEDA, se encuentran debidamente inscritos en el Registro General de Protección de Datos, de la Agencia de Protección de datos.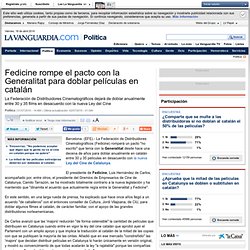 Fedicine rompe el pacto con la Generalitat para doblar películas
Barcelona.