Neuroscience
The brain can be studied by methods ranging from genetics and molecular biology to behavioral testing of human subjects.
Neuroscience 5e: Chapter 1 Summary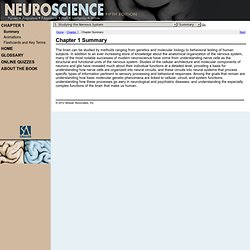 Grégoire Courtine: The paralyzed rat that walked
See-through brains
Synchronized virtual reality heartbeat triggers out-of-body experiences
New research demonstrates that triggering an out-of-body experience (OBE) could be as simple as getting a person to watch a video of themselves with their heartbeat projected onto it.
Mind & Brain :: Head Lines :: August 4, 2013 :: :: Email :: Print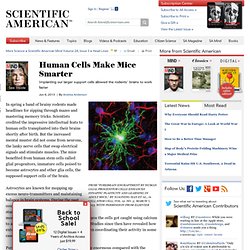 Human Cells Make Mice Smarter
Mar. 7, 2013 — Glial cells -- a family of cells found in the human central nervous system and, until recently, considered mere "housekeepers" -- now appear to be essential to the unique complexity of the human brain. Scientists reached this conclusion after demonstrating that when transplanted into mice, these human cells could influence communication within the brain, allowing the animals to learn more rapidly.
Support cells found in human brain make mice smarter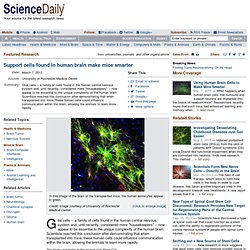 First mind-reading implant gives rats telepathic power - life - 28 February 2013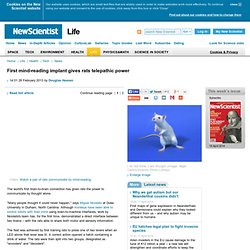 Read full article
Split brain with one half atheist and one half theist
The story is one you've heard before: a man slips into a coma and nearly dies.
When Proof Is Not Enough: Eben Alexander's Proof of Heaven and the Problem of Objectivity in Science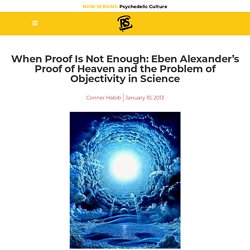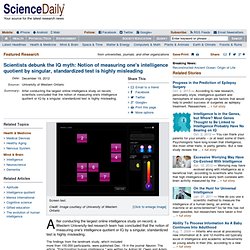 Dec. 19, 2012 — After conducting the largest online intelligence study on record, a Western University-led research team has concluded that the notion of measuring one's intelligence quotient or IQ by a singular, standardized test is highly misleading.
Scientists debunk the IQ myth: Notion of measuring one's intelligence quotient by singular, standardized test is highly misleading
Scientists make monkeys smarter using brain implants. Could you be next?
Dragonflies have human-like 'selective attention'
Dec. 20, 2012 — In a discovery that may prove important for cognitive science, our understanding of nature and applications for robot vision, researchers at the University of Adelaide have found evidence that the dragonfly is capable of higher-level thought processes when hunting its prey. The discovery, to be published online December 20 in the journal Current Biology , is the first evidence that an invertebrate animal has brain cells for selective attention, which has so far only been demonstrated in primates. Dr Steven Wiederman and Associate Professor David O'Carroll from the University of Adelaide's Centre for Neuroscience Research have been studying insect vision for many years.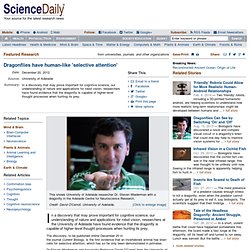 A group of neuroscientists and software engineers at the University of Waterloo in Canada are claiming to have built the world's most complex, large-scale model simulation of the human brain.
Spaun, the most realistic artificial human brain yet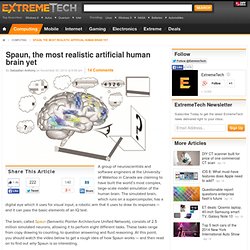 Neuroscience of Music - How Music Enhances Learning - Neuroplasticity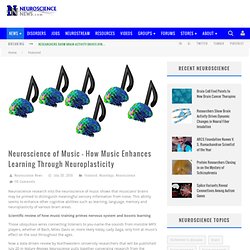 Neuroscience research into the neuroscience of music shows that musicians' brains may be primed to distinguish meaningful sensory information from noise. This ability seems to enhance other cognitive abilities such as learning, language, memory and neuroplasticity of various brain areas. Scientific review of how music training primes nervous system and boosts learning Those ubiquitous wires connecting listeners to you-name-the-sounds from invisible MP3 players, whether of Bach, Miles Davis or, more likely today, Lady Gaga, only hint at music's effect on the soul throughout the ages. Now a data-driven review by Northwestern University researchers that will be published July 20 in Nature Reviews Neuroscience pulls together converging research from the scientific literature linking musical training to learning that spills over to skills including language, speech, memory, attention and even vocal emotion.
Public release date: 21-Nov-2012 [ Print | E-mail |
Neural interaction in periods of silence
Hilary Putnam is not a household name.
From Cooling System to Thinking Machine | Being Human
May 5, 2011 AUSTIN, Texas — Computer networks that can't forget fast enough can show symptoms of a kind of virtual schizophrenia, giving researchers further clues to the inner workings of schizophrenic brains, researchers at The University of Texas at Austin and Yale University have found. The researchers used a virtual computer model, or "neural network," to simulate the excessive release of dopamine in the brain. They found that the network recalled memories in a distinctly schizophrenic-like fashion. Their results were published in April in Biological Psychiatry . "The hypothesis is that dopamine encodes the importance — the salience — of experience," says Uli Grasemann , a graduate student in the Department of Computer Science at The University of Texas at Austin.
Scientists Afflict Computers with Schizophrenia to Better Understand the Human Brain | News
For secrets, nowhere's safer than the inside of your head, right?
Brain drain: Hackers could dip their phishing poles into your mind
Does Self-Awareness Require a Complex Brain? | Brainwaves
Brain might not stand in the way of free will - life - 06 August 2012
Brain imaging can predict how intelligent you are: 'Global brain connectivity' explains 10 percent of variance in individual intelligence
The Brain Set Free
Daniel Wolpert: The real reason for brains
Brain Time
Your Color Red Really Could Be My Blue | Color Perception
Neuroscience: The mind reader
Mind control: the advent of neuroscience in marketing | Media network
Multiple thought channels may help brain avoid traffic jams
Researchers show that memories reside in specific brain cells
The split brain: A tale of two halves
Head Transplant: The Truly Disturbing Truly Real Story on Vimeo
The cockroach beatbox
Mapping out a new era in brain research
Study: Sleeplessness Causes Our Mental Circuits to Overheat
New brain connections form in clusters during learning
Solve for X: Mary Lou Jepsen on imaging the mind's eye
Gene therapy boosts brain repair for demyelinating diseases
Drug quickly reverses Alzheimer's symptoms in mice
Visual-cortex simulator sees animals as humans do - tech - 03 April 2007
'Matrix'-style effortless learning? Vision scientists demonstrate innovative learning method
engineers build a nanoscale device for brain-inspired computing
Simon Lewis: Don't take consciousness for granted
Amping Up Brain Function: Transcranial Stimulation Shows Promise in Speeding Up Learning
Jim Fallon: Exploring the mind of a killer
Neuroimaging fails to demonstrate ESP is real (1/15/2008)
Why We Sleep
Steven Pinker on the myth of violence
Jeff Hawkins on how brain science will change computing
Brain imaging reveals the movies in our minds