Wikipedia Articles
Pi and river length
The number pi (symbol: π ) ( / p aɪ / ) is a mathematical constant that is the ratio of a circle 's circumference to its diameter , and is approximately equal to 3.14159.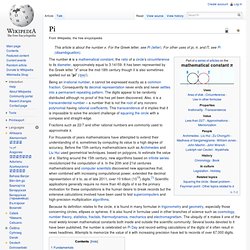 Tuned pipe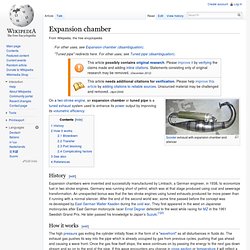 Scooter exhaust with expansion chamber and silencer On a two-stroke engine , an expansion chamber or tuned pipe is a tuned exhaust system used to enhance its power output by improving its volumetric efficiency [ edit ] History Expansion chambers were invented and successfully manufactured by Limbach, a German engineer, in 1938, to economize fuel in two stroke engines. Germany was running short of petrol, which was at that stage produced using coal and sewerage transformation. An unexpected bonus was that the two stroke engines using tuned exhausts produced far more power than if running with a normal silencer.
0.999...
The repeating decimal continues with an infinite number of nines. In mathematics , the repeating decimal 0.999...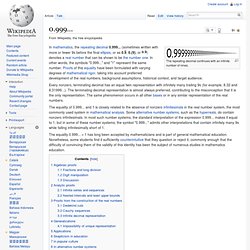 "Mystery" is a loosely-defined term for either unsolved problems (especially unsolved crimes) and for the (alleged) "paranormal". Please do not place articles here because a topic "has been described as" "a mystery".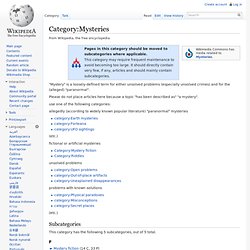 Category:Mysteries
Double bind
A double bind is an emotionally distressing dilemma in communication in which an individual (or group) receives two or more conflicting messages, in which one message negates the other. This creates a situation in which a successful response to one message results in a failed response to the other (and vice versa), so that the person will be automatically wrong regardless of response. The double bind occurs when the person cannot confront the inherent dilemma, and therefore cannot resolve it or opt out of the situation.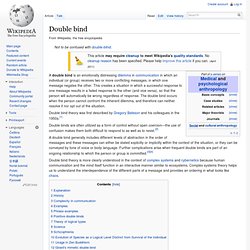 Corundum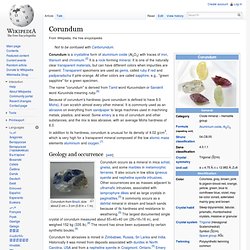 Corundum is a crystalline form of aluminium oxide ( Al 2 O 3 ) with traces of iron , titanium and chromium . [ 1 ] It is a rock -forming mineral . It is one of the naturally clear transparent materials , but can have different colors when impurities are present.
A banana equivalent dose (abbreviated BED ) is a nonstandard unit of radiation exposure, ostensibly defined as the additional dose a person will absorb from eating one banana .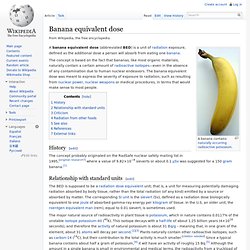 Banana equivalent dose
Clarke's Three Laws are three "laws" of prediction formulated by the British writer Arthur C. Clarke .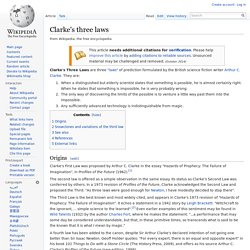 Siphonophorae
Siphonophorae or Siphonophora , the siphonophores , are an order of the Hydrozoa , a class of marine invertebrates belonging to the phylum Cnidaria . Although a siphonophore appears to be a single organism , each specimen is actually a colony composed of many individual animals. Most colonies are long, thin, transparent pelagic floaters.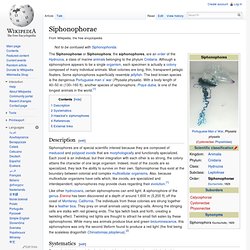 Spring-heeled Jack is a character in English folklore of the Victorian era who was known for his startling hops. The first claimed sighting of Spring-heeled Jack was in 1837. [ 1 ] Later sightings were reported all over Great Britain and were especially prevalent in suburban London , the Midlands and Scotland . [ 2 ]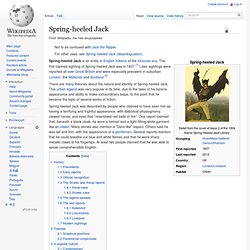 Spring Heeled Jack