Cooking@itsbest
'Super Evil' Bacon Meatballs. I would like to ask my cardiologist to forgive me for what I am about to do … When ever you see a show about 'extreme' cuisine, or read an article about the ultimate (Insert Food Item Here), there is a pretty good chance that the 'extreme' item will include some bacon.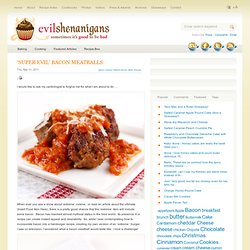 Bacon has reached almost mythical status in the food world. Healthy Crunchy: Three Guilt-Free Snacks You Can Make at Home. When I snack, I try to stick to fresh fruits and vegetables, but sometimes I want something with crunch, not the moist crunch of a carrot but the carb-filled crunch of a potato chip.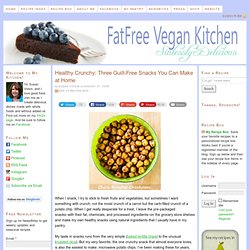 When I get really desperate for a treat, I leave the pre-packaged snacks–with their fat, chemicals, and processed ingredients–on the grocery store shelves and make my own healthy snacks using natural ingredients that I usually have in my pantry. My taste in snacks runs from the very simple (baked tortilla chips) to the unusual (roasted okra). Hash Brown Wrapped Eggs. It's been hard for me to switch gears from the whole "Stuffed" concept.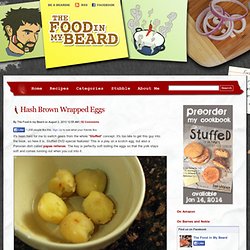 It's too late to get this guy into the book, so here it is, Stuffed DVD special features! This is a play on a scotch egg, but also a Peruvian dish called papas rellenas. The key is perfectly soft boiling the eggs so that the yolk stays soft and comes running out when you cut into it. Buffalo Chicken Rolls. I'm thinking we're very comfortable together at this point, me and you.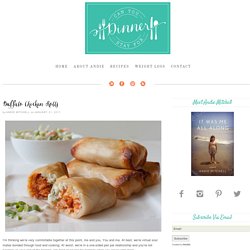 You and me. At best, we're virtual soul mates bonded through food and cooking. Chicken Pot Pie Biscuits #NewKnorrStock - Little BGCG. Scalloped Hasselback Potatoes. "Scalloped" is an attractive word, isn't it?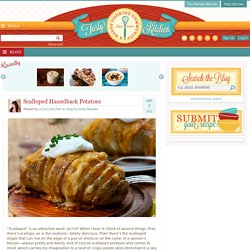 When I hear it I think of several things: first, there's scallops, as in the seafood—totally delicious. Then there's the scalloped shape that can live on the edge of a pair of shorts or on the collar of a woman's blouse—always pretty and dainty. And of course scalloped potatoes also comes to mind, which carries my imagination to a land of crispy potato skins drenched in a sea of cheese and cream. I can think of no better place to exist, actually. So when I came across TK member Shelbi Keith's recipe for Scalloped Hasselback Potatoes, I knew we were going to become fast friends.
Creamy Caprese Pasta. Top 25 Delicious Breakfast Hacks | Life Hacks. The 34 Simple Two-Ingredient Recipes | Crazy Food. Desserts & sweets | foodgawker - page 12. Mom's Recipes. Wine and Cheese Pairings | Beer and Cheese Pairings | Spirits. Home | Yummly. Most gawked all-time | foodgawker - page 2. Hasselback Garlic Cheesy Bread. Hasselback Garlic Cheesy Bread First thing: this Calphalon Giveaway ends on Friday!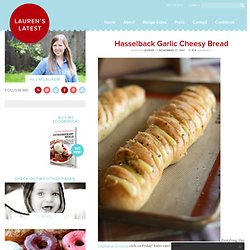 Enter enter enter! Second thing: this bread is the bomb. Last week, I got some evil Kerrygold Samples in the mail. Basically, it was a box filled with cheese and butter. Black Pepper-Garlic Chicken. Here's one on my favorite Stir-fry recipes, inspired by Black Pepper Chicken served at Panda Express Restaurants.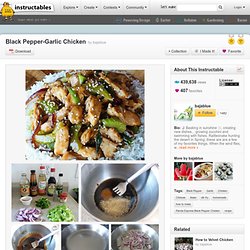 The savory sauce took a bit of tinkering, but I think this copycat version is really close... and it's delicious, too! Please... don't forget to start this recipe with Velveted Chicken. It's a very simple technique that'll turn any Chicken Stir-fry into a mouth-watering Asian masterpiece! Ingredients: 1 lb. Top 10 Secret Recipes. Food The weekend is upon us, and what better way is there to enjoy it than to cook or bake some of your favorite takeout treats?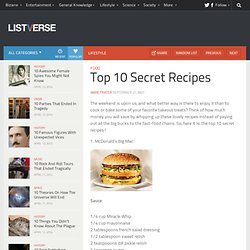 Think of how much money you will save by whipping up these lovely recipes instead of paying out all the big bucks to the fast-food chains. So, here it is: the top 10 secret recipes! 1. Honeyed Apple Peanut Butter Tart. Simple recipes make me so happy, that's just how recipes should be right?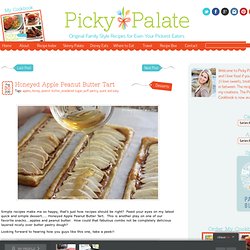 Feast your eyes on my latest quick and simple dessert….. Honeyed Apple Peanut Butter Tart. This is another play on one of our favorite snacks….apples and peanut butter. How could that fabulous combo not be completely delicious layered nicely over butter pastry dough? Wine & Food Pairing Chart | Quick Home Bar Guide by Barina Craft. Barina Craft'shome bar site.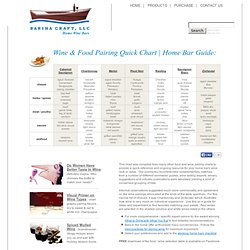 This chart was compiled from many other food and wine pairing charts to provide a quick reference and ongoing resource for your home bar's wine rack or cellar. The commonly recommended complementary matches from a number of different sommelier guides, wine tasting experts, winery suggestions and industry publications were tabulated yielding a kind of consensus grouping of lists. Informal observations suggested much more commonality and agreement on the wine pairings advocated at the ends of the taste spectrum. For this narrow list of choices, it was Chardonnay and Zinfandel, which illustrates how wine is very much an individual experience. Vanilla Pudding Cinnamon Rolls with Cream Cheese Frosting | Mel's Kitchen Cafe.
Per the requests I got after my last cinnamon roll post, here is the recipe for my tried-and-true vanilla pudding cinnamon rolls with cream cheese frosting. The vanilla pudding is simply added to the dough to make it extremely soft and pliable – and oh, does it ever. (No surprise, this recipe comes direct from my Aunt Marilyn whose recipes have made a great showing on this blog already.) Recipe: sweet & sour chicken. I was ridiculously excited when I came across this recipe for homemade sweet and sour chicken. You guys, it is SO GOOD. It's a little involved with several steps (coating chicken, frying a little bit, then baking) but it is all worth it. Trust me. Start with a plate of chicken breast, cut into chunks. Recipe: buffalo chicken ring. I love all things made with Frank's Red Hot (or any hot sauce, really. But especially Frank's Red Hot) I also love cheese. And crescent rolls. And ranch dressing. So this recipe?
Is basically my dream come true. 50 of the World's Best Breakfasts from Around the World. 38 Clever Christmas Food Hacks That Will Make Your Life So Much Easier. Molasses and Brown Butter Chocolate Chip Cookies. My Best Yet! Triple Layer Cookies and Cream Crunch Bars. Better-Than-Crack-Brownies. Punchfork — The best new recipes from top food sites. Ultimate Bacon Dip, Chef Chuck Kerber | Pittsburgh Hot Plate PittsburghHotPlate.Com | Pittsburgh Restaurant Reviews | Food Blog| Cooking Tutorials And Much More | Food | Cooking | Recipes | Food Blog | Pittsburgh.
Baked Egg Boat recipe. How To Make Croissants [Chocolate Croissants, Pumpkin Spice Croissants, and Cinnamon Sugar Croissants] Cooking Tips and Secrets, Chef Chuck Kerber | Pittsburgh Hot Plate PittsburghHotPlate.Com | Pittsburgh Restaurant Reviews | Food Blog| Cooking Tutorials And Much More | Food | Cooking | Recipes | Food Blog | Pittsburgh. Common Ingredient Substitutions Article.
Most favorited all-time. 33 Beautiful Things You Can Make With Food Coloring. DIY Cupcake Frosting Color Chart. Yummy Pinata Cookies That Pack A Sweet Surprise. Brown Butter Double Fudge Chocolate Chip Cookie Dough Cookies. Chocolate bars by Chocomize – Create your own personalized chocolate from over 100 ingredients. 10 AWESOME Nutella Recipes | Mommy Musings.
Chocolate-Dipped Coffee Ice Cream Glazed Doughnut Sandwiches. Oven baked beignets. Char Siu Bao (Pork Buns) Spiked Side Apple Sauce. Everyday Recipes — Page 4. Pumpkin Spice & White Chocolate Cheesecake + Two Variations. Cookies and Cream Popcorn. Pumpkin Cinnamon Roll Pancakes. 50 Slow Cooker Recipes. How to To Make Your Food Taste Awesome | Easy Food. Recipes, Menu Ideas, Cooking Tips & How-To - Kitchen Daily. Mingmakescupcakes.yolasite. Most gawked all-time. Frozen Strawberry Squares Recipe. Hearty Tomato and Herb Dumpling Soup. Grilled S'more Brownie. Death By Oreo Cupcakes. Make Your Own Ice Cream in Five Minutes. Sweet and sour drinks. 100 Ways to Cook… Popsicles! Rubik's Battenburg Cake. Peanut Butter Cake-Mousse Recipes-Mousse Cake-Cake Mousse-Mini Cakes. Fresh Berries Panna Cotta. Scalloped Hasselback Potatoes.
Kitchen Helpers. The Perfect Cookie Dough Truffles Recipe. Foodgawker | feed your eyes. Family Night Pizza. Cook Book Online. Out of the Campfire, into the Oven: S'mores Pie. Italian sodas. Top 5 Reasons Why Cast Iron Is The Greenest Choice For Non-Stick Cooking. Cookies and Cream Cheesecake Truffles. Monkey Bread. Pizza Braid. Untitled. Potato Skins Recipe. Get Off Your Butt and BAKE! » Impressive recipes made simple. Oreo Cookies-Recipe Oreo-Oreo Recipes-Cheese Cupcakes-Oreo Cheesecakes.
Sugarcrafter. Chocolate-lava-cookies-18. Mini Heart Cake. Oreo and Peanut Butter Brownie Cakes. Two Minute Chocolate Peanut Butter Cake. Best Steak Marinade in Existence Recipe. Modern Meatloaf Recipes: 7 Creative And Classic Takes. The Best French Onion Soup (…ever!) EDDIE ROSS - Pink Ombre Cake. How to Cook. Cupcake Art. Single Serving Pie in a Jar. "Owl" Always Love You Cookies. Penniesonaplatter.
---