Lecture interessante
▶ play Conference 2012 fireside chat: Robert Scoble and Aaron Levie
Solutions Classic How do we change the structure of systems to produce more of what we want and less of that which is undesirable? After years of working with corporations on their systems problems, MIT's Jay Forrester likes to say that the average manager can define the current problem very cogently, identify the system structure that leads to the problem, and guess with great accuracy where to look for leverage points—places in the system where a small change could lead to a large shift in behavior.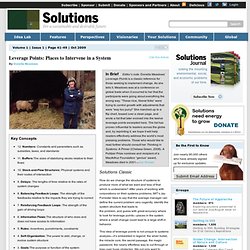 Leverage Points: Places to Intervene in a System
Posted by Guest Author on July 23, 2012 in Business Start Up Advice [ 5 Comments ] While most of the greatest lessons that you'll learn as an entrepreneur will probably come from mistakes and challenging experiences, published works such as books, whitepapers, blog posts, and the like still provide a lot of value for business owners. Books in particular are great resources because they can offer credibility and in-depth commentaries that most online sources can't match. Below are some of the best books that entrepreneurs can have on their bookshelves.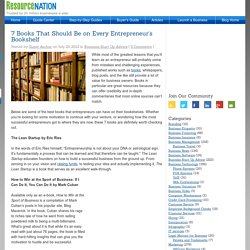 7 Books That Should Be on Every Entrepreneur's Bookshelf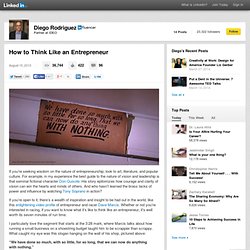 How to Think Like an Entrepreneur
If you're seeking wisdom on the nature of entrepreneurship, look to art, literature, and popular culture. For example, in my experience the best guide to the nature of vision and leadership is that seminal fictional character Don Quixote. His story epitomizes how courage and clarity of vision can win the hearts and minds of others.
By Sarah Lacy On June 25, 2013 Perhaps it's because I've worked my whole career in media and startups. But I'm having a hard time getting super lathered up about Bloomberg's takedown of what it is like to work at Fab. Don't hang your jacket on the back of a chair? Don't use a certain font in emails? Those are friendly suggestions compared to having to walk into the Conde Nast building everyday.
Stop pretending it's all a party: The social contract of working at a startup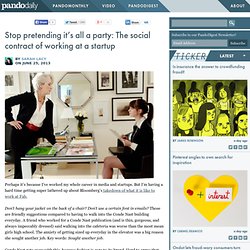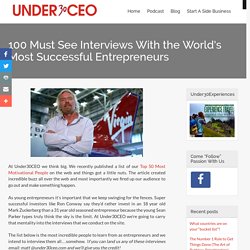 100 Must See Interviews With the World's Most Successful Entrepreneurs
At Under30CEO we think big. We recently published a list of our Top 50 Most Motivational People on the web and things got a little nuts. The article created incredible buzz all over the web and most importantly we fired up our audience to go out and make something happen. As young entrepreneurs it's important that we keep swinging for the fences. Super successful investors like Ron Conway say they'd rather invest in an 18 year old Mark Zuckerberg than a 31 year old seasoned entrepreneur because the young Sean Parker types truly think the sky is the limit. Silicon Valley was built on amazing products, not on stellar leadership skills. In fact, veterans of some of the world's most successful tech companies often look with skepticism, even disdain, on efforts to build strong management skills. The premise is that all energy should be focused solely on turning fabulous ideas into hyper growth. It's true that if a start-up fails — or is sold — the need for enduring leadership may never arise.
Can Building Great Products Help You Build Great Teams? - Deep Nishar
I'm looking forward to sharing posts from time to time about things I've learned in my career at Microsoft and the Gates Foundation. (I also post frequently on my blog.) Last month, I went to Omaha for the annual Berkshire Hathaway shareholders meeting.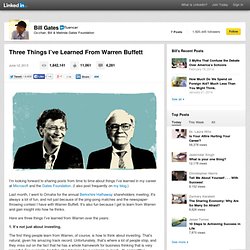 Three Things I've Learned From Warren Buffett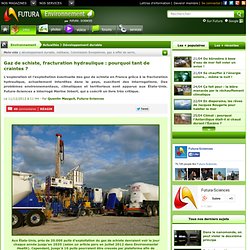 Aux États-Unis, près de 20.000 puits d'exploitation du gaz de schiste devraient voir le jour chaque année jusqu'en 2035 (selon un article paru en juillet 2012 dans Environmental Health). Cependant, jusqu'à 10 puits pourraient être creusés par plateforme afin de réduire l'impact sur le territoire. © Justin Woolford, Flickr, cc ny nc sa 2.0 Gaz de schiste, fracturation hydraulique : pourquoi tant de craintes ? - 4 Photos À l'heure où la France aborde la délicate question de la transition énergétique, un sujet polémique revient de plus en plus sur le devant de la scène : l'exploration et l'exploitation du gaz de schiste.
Gaz de schiste, fracturation hydraulique : pourquoi tant de craintes ?
Complete List - The 25 Most Influential Business Management Books
Mar 24, 2008 Charlie Munger is an 80-something billionaire who cofounded top-tier law firm Munger, Tolles & Olson and is Warren Buffett's long-time partner and Vice-Chairman at Berkshire Hathaway, one of the most successful companies of all time. Some people, including me, consider Mr. Munger to be an even more interesting thinker and writer than Mr.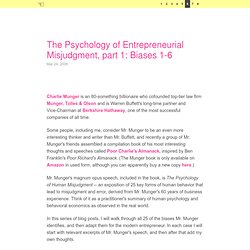 The Psychology of Entrepreneurial Misjudgment, part 1: Biases 1-6
From Seinfeld to Sushi: How to Master Your Domain
I recently read a great profile in the New York Times about Jerry Seinfeld written by Jonah Weiner (no relation). In addition to providing a view into the life of one of the most successful stand-up comedians of the modern era, the article focuses on the method behind Seinfeld's observational comic genius, and specifically, the painstaking process he applies to developing a joke. I always find it valuable when people at the top of their profession provide insight into how they do what they do, but as a long time fan of the comedian and the show (in my opinion, Seinfeld stands alone as the best sitcom of all time), I found this to be a particularly engrossing read.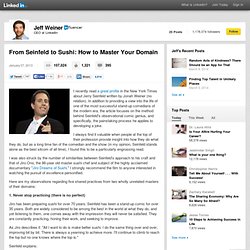 The weekly bi-Romanarian/Cohenarian
The weekly bi-Boussionarian/Alaryanian
The Science of Storytelling: Why Telling a Story is the Most Powerful Way to Activate Our Brains
Adobe: Web standards match 80 percent of Flash features | Internet & Media
SAN FRANCISCO--Adobe Systems, retooling as fast as it can for a future of Web publishing and Web apps, sees the technology as mostly caught up to the Flash technology that Adobe previously preferred. "I think it's close to 80 percent," Arno Gourdol, Adobe's senior director of Web platform and authoring, said in an interview during the Google I/O show here. Gourdol, who leads Adobe work to embrace Web standards, has a lot on the line as the company tries to make a difficult transition away from the widely used but fading Flash. He's eager to convince skeptics that the company is serious about it: "We're not just looking at parity with Flash. We're trying to go beyond what you can do with Flash." The company for years advocated its Flash Player plug-in as a way to deliver games, video, and slick, magazine-style layouts to Web browsers.
Top 10 Worst Business Decisions Ever
Over the centuries, there have been some crackers when it comes to bad business decisions. Craig Donaldson lists 10 of the classic additions to the hall of bad business decisions fame. Napoleon wasn't a gifted realtor In 1803, Bonaparte acquired the Louisiana territory – roughly half of the land that became the US – after France made a treaty with Spain.
Oscar Wilde: 'Man is made for something better than distributing dirt. All work of that kind should be done by a machine.' Photograph: Corbis If there's one thing practically all futurologists once agreed on, it's that in the 21st century there would be a lot less work. What would they have thought, if they had known that in 2012, the 9-5 working day had in the UK become something more like 7am to 7pm? They would surely have looked around and seen technology take over in many professions which previously needed heavy manpower, they would have looked at the increase in automation and mass production, and wondered – why are they spending 12 hours a day on menial tasks?
It's the 21st century – why are we working so much? | Owen Hatherley | Comment is free
Robert Scoble - Google+ - Why Silicon Valley is better than the rest of the places…
Why Silicon Valley is better than the rest of the places I've visited Gizmodo tries its best to bring Google's geeks back down to earth http://gizmodo.com/5921823 But that's exactly why Silicon Valley is the center of the technology world and why it isn't, say, New York. See, back in 1968 one guy, Douglas Engelbart, showed us a world that none of us would "get" until 1984. http://youtu.be/JfIgzSoTMOs is the video of that. The Mother of All Demos. He didn't have any social skills.
ios - NSURLConnection timing out
I've been having intermittent problems with NSURLConnection requests timing out in our iPhone app. It seems to be occurring more of late. Once it enters this state, it stays in that state. The only resolution seems to be killing the app and restarting it.
iOS application stuck for minutes before becoming active
Issue #320: Issue where all requests timeout until the app is restarted · pokeb/asi-http-request
Hackers and Painters
Robert Anisko
Comment développer un leadership éthique et responsable?
(1) Rethinking Information Diversity in Networks
The ultimate guide to the Facebook Edgerank algorithm
Google+ Page APIs Rolling Out to More Businesses
How to find true friends (and love) in 45 minutes
What really caused the eurozone crisis?
10 choses que je ne savais pas la semaine dernière