Paint.NET - Free Software for Digital Photo Editing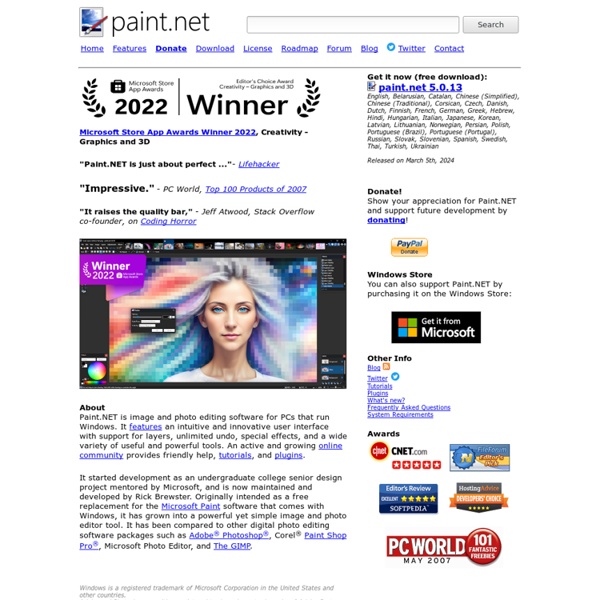 Get it now (free download): Paint.NET v3.5.11 3.5 MB, English, Chinese (Simplified), French, German, Italian, Japanese, Korean, Portuguese (Brazil), Russian, and Spanish Released on August 17th, 2013 paint.net 4.0 beta 5.8 MB, English, Chinese (Simplified), Dutch, Finnish, French, German, Italian, Japanese, Korean, Polish, Portuguese (Brazil), Portuguese (Portugal), Russian, and Spanish Released on February 8th, 2014
http://www.getpaint.net/index.html
Online Paint/Drawing • illusions, special effects, editing • Painting & Drawing • Digital Artist Freeware Sites • Paint
National Gallery of Art NGAkids BRUSHster Brushster is an online painting machine for all ages. This Shockwave interactive includes more than forty brushes and customizable size, transparency, texture, and stroke options. A rainbow palette, along with a toolbox of special effects that blur, ripple, smudge, blend, and fragment your designs help make Brushsterr a full-feature painting program. Brushster has a mind of its own! Fading Image Rollovers The principle behind fading rollovers is that you have 2 images "layered" over the top of each other. When you mouse over the image the foreground images fades from completely transparent to completely opaque (solid). In this way the user sees the background (underneath) image first and as the foreground (top) images starts to fade in it appears that the background image fades to become the top image. The background image is the "off" image as it is viewed on page load. The foreground (top) image is the "on" image.
FREE ONLINE PHOTO EDITING Nothing to download or install. No applets or activex. All editing is done via your browser! Resize - Scale - Rotate - Flip - Crop - Add Text - Add Clipart - Color Correction - Grayscale - Colorize - Set Transparency - Photo Optimizer - Reduce File Size - Edit Photo Dimensions - More! Upload JPG / GIF / PNG image file formats Images saved as JPG or PNG (including transparent PNG) Project Dogwaffle 1.2 - the Free PC Paint and Animation Program for prople who love to draw, sketch, animate and paint: digital painting, animation, special effects, filters, plugins, frames, layers, photoshop(r) alternative, digital painter, custom brush Project Dogwaffle 1.2 is a freeware version of the paint & animation program Project Dogwaffle and PD Pro Digital Painter, developed by Dan Ritchie - version 1.2 is based on a subset of version 2.0 ....... If you think this is pretty good, then you should see what you can do with the latest full commercial versions - read the user testimonials here. What can be done with Project Dogwaffle? See the user galleries and sample artwork. what is Project Dogwaffle, what's a Dogwaffle...?! ok, so it's funny name, but what does it do?
PaintTool SAI Before downloading the software, you should accept the license agreement linked below. Downloading this software signifies your agreement to the "Software License Agreement". And this agreement is adapted to previous beta release of this software too. Favicon Icon Drawing Program Online Free Draw your own favicon or icon online for free using this entirely web-based, non-Java icon generator. All you need is a modern web browser like Firefox. The tool creates a 16x16 pixel icon in 16 colors with optional transparency.
Paint.NET Free Download and Reviews us3r Reviewing 3.5.5 (Apr 27, 2010) Paint.NET v3.5.5 - Download, released on April 25th, 2010 This update fixes a bug when saving 8-bit images, improves layer composition and Gaussian Blur performance, and is now updated to support the new .NET Framework 4.0 in some cases. * Fixed the bug where saving as 8-bit PNG/GIF/BMP wasn't always working, usually with larger images. * Improved the performance of the Gaussian Blur effect by 30-40%. * Improved the performance of all the layer blending modes by 15-30%. * Improved the performance of zooming with the mouse wheel on dual-core Intel Atom systems. * Updated to support .NET 4.0 if no other version of .NET is installed. * Reduced download size from 4.8MB down to 3.5MB. * Fixed a small error in the Chinese translation. Please note that the system requirements have been updated. For Windows XP, you must now have Service Pack 3 (SP3) installed; SP2 is no longer supported.
Online Drawing Tools & Free Online Painting & Sketching Tools Free Online Drawing Tools, Online Painting Tools, and Online Sketching Tools and Programs As Graphic Designers, we are all creative individuals. I thought that most of you would love to know about all of the fantastic online drawing and painting tools that are available online. Not only are they fun, but they are also quite useful for sketching out some of our ideas. Some of these tools can also be used as design collaboration tools to use with your co-workers, clients, friends, teachers, and family.
Free Graphic Design Software – DrawPlus Starter Edition from Serif Draw, design, edit and create Use intricate vector drawing tools Turn photos into instant artwork Use professional colours Amazing shape blending techniques Paint with natural brushes So easy to use "Masses of sophisticated tools for working in a broad range of graphic design disciplines." Expert Reviews Scribus.net Painting online game paint brush online Painting online game paint brush online. Draw a picture and send it to your email. This tool can be used as post card creator. Painting online game. paint brush online. Iris software An astronomical images processing softwareVersion 5.59 Version 5.59 en français disponible : CLIQUEZ ICI NEW FEATURES OF VERSION 5.59 June 24, 2010
Grant Robinson : Scribble launcher About Scribble Once described as an open canvas to create and share drawings, this popular drawing app is back after 2 years offline. One of the best features of this app is the ability to see how each drawing was made as Scribble redraws the picture stroke by stroke. Scribble now includes functionality to send your favourite drawings to your nearest and dearest. This app requires version 7 of the Flash player or higher to run, you can get the latest version here.
IconArt productsIconArt v2.0 IconArt is a highly-compact cursor & icon creator. Icons are used to illustrate programs and files. One example are the shortcuts on your desktop.
free software • Sites úteis • Accessory • Digital Imagery • icons • Picture softs (dossier)