Art of Women
Shocking Black and White Face Illustrations. Moscow-based photographer Alexander Khokhlov uses the human face as his canvas for creating graphic, black and white illustrations.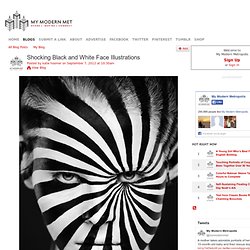 From the WiFi icon to the skip of a pulse line across his model's eyes, Khokhlov's vision is extraordinarily unique. Rather than relying on canvas, paper, or any other synthetic material as his foundation, Khokhlov relies on the beauty and lines of the feminine face to form this project, entitled Weird Beauty. The well designed face art, combined with simple and elegant female faces, presents viewers with a complex optical illusion of positive and negative space. Our eye is naturally and initially attracted to the strong black and white graphics painted by artist Valeriya Kutsan. Beauty in Art: The Female Form. Images of mythical female beauty—goddesses or Eve—vary greatly across cultures and time, as does what qualifies as "beautiful" among everyday women.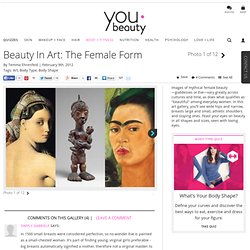 In this art gallery, you'll see wide hips and narrow, breasts large and small, athletic shoulders and sloping ones. Feast your eyes on beauty in all shapes and sizes, seen with loving eyes. Mother Goddess (Matrika), mid-6th cent. Bodies that seem worlds. India's Incredibly Powerful "Abused Goddesses" Campaign Condemns Domestic Violence. Baroness 'Blue' Album Cover. Photoshop? NO. These Are Real Animals. Rafael Santi "Lady with Unicorn" (1505) Stunning Face Makeup. Moscow based photographer and artist Alexander Khokhlov has created a wonderful art project titled "2D or not 2D".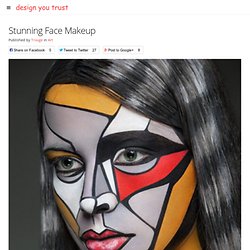 In this series, the artist creates makeup portraits which can easily confuse our vision. He created these portraits in 2D and some of these photos might indeed do the trick with the help of Valeriya Kutsan's professional makeup work, the natural lines of the models' faces are almost indistinguishable. View More Designer: Alexander Khokhlov. Historical Disney Princesses. Beautiful features. Conrad Roset. Body Painting by Craig Tracy. Article by James Pond I am the owner of Pondly.com / art lover / electrical engineer / software developer / MBA in e-business student.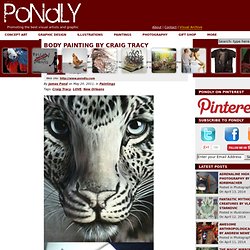 I blog for pleasure and love to share my Internet findings. Web site: Body painting is form of art in which Craig Tracy excels. Shapes of models' bodies are an inspiration for this artist who was born and raised in New Orleans, Louisiana. Titian "Venus of Urbino" (1538) The real life models for Classic Pin-Up paintings. Underwater Photography by Elena Kalis. It's summer and we'd like nothing more but to dive underwater as we've seen in the lavish underwater photography by Elena Kalis featured below.
For her latest shoot, themed on Alice in Wonderland, the artist selected a young female model, dressed up for the part, and equipped with props especially reminiscent of the book and the myriad stories spawned thereafter. Kalis specializes in underwater photography, and the Alice shoot, which was undertaken in what might be the world's best location—the Bahamas—possibly benefitted from the world's most skilled photographer in the field at the moment. Alphonse Mucha. Powerful Ads Use Real Google Searches. Here's a simple and powerful campaign idea from UN Women using real suggested search terms from Google's autocomplete feature.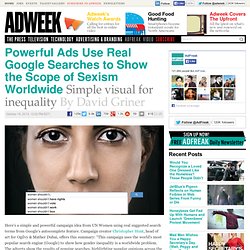 Campaign creator Christopher Hunt, head of art for Ogilvy & Mather Dubai, offers this summary: "This campaign uses the world's most popular search engine (Google) to show how gender inequality is a worldwide problem. The adverts show the results of genuine searches, highlighting popular opinions across the world wide web."
Nick Onken: "Kualoa Ranch Girls" Fuck yeah, tattooed girls! Leonardo da Vinci "Lady with an Ermine" (1490) Captivating Photos by Carlos Nunez. Twinkling. Antonella Arismendi. The Photography of Nathen Atia. Surrounded By Water. Envisioning Disney Characters in Real Life. Photo Shoots | Charmaine Olivia. The Only Guide You Will Ever Need to Art Nouveau. So a few of you shamelessly encouraged me to discuss Art Nouveau.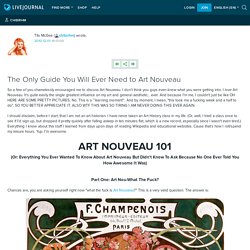 I don't think you guys even knew what you were getting into. I love Art Nouveau. "Splash" by Biba Magazine. Jul 9, 2012 "Splash" by Biba Magazine - July 2012 Models Christine K and Marine Muller look like they're having fun modeling trendy popular and designer swimwear underwater for the July 2012 issue of French magazine Biba.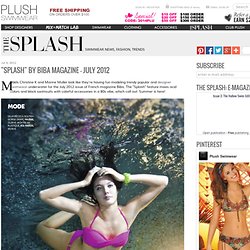 The "Splash" feature mixes acid colors and black swimsuits with colorful accessories in a 80s vibe, which call out: Summer is here! Bandeau bikini: Valege One piece: Lacoste. The Pinup dictionary.
---