Women Throughout History
Emmy Noether, the Most Significant Mathematician You've Never Heard Of. AT&T Archives : First There Was Sarah. This film uses the story of Miss Sarah Adlum, who started work at Western Electric in 1873, to talk about women working at Western Electric in 1969.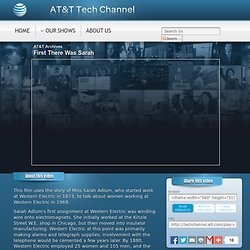 Sarah Adlum's first assignment at Western Electric was winding wire onto electromagnets. She initially worked at the Kinzie Street W.E. shop in Chicago, but then moved into insulator manufacturing. Western Electric at this point was primarily making alarms and telegraph supplies; involvement with the telephone would be cemented a few years later.
Swing and a Miss. When World War II came to America, baseball was one of the early victims.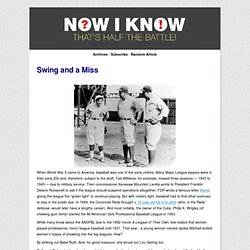 Many Major League players were in their early 20s and, therefore, subject to the draft. Ted Williams, for example, missed three seasons — 1943 to 1945 — due to military service. Virne Beatrice "Jackie" Mitchell Gilbert (Aug... Obit of the Day: Illinois' 1st Female Chief... | Obit of the Day. Obit of the Day: Illinois' 1st Female Chief Justice Mary Ann McMorrow lived a life of firsts.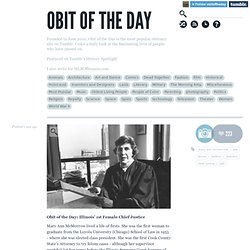 She was the first woman to graduate from the Loyola University (Chicago) School of Law in 1953 - where she was elected class president. Doing Science While Female. In 1969, Sue V.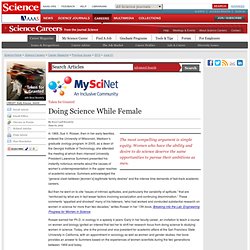 Rosser, then in her early twenties, entered the University of Wisconsin, Madison's graduate zoology program. In 2005, as a dean of the Georgia Institute of Technology, she attended the meeting at which then–Harvard University President Lawrence Summers presented his instantly notorious remarks about the causes of women's underrepresentation in the upper reaches of academic science. Summers acknowledged the "general clash between [women's] legitimate family desires" and the intense time demands of fast-track academic careers.
But then he went on to cite "issues of intrinsic aptitudes, and particularly the variability of aptitude," that are "reinforced by what are in fact lesser factors involving socialization and continuing discrimination." Scientist Rosalind Franklin made the first clear... Rita Levi Montalcini. By Susana Polo | 11:43 am, December 31st, 2012 Yesterday, at the age of 103, Rita Levi-Montalcini died the longest lived Nobel Prize Winner in history, the tenth woman to be elected to the U.S.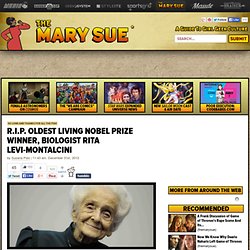 National Academy of Sciences, the co-discoverer of nerve growth factor, and a woman who refused to let her father's ideas about gender or a state's ideas about race keep her from doing some pretty great science. Levi-Montalcini was born the youngest (along with her twin sister) child of an Italian-Jewish family in 1909. Women in Science throughout History. Women in Science go back a long way.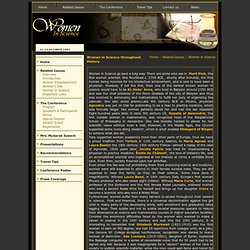 There are some who see in Merit Ptah, the first woman scientist. She flourished c. 2700 BCE, shortly after Imhotep, the first human being honored for his intellectual achievement, and is said to have been a physician. However, if not the first, then one of the earliest known women in science would have to be En Hedu' Anna, who lived in Babylon around 2350 BCE and was the chief priestess of the Moon Goddess of the city of Babylon and thus was involved in astronomy and mathematics to fulfill her duty of organizing the calendar. She also wrote poems.Late 4th century BCE in Athens, physician Agnodice was put on trial for pretending to be a man to practice medicine, which was formally illegal. 6 Women Scientists Who Were Snubbed Due to Sexism. Jane J.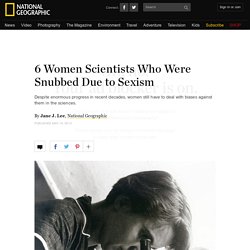 Lee In April, National Geographic News published a story about the letter in which scientist Francis Crick described DNA to his 12-year-old son. In 1962, Crick was awarded a Nobel Prize for discovering the structure of DNA , along with fellow scientists James Watson and Maurice Wilkins. Several people posted comments about our story that noted one name was missing from the Nobel roster: Rosalind Franklin , a British biophysicist who also studied DNA. Her data were critical to Crick and Watson's work, but as several commenters noted, Franklin was robbed of recognition. Alice E. Kober, 43 - Lost to History No More. As an obituary writer at The Times, I have the great, improbable pleasure of reconstituting the lives of interesting people.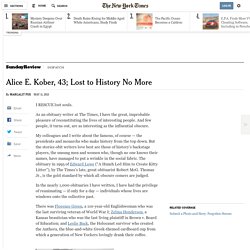 And few people, it turns out, are as interesting as the influential obscure. My colleagues and I write about the famous, of course — the presidents and monarchs who make history from the top down. But the stories obit writers love best are those of history's backstage players, the unsung men and women who, though no one knows their names, have managed to put a wrinkle in the social fabric. The obituary in 1995 of Edward Lowe ("A Hunch Led Him to Create Kitty Litter"), by The Times's late, great obituarist Robert McG. March/April 2010 > Features > Clelia Mosher. Decades before Kinsey, Stanford professor Clelia Mosher polled Victorian-era women on their bedroom behavior—then kept the startling results under wraps.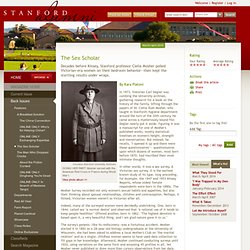 In 1973, historian Carl Degler was combing the University archives, gathering research for a book on the history of the family. Sifting through the papers of Dr. Clelia Duel Mosher, who taught in Stanford's hygiene department around the turn of the 20th century, he came across a mysteriously bound file. Degler nearly put it aside, figuring it was a manuscript for one of Mosher's published works, mostly statistical treatises on women's height, strength and menstruation. But instead, he recalls, "I opened it up and there were these questionnaires"— questionnaires upon which dozens of women, most born before 1870, had inscribed their most intimate thoughts. Wednesday Geek Woman: Frances Oldham Kelsey, FDA reviewer of thalidomide.
In the absence of doctors' records, it can never be known how many babies died in the U.S. because of thalidomide's "clinical trials"; Dr.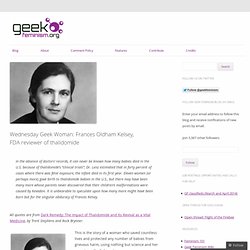 Lenz estimated that in forty percent of cases where there was fetal exposure, the infant died in its first year. Eleven women (or perhaps more) gave birth to thalidomide babies in the U.S., but there may have been many more whose parents never discovered that their children's malformations were caused by Kevadon. It is unbearable to speculate upon how many more might have been born but for the singular obduracy of Frances Kelsey. All quotes are from Dark Remedy: The Impact of Thalidomide and Its Revival as a Vital Medicine, by Trent Stephens and Rock Brynner.
Frances Oldham Kelsey. Nonsingular key, This is Henrietta Leavitt.  Never heard of her? ... Cecilia Payne. Cecilia Payne was born in Wendover, England in 1900. In 1919 while at Newham college at Cambridge, she became interested in astronomy after hearing a lecture by Professor Eddington about his eclipse expedition to Brazil.
Because astronomy continued to be seen as a branch of mathematics she was unable to change her major field of study to astronomy from physics. She continued however to attend Eddington's lectures. When she finally confessed her wish to become an astronomer to Eddington his response was, "I can see no insuperable objections. " After graduating from Cambridge she became concerned about the future for women in astonomy careers in England. Ada Lovelace. Augusta Ada King, Countess of Lovelace (10 December 1815 – 27 November 1852), born Augusta Ada Byron and now commonly known as Ada Lovelace, was an English mathematician and writer chiefly known for her work on Charles Babbage's early mechanical general-purpose computer, the Analytical Engine.
Her notes on the engine include what is recognised as the first algorithm intended to be carried out by a machine. Because of this, she is often described as the world's first computer programmer.[1][2][3] Ada described her approach as "poetical science" and herself as an "Analyst (& Metaphysician)". As a young adult, her mathematical talents led her to an ongoing working relationship and friendship with fellow British mathematician Charles Babbage, and in particular Babbage's work on the Analytical Engine.
Wednesday Geek Woman: Annette Laming-Emperaire, archaeologist. Submissions are currently open for Wednesday Geek Woman posts. Born in 1917, Annette Laming-Emperaire was a graduate student at the Sorbonne when she began to study Paleolithic cave paintings (like this one from Lascaux.) Although during her life her brilliance was always apparent, her great originality seems to have burst into being like a fire. La signification turned out to be that most rare beast, a graduate thesis that changed an entire discipline. African American Women Writers of the 19th Century. The Brave Black Women Who Were Civil War Spies. From the field and slave cabin to the Confederate White House, black women took an active role in assisting the Union military in winning the Civil War.
Contemporaries recognized their service, and on the occasion of the upcoming 150th anniversary of the start of the war (April 12) and the close of Black History Month today, it's a good time for us to recall and recognize it as well. A story appeared in the Northern journal Harper's Weekly in 1864 describing how Southern blacks were assisting Union soldiers who escaped from prison camps. An illustration which accompanied the story featured a black woman hiding ragged, injured Union soldiers. Wednesday Geek Woman: Branca Edmée Marques, Portuguese scientist, and collaborator with Marie Curie.
This is a guest post by Jennifer. Jennifer is a feminist and actuary who is travelling the world with her family and profiling notable women of history on her blog. This entry is cross-posted from Jennifer's blog. Submissions are currently open for Wednesday Geek Woman posts. Wednesday Geek Woman: Maud Menten, medical researcher. GE Pinterest Katharine Burr Blodgett Pat Leary. Sandra K. Johnson, Ph.D. - Home. Annie Jump Cannon: Theorist of Star Spectra. The Women Who Would Have Been Sally Ride - Alexis Madrigal. Wednesday Geek Woman: Virginia Satir, ground-breaking family therapist.
Wednesday Geek Woman: E. Lucy Braun, ecologist and expert on deciduous forests. Grace Murray Hopper: Pioneer Computer Scientist. Ada Lovelace Day: Mary Whiton Calkins, Elizabeth Spelke and the Variability Hypothesis. Gone in 2013: A Tribute to 10 Remarkable Women in Science | Guest Blog. Top 10 Things That Women Invented" Grandma Got STEM | Science, Technology, Engineering, Mathematics (+more!). | Page 2. Computer Programming Used To Be Women's Work | Smart News. Normalizing Female Computer Programmers in the '60s. Gentle and Black and Woman | pussyharvest: jesuswithalacefront: ...
Forget Wonder Woman: These Women Nerds Are Our Real Superheroes. The Mysterious Case of the Vanishing Genius.
---