Women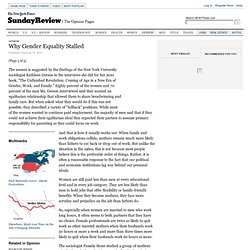 And that is how it usually works out. When family and work obligations collide, mothers remain much more likely than fathers to cut back or drop out of work. But unlike the situation in the 1960s, this is not because most people believe this is the preferable order of things. Rather, it is often a reasonable response to the fact that our political and economic institutions lag way behind our personal ideals.
Why Gender Equality Stalled
Missing the Love Boat - The Case for Marriage — Modern Love
Modern Love - Want to Be My Boyfriend? Please Define
Why Do They Hate Us? - By Mona Eltahawy
How did more than 160 million women go missing from Asia?
Where Have All the Girls Gone? - By Mara Hvistendahl
In the 12 years since Melinda Gates and her husband, Bill, created the Gates Foundation, the world's largest philanthropic organization, she has done a lot of traveling.
Melinda Gates' New Crusade: Investing Billions in Women's Health - Newsweek and The Daily Beast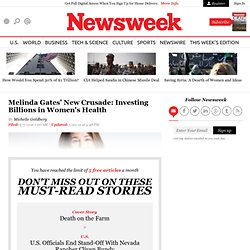 In his classic 1984 essay, Richard Ben Cramer wonders if Jerry Lee Lewis got away with his wife's murder. Richard Ben Cramer died one year ago this week and he is still sorely missed. His career began at the Baltimore Sun during the Watergate Era, blossomed at the Philadelphia Inquirer, where he won a Pulitzer for his reportage in the Middle East, and broadened in the 1980s when he conquered the long magazine profile with his enduring Esquire piece on Ted Williams. Cramer then dove headfirst into publishing with an exhaustive account of the 1988 presidential election in What it Takes, and followed that with a best-selling biography of Joe DiMaggio.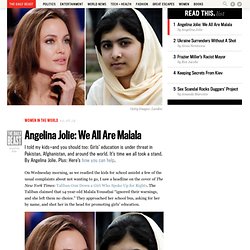 Angelina Jolie: We All Are Malala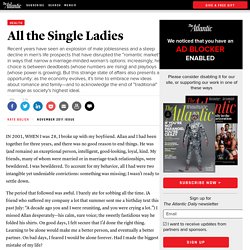 Magazine - All the Single Ladies
Recent years have seen an explosion of male joblessness and a steep decline in men's life prospects that have disrupted the "romantic market" in ways that narrow a marriage-minded woman's options: increasingly, her choice is between deadbeats (whose numbers are rising) and playboys (whose power is growing). But this strange state of affairs also presents an opportunity: as the economy evolves, it's time to embrace new ideas about romance and family—and to acknowledge the end of "traditional" marriage as society's highest ideal. In 2001, when I was 28, I broke up with my boyfriend. Allan and I had been together for three years, and there was no good reason to end things. He was (and remains) an exceptional person, intelligent, good-looking, loyal, kind. My friends, many of whom were married or in marriage-track relationships, were bewildered.
The Startling Plight of China's Leftover Ladies - By Christina Larson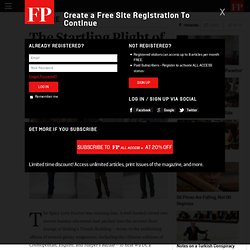 The Spicy Love Doctor was running late.
Lisa Firestone: The Real Reason You're Not Married (And What to Do About It)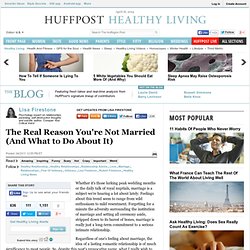 Whether it's those lurking peak wedding months or the daily talk of royal nuptials, marriage is a subject we're hearing a lot about lately. Feelings about this trend seem to range from wild enthusiasm to mild resentment. Forgetting for a minute the adversity surrounding the institution of marriage and setting all ceremony aside, stripped down to its barest of bones, marriage is really just a long-term commitment to a serious intimate relationship. Regardless of one's feeling about marriage, the idea of a lasting romantic relationship is of much significance to most people.
Sheryl Sandberg: Why we have too few women leaders
In 2007, the founder of Facebook, Mark Zuckerberg, knew that he needed help. His social-network site was growing fast, but, at the age of twenty-three, he felt ill-equipped to run it. That December, he went to a Christmas party at the home of Dan Rosensweig, a Silicon Valley executive, and as he approached the house he saw someone who had been mentioned as a possible partner, Sheryl Sandberg, Google's thirty-eight-year-old vice-president for global online sales and operations.
Sheryl Sandberg & Male-Dominated Silicon Valley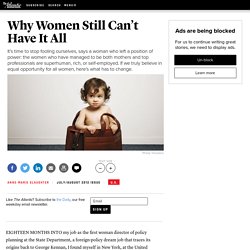 It's time to stop fooling ourselves, says a woman who left a position of power: the women who have managed to be both mothers and top professionals are superhuman, rich, or self-employed. If we truly believe in equal opportunity for all women, here's what has to change. Phillip Toledano Eighteen months into my job as the first woman director of policy planning at the State Department, a foreign-policy dream job that traces its origins back to George Kennan, I found myself in New York, at the United Nations' annual assemblage of every foreign minister and head of state in the world.
Why Women Still Can't Have It All - Anne-Marie Slaughter
Exit from comment view mode. Click to hide this space PRINCETON – When I wrote the cover article of the July/August issue of The Atlantic, entitled "Why Women Still Can't Have It All," I expected a hostile reaction from many American career women of my generation and older, and positive reactions from women aged roughly 25-35. I expected that many men of that younger generation would also have strong reactions, given how many of them are trying to figure out how to be with their children, support their wives' careers, and pursue their own plans. I also expected to hear from business representatives about whether my proposed solutions – greater workplace flexibility, ending the culture of face-time and "time machismo," and allowing parents who have been out of the workforce or working part-time to compete equally for top jobs once they re-enter – were feasible or utopian.
"What's Stopping Women?" by Anne-Marie Slaughter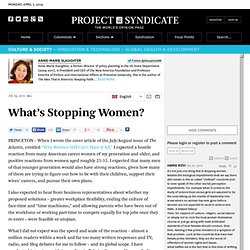 Why Women Should Stop Trying to Be Perfect - Newsweek and The Daily Beast
Over the past 30 years–first at Harvard Business School, where I was on the faculty for nearly two decades, and now, at Barnard College, where I serve as president–I have watched thousands of bright and talented young women start to plot the course of their lives. I have watched my friends' and colleagues' lives evolve in complicated and unpredictable ways. And I have juggled like mad, with three wonderful kids, a husband I adore, and jobs that leave me perched perpetually on the edge of insanity.
Earlier this year, women became the majority of the workforce for the first time in U.S. history. Most managers are now women too. And for every two men who get a college degree this year, three women will do the same. For years, women's progress has been cast as a struggle for equality. But what if equality isn't the end point? What if modern, postindustrial society is simply better suited to women?
Magazine - The End of Men
Facebook's Sheryl Sandberg: 'No one can have it all'
Facebook COO Sheryl Sandberg has emerged as a leading voice for gender equality since she delivered, in late 2010, a provocative TEDWomen address on why a smaller percentage of women than men reach the top. In this interview—available here as both a video and an edited transcript—with McKinsey's Joanna Barsh, Sandberg (an alumnus of McKinsey, the US Treasury Department, and Google) expands on issues from her new book, Lean In: Women, Work, and the Will to Lead (Knopf, March 2013), and explains why women need to "lean in" to gain confidence, develop skills, and become more comfortable as leaders—herself included. The Quarterly : When were you first self-aware that you really were a leader? Sheryl Sandberg: I don't easily identify as a leader. Looking back on my childhood, I thought of myself as a little bossy. I think as a boy, I would have thought I was a leader.
The Opt-Out Revolution
The Opt-Out Generation Wants Back In
Why Chinese Mothers Are Superior
Mother Inferior?
Ayelet Waldman on Amy Chua's 'Battle Hymn of the Tiger Mother'