Intra-African Trade & Investment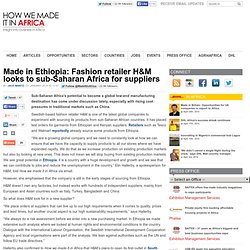 Made in Ethiopia: Fashion retailer H&M looks to sub-Saharan Africa for suppliers
Sub-Saharan Africa's potential to become a global low-end manufacturing destination has come under discussion lately, especially with rising cost pressures in traditional markets such as China. Swedish-based fashion retailer H&M is one of the latest global companies to experiment with sourcing its products from sub-Saharan African countries. It has placed test orders for garments from Ethiopian and Kenyan suppliers. Retailers such as Tesco and Walmart reportedly already source some products from Ethiopia. "We are a growing global company and we need to constantly look at how we can ensure that we have the capacity to supply products to all our stores where we have expanded rapidly. We do that as we increase production on existing production markets but also by looking at new ones.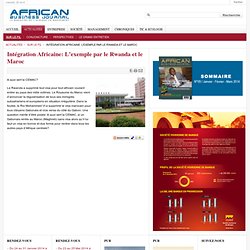 Intégration Africaine: L'exemple par le Rwanda et le Maroc
A quoi sert la CEMAC? Le Rwanda a supprimé tout visa pour tout africain voulant entrer au pays des mille collines. Le Royaume du Maroc vient d'annoncer la régularisation de tous ses immigrés subsahariens et européens en situation irrégulière. Dans la foulée, le Roi Mohammed VI a supprimé le visa marocain pour tous citoyens Gabonais et vice versa du côté du Gabon. Une question mérite d'être posée: A quoi sert la CEMAC, si un Gabonais rentre au Maroc (Maghreb) sans visa alors qu'il lui faut un visa en bonne et due forme pour rentrer dans tous les autres pays d'Afrique centrale?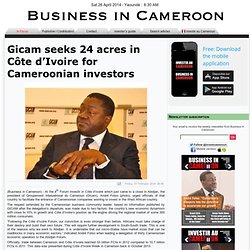 Gicam seeks 24 acres in Côte d'Ivoire for Cameroonian investors
(Business in Cameroon) - At the 4th Forum Investir in Côte d'Ivoire which just came to a close in Abidjan, the president of Groupement interpatronal du Cameroun (Gicam), André Fotso (photo), urged officials of that country to facilitate the entrance of Cameroonian companies wishing to invest in the West African country. The request extended by the Cameroonian business community leader, based on information published by GICAM after the delegation's departure, was made due to two factors: the country's new economic dynamism with close to 10% in growth and Côte d'Ivoire's position as the engine driving the regional market of some 300 million consumers. "Following the Côte d'Ivoire Forum, our conviction is even stronger than before.
Tanzania asks for Algerian help in oil, gas sector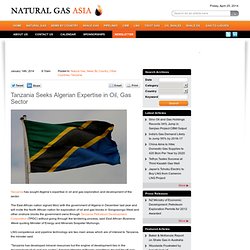 Tanzania has sought Algeria's expertise in oil and gas exploration and development of the sector. The East African nation signed MoU with the government of Algeria in December last year and will invite the North African nation for exploration of oil and gas blocks in Songosongo-West and other onshore blocks the government owns through Tanzania Petroleum Development Corporation (TPDC) without going through the tendering process, said East African Business Week quoting Minister of Energy and Minerals Sospeter Muhongo. LNG competence and pipeline technology are two main areas which are of interest to Tanzania, the minister said. "Tanzania has developed mineral resources but the engine of development lies in the development of oil and gas sector," Algerian Minister of Energy and Mines Youcef Yousfi was quoted by East African Business Week as saying.
Fina Bank Uganda sold to Nigerian bank group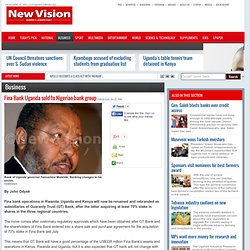 By John Odyek Fina bank operations in Rwanda, Uganda and Kenya will now be renamed and rebranded as subsidiaries of Guaranty Trust (GT) Bank, after the latter acquiring at least 70% stake in shares in the three regional countries. The move comes after customary regulatory approvals which have been obtained after GT Bank and the shareholders of Fina Bank entered into a share sale and purchase agreement for the acquisition of 70% stake in Fina Bank last July. This means that GT Bank will have a good percentage of the US$338 million Fina Bank's assets and operations in Kenya, Rwanda and Uganda, but it is also expected that GT bank will not change with the current management of Fina.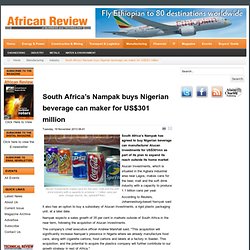 South Africa's Nampak buys Nigerian beverage can maker for US$301 million
Alucan Investments makes cans for the beer, malt and the soft drink industry with a capacity to produce 1.1 billion cans per year. (Image source: stu_spivack/Flickr)South Africa's Nampak has agreed to buy Nigerian beverage can manufacturer Alucan Investments for US$301mn as part of its plan to expand its reach outside its home market Alucan Investments, which is situated in the Agbara industrial area near Lagos, makes cans for the beer, malt and the soft drink industry with a capacity to produce 1.1 billion cans per year. According to Reuters, Johannesburg-based Nampak said it also has an option to buy a subsidiary of Alucan Investments, a rigid plastic packaging unit, at a later date.
▶ Kenyan Risk Takers Invest In Mogadishu
The Nigerian High Commissioner to Zambia, Mrs Sifawu Momoh, has said one of the Nigerian's foremost investors, Dangote Group Plc, will soon complete the establishment of a cement factory estimated at $400m in Zambia. She said the factory, which was billed for inauguration in February, was part of the Federal Government's strategy to strengthen economic ties with Zambia. Momoh stated this when she received a team of the Technical Aids Corps led by Mr. Salmon Shittu, from Nigeria, who briefed the envoy on new strategies being adopted by the agency to ensure the effective operations of the TAC scheme in its mandate countries. The High Commissioner, according to a statement by TAC in Abuja on Thursday, explained that the Dangote's cement firm, when fully operational in Zambia, would give direct employment to many citizens of the country and boost the economic ties of both countries.
Dangote's $400m Zambia cement plant ready February -Envoy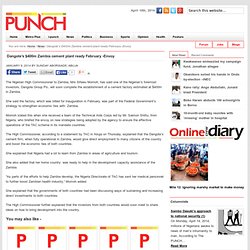 Le groupe bancaire d'origine camerounaise Afriland First Bank vient de finaliser le rachat de la filiale ivoirienne de la banque nigériane Access Bank. Les deux parties ont finalisé cette transaction datant du premier trimestre 2013, le 17 décembre 2013 à Abidjan, après avoir obtenu le feu vert de la Banque centrale des Etats d'Afrique de l'Ouest (BCEAO) et des autorités ivoiriennes. Né au Cameroun, mais juridiquement basé en Suisse, le groupe Afriland signe ainsi sa première implantation dans l'Union économique et monétaire de l'Afrique de l'Ouest (UEMOA). La nouvelle filiale du groupe déjà présent dans une dizaine de pays africains, dont la Guinée équatoriale, la Zambie et le Liberia, sera rebaptisée Afriland First Bank Côte d'Ivoire dans les prochains mois. Le groupe bancaire contrôlé par Paul Kammogne Fokam et par l'institution financière de développement néerlandaise FMO, détient désormais 97% du capital d'Access Bank Côte d'Ivoire.
Afriland First Bank finalise le rachat d'Access Bank Côte d'Ivoire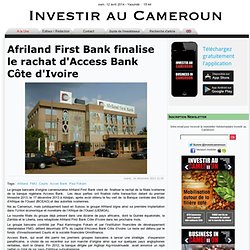 East Africa's top economies launch cross-border payment system
Agribusiness investor Zeder deepens roots in Zambia | Land & Agriculture
PSG-controlled agribusiness investor Zeder has sunk its roots deeper into the fertile soils of Zambia. On Wednesday, Zeder announced the acquisition of Mpongwe Milling — a privately owned maize and wheat mill based in the Zambian Copperbelt — for $27.5m (R275m). The deal was struck through Zeder's existing investment in that country — its 73.4%-owned commercial farming venture, Chayton Africa. Zeder acquired control of Chayton early last year with a view to exploring further agribusiness opportunities in Zambia and other African countries. Although still in its early stages, the sprawling Chayton enterprise already has 4,100ha under irrigation and ranks as Zambia's second-largest grain producer. The combined Chayton and Mpongwe operations could see Zeder earning a sizeable haul from African operations in the medium term.
Groupe Alliances : 54.000 logements à construire en Afrique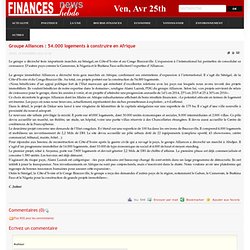 Le groupe immobilier Alliances a décroché trois gros marchés en Afrique, confirmant ses orientations d'expansion à l'international. Il s'agit du Sénégal, de la Côte-d'Ivoire et du Congo Brazzaville. Au total, ces projets portent sur la construction de 54.000 logements. «Nous bénéficions d'un appui politique fort de l'Etat marocain qui entretient d'excellentes relations avec les pays sur lesquels nous avons investi des projets immobiliers. Ils veulent bénéficier de notre expertise dans le domaine», souligne Alami Lazrak, PDG du groupe Alliances.
Commerce intra-africain: 65 000 milliards de F d'échanges en 2011 | GONTRAL PACIFIC
La Conférence des Nations unies sur le commerce et le développement (Cnuced) a publié le 11 juillet dernier, son rapport 2013 sur le développement économique en Afrique intitulé: Commerce intra-/africain: libérer le dynamisme du secteur privé. Il a été officiellement présenté jeudi dernier à Yaoundé par le Centre d'information des Nations unies pour le Cameroun, le Gabon et la République centrafricaine (Cnic). Le rapport dont l'économie a été faite par Joseph Baricako, économiste à la Cnuced, propose aux décideurs des pistes à suivre pour stimuler le secteur privé et l'amener à jouer pleinement son rôle dans la promotion du commerce intra-africain. Le montant total du commerce intra-africain a atteint 130,1 milliards de dollars (environ 65 000 milliards de F) en 2011, contre 45,9 milliards de dollars (environ 25 000 milliards de F) en 1995.
Nigerian company to set up shop in SA as Dep Minister pushes incentives
By: Natalie Greve Nigeria-based refractory products manufacturer Eunaco Refractionaries is ready to open operations in South Africa, after establishing a joint venture with a South African company in Richards Bay. The ceramic heat containment products manufacturer would operate as J Manuel Supplies and Logistics and manufacture products from February 2014.
mpany looks to expand into West and North Africa
Kenya Airways et Air Côte d'Ivoire se rapprochent
Titus Naikuni est également président de l'Association des compagnies aériennes africaines (Afraa). © Khalil Senosi/AP/Sipa Le président de Kenya Airways est en visite à Abidjan pour discuter d'éventuels partenariats avec le patron de la compagnie nationale ivoirienne. Une visite organisée par Air France-KLM, qui est présent aux deux tours de table.
Vodacom opens office in Ethiopia, eyes foothold
Ventures Africa | Dismantling Inter-Border Trade Barriers Could Earn Africa $20bn – World Bank
VENTURES AFRICA – If African leaders can draft an accord aimed at taking down current cross-border trade hurdles in sub-Saharan Africa, the continent will earn an additional $20 billion in annual earnings, according to the World Bank. Dismantling border trade barriers could also bolster the continent's food trade over the next couple of years, avoiding the negative impact of Africa's deteriorating drought and surging food prices in the process. "However, this potential is not being realised because farmers face more trade barriers in getting their food to market than anywhere else in the world. Too often borders get in the way of getting food to homes and communities which are struggling with too little to eat," Makhtar Diop, World Bank's Vice President for Africa, says.
LAFICO to Develop Tunisian Resort
Posted on 26 November 2013. Tags: hotels, Italy, Libyan Arab Foreign Investment Company (LAFICO), Tunisia The Libyan Arab Foreign Investment Company (LAFICO) plans to invest between $80 and $100 million to build a new 5-star resort in Tunis. According to a report from DirectInfo, the development would be on the site currently occupied by the Hotel du Lac, which is expected to be demolished in early 2014. With one or two towers of 30 floors, it would be the tallest building in Tunisia, and would include a 5-star luxury hotel, in addition to office space and shopping centres.
Anchors of Integration & Trade Finance Flows [2010 Data
Accelerating Growth Through Improved Intra-Africa Trade
Africa white paper highlights transaction banking trends
S'African firm invests $270m in Nigeria's oil industry
Le Nigeria colonise déjà l'économie camerounaise | The Spark
Taleveras, Afren seal upstream oil, gas deal in Ivory Coast - Vanguard News
Foschini Group to accelerate Africa strategy - Botswana Guardian
Les exportations de la RDC vers la l'Afrique du Sud évaluées à plus de 7 millions USD en 2012 | Direct.cdDirect.cd | Suivez l\'actualité en RDC, en Afrique centrale et dans le monde sur Direct.cd, 1er site en République démocratique. Les articles du journ
Engrais : la RD Congo s'associe au sud-africain Triomf | Direct.cdDirect.cd | Suivez l\'actualité en RDC, en Afrique centrale et dans le monde sur Direct.cd, 1er site en République démocratique. Les articles du journal Le Matoiseur et toute l\'actualité e
2013 : l'Algérie est de retour en Afrique
B to B entre entrepreneurs marocains et camerounais du secteur des TIC le 4 novembre 2013 à Douala
Ethiopia, Algeria set to open direct air links
Trans Saharan road project : New planning policy to spurs trading with Africa
Cevital s'installe au Soudan et envisage des financements chez les BRICS
L'Ethiopien Holland Car monte une usine de bus en RDC - Direct
Africa | AgriSA
Tanzanian fi rm plans $50m fruit plant in Benue | National Mirror
Ethiopian, ASKY Airlines open cargo hub in Togo | Air Cargo World News
‫أفتتاح طريق سريع يربط بين مصر والسودان يناير المقبل‬‎
Obasanjo Tasks African Export-Import Bank On Continental Growth | :::…The Tide News Online:::…
Nigeria to get 42mw of electricity from Cameroon
Ethiopian becomes strategic partner with new Malawi Airlines
Egyptians invest $50m in Ethiopia amid escalating tensions
Malawi to connect to regional power network via Mozambique
Algeria to train Angolan personnel in geology and mines
Coopération économique: Les contacts avec l'Algérie et la Libye s'intensifient
Commission mixte maroco-sénégalaise :: Cinq accords de coopération signés
7e caravane de partenariat en Afrique :: Coup d'envoi de l'étape Kinshasa
Four African subsidiaries to Delattre Levivier Maroc - DLM, leader de la construction métallique et de montage au Maroc
Maroc DLM prochainement en Côte d'Ivoire et au Ghana
Maroc Eaton passe à la vitesse supérieure en Afrique de l'ouest
Les Afriques
Kenya Airways Calls for Merger With Ethiopian,South African Airways
Mobile aggregation service company seeks African partners
PIC plans to expand real estate empire into Africa - eProp - Commercial Property News Properties
PIC in African Property Investment drive
SA wine producer to set up plant in Kenya
Rwandair adds services to Ghana and Cameroon | CameroonOnline.org
SA investors flock to Mauritius
Egypt to set up industrial zones in Algeria, Ethiopia - Economy - Business
Egypt State Information Service
Egypt State Information Service
"ابدأ" تعقد اجتماعات لزيادة حجم التبادل التجارى مع الدول الأفريقية | الدولة
Maroc Côte d'ivoire - convention dans le secteur de transport
Rwandans eye bigger market with commodity exchange - Business - www.theeastafrican.co.ke
Catalyst buys into top Ethiopian bottling firm - Business - www.theeastafrican.co.ke
South Africa's PPC Eyes $200m Expansion To DRC
Imperial takes African logistics leap with acquisition of Nigeria's MDS - Companies | IOL Business | IOL.co.za
South African group Aveng invests in sleeper production in Mozambique
trade law centre » Regional integration is a must for Africa
SA, Nigeria set to rev up trade
‫الكتاتني:حان الوقت لتستفيد مصر من الاستثمار بالسودان‬‎
Africa Investor - Ai News
Kenya topples India, China as major investor in East Africa
Surprise! Africa's Fastest-Growing Foreign Direct Investor Is Now...Africa
La Tunisie prend du retard en Afrique subsaharienne
Tsogo Sun Group consacre 100 millions $ à son développement hôtelier africain
Algérie : vers un rapprochement Alger-Maputo fondé sur l'énergie
‫الطريق الصحراوي الذي يربط المغرب بإفريقيا‬‎
‫اقتصاد واعد للمغرب وغرب افريقيا‬‎
Mohamed El Kettani, Attijariwafa bank CEO
‫الاستثمارات المصرية في ليبيا‬‎
Egypte: EFG Hermes is targeting wealthy African investors| glObserver Global Economics
Libyan airline to launch flights to Niger in April
Kasumbalesa Border
Developing a Pan African Free Trade Zone
Hit Radio se développe en Afrique
Entreprise marocaine au gabon
Le groupe marocain Addoha annonce l'expansion de ses activités en Côte d'Ivoire - Abidjan.net
Le groupe Sefrioui implante des cimenteries dans 5 pays d'Afrique et compte y construire des logements sociaux
Cameroun : Oil Libya accroît ses investissements dans distribution du gaz domestique
Invest Africa Episode 7: Regional Integration & Cooperation
MEDI 1 TV - Actualités : Cote d'ivoire : portrait d'un investisseur marocain
RAM to serve Dakar 17 times per week from April
Ethiopia to Build Road Linking It With Sudan, South Sudan, Kenya | AfricanLiberty.org
Kenya's CIC Insurance plans expansion into South Sudan, Uganda
Partenariat économique Maroc-Gabon: un potentiel énorme et des opportunités à saisir