Internet : Freedom in danger ?
protection and secure system
Secure Comm tools (dev included)
L'internet illimité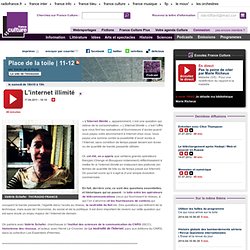 Valérie Schafer Th©Radio France « L'Internet illimité », apparemment, c'est une question qui relève de la consommation. « L'Internet illimité », c'est l'offre que vous font les opérateurs et fournisseurs d'accès quand vous payez votre abonnement à Internet chez vous. Vous payez une somme contre la possibilité d'avoir accès à l'Internet, sans condition de temps passé devant son écran ou de quantité de bande passante utilisée. Or, cet été, on a appris que certains grands opérateurs français (Orange et Bouygues notamment) réfléchissaient à mettre fin à l'Internet illimité en instaurant des plafonds (en termes de quantité de bits ou de temps passé sur Internet).
L'internet illimité | France Culture - Place de la Toile | Audio-podcast episode 16517829
Certains documents judiciaires révèlent à quel point la notion de vie privée est subjective pour nos gouvernements. Certes il est possible de confisquer, de prendre physiquement votre téléphone et de le fouiller… Mais vous n'imaginez pas la masse de données récupérable sans votre consentement. Le « extraction report » (PDF) décrit en détail les données que le Department of Homeland Security a réussi à soutirer à un téléphone saisi lors d'un raid.
Voilà ce que le gouvernement récupère sur vos téléphones !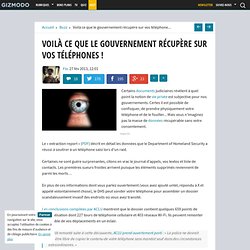 Afin de se mettre en conformité avec les licences Open Source, Orange vient d'ouvrir un site Internet listant les différents composants libres utilisés dans ses Livebox et mettant à disposition le code source des logiciels. Comme la majorité des fournisseurs d'accès, Orange utilise dans sa box Internet, la Livebox, différents composants logiciels issus du monde Open Source. Ces éléments sont à présent listés sur un site dédié : livebox-opensource.com. Le code de la NeufBox 4 également disponible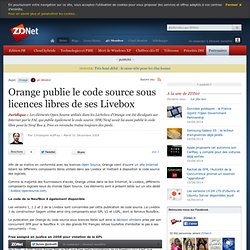 Orange publie le code source sous licences libres de ses Livebox
Push the FreedomBox Foundation from 0 to 60 in 30 days by Ian Sullivan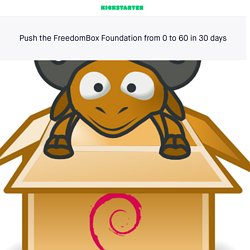 Beyond 60 We've reached our initial fundraising goal, but we're still going strong. More money helps us found the project stronger, reach goals faster and explore more technologies of freedom. We're proud of the Freedom Box Foundation's public roots, and we want to be able to demonstrate support and interest from as many people as possible.
Un article de Wikipédia, l'encyclopédie libre. Eben Moglen Eben Moglen en août 2010 Biographie[modifier | modifier le code]
Eben Moglen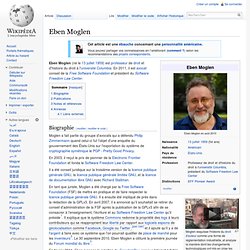 Les récentes déclarations de Google quant à sa présence en Chine ont provoqué un certain émoi chez les internautes du pays. A Pékin, où tous les rassemblements publics sont rigoureusement interdits, de nombreux chinois se sont rendus au siège de Google pour apporter leur soutien. "Je ne sais pas ce que je ferais sans Google", clame un jeune devant l'immeuble qui abrite le moteur de recherche, a constaté l'AFP. A l'heure du déjeuner, une vingtaine d'entre eux sont sur place, un peu désoeuvrés, ajoute l'agence. D'autres examinent les messages déposés par des internautes souvent désemparés. "Au revoir Google.
Les internautes chinois s'inquiètent du départ éventuel de Googl