Gis online
ESRI support policy and cost for Business Analyst
World #GIS #Data http://t.co/PnkMVzx0
osm974
OSM2GIS
This webservice allows you to transform OpenStreetMap data into GIS data (.shp, .tab, kml, etc.). For performance reason, the area is limited to a given extent.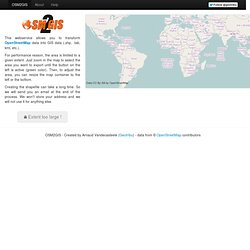 QGIS Plugin – Profile Tool : digital-geography.com
« Die Geojobs der Woche – KW 05 2013 more articles Free maps from the Perry-Castañeda library map collection » Previous Posts in this series QGIS Plugin – RasterCalcQGIS Plugin – OpenLayers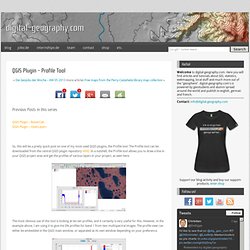 Video Thinking Spatially with #GIS - http://t.co/LJP9aEwo
Protocole Analyse réalisée à partir des données publiques de l'Assurance maladie sur la localisation et les tarifs des médecins de 4 spécialités (généralistes, gynécologues, ophtalmologistes, pédiatres) relevées, au cours du 3ème trimestre 2012, sur www.ameli-direct.fr . Le tarif retenu a été celui le plus souvent facturé par le médecin pour une consultation simple.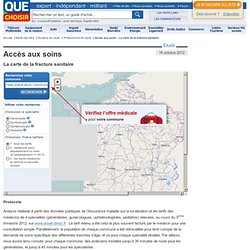 Accès aux soins - La carte de la fracture sanitaire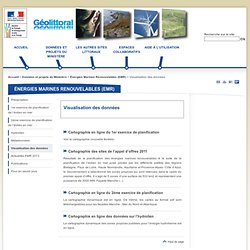 Cartographie des sites de l'appel d'offres 2011
GéoLittoral - Visualisation des données
Travailler avec le système d'information géographique Quantum GIS
Accès direct au contenu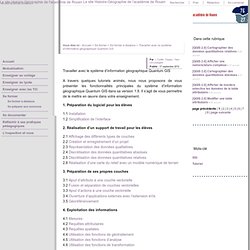 Portail Information Géographique
Grand Port Maritime du Havre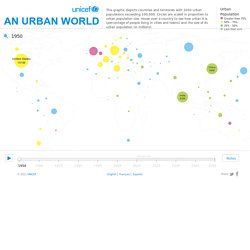 Urban Population Map
Close Source
Images from space track relentless spread of humanity
AIRE - Forêt (2000)
Blog Géoclip O3, générateur d'observatoires
Evolution historique de Rouen
SNIG - Sistema Nacional de Informação Geográfica (versão Beta)
Migrations Map: Where are migrants coming from? Where have migrants left?
LHS Stuttgart - GEOLiNE.flex
La Datar se penche sur les campagnes françaises
Atlas Caraïbe
GéOpenServices - le serveur WMS de Géosignal
ALPAGE (diachronic analysis of the Paris urban area: a geomatic approach) is a research program coordinated by Hélène Noizet (LAMOP), which is supported by the ANR.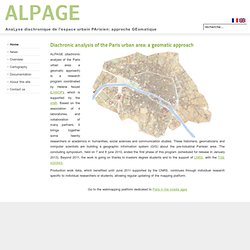 Accueil
Gas Trade Flow in Europe
Un monde en développement
Main § Digital Atlas of Roman and Medieval Civilization
map.geo.admin.ch
France découverte O3
Recensement agricole 2010
SIG en ligne dans le monde
Mapping Center : Making a Large-Scale 3D Map: Part 3
By Kenneth Field, Research Cartographer 1.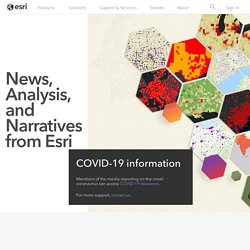 Surging Seas: A Project of Climate Central