Le Petit journal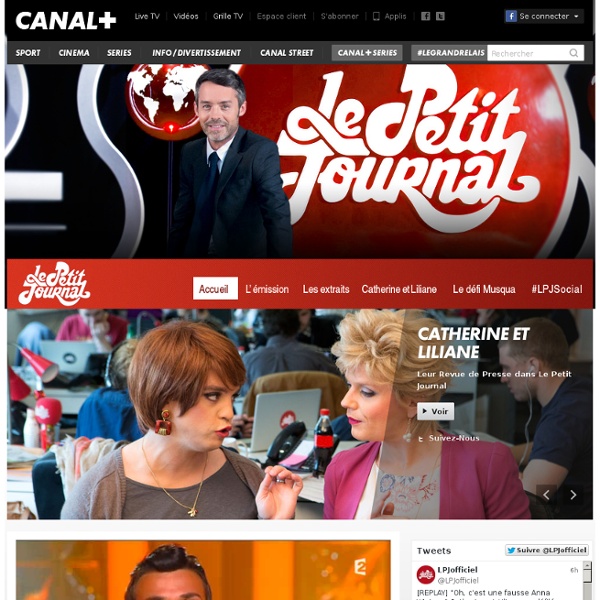 http://www.canalplus.fr/c-divertissement/pid6378-c-le-petit-journal.html
WTF • Just for fun • NSA Surveillance and PRISM • Television • old news
Christ Getting In Shape For Second Coming | The Onion - America' HEAVEN—Emerging from a grueling 90 minutes of cardiovascular exercise and light lifting for tone, Son of God Jesus Christ said Monday that He is "definitely on track" to achieve peak fitness condition for the Second Coming. The Son of God spends each morning trying to attain perfect abdominal definition. "If every eye is going to see Me, and all the tribes of earth are going to wail on account of Me, I think I owe it to them and to Myself to be in the best shape of My life," Christ said. "Right now I'm up to 35 minutes at seven [miles per hour] on the treadmill and benching about 165 [pounds]." "I'm really starting to feel like I'll have the strength and endurance to move every mountain and island from its place," Christ added. Since His birthday last Dec. 25, Christ has committed Himself to a demanding daily regimen of exercise and prophecy fulfillment.
Chaîne de TheMeanKitty Upload Subscription preferences Loading... Bruce Schneier Discusses the NSA Documents Bruce Schneier, a cryptographer and author on security topics, last month took on a side gig: helping the Guardian newspaper pore through documents purloined from the U.S. National Security Agency by contractor Edward Snowden, lately of Moscow. In recent months that newspaper and other media have issued a steady stream of revelations, including the vast scale at which the NSA accesses major cloud platforms, taps calls and text messages of wireless carriers, and tries to subvert encryption. This year Schneier is also a fellow at Harvard's Berkman Center for Internet and Society. In a conversation there with David Talbot, chief correspondent of MIT Technology Review, Schneier provided perspective on the revelations to date—and hinted that more were coming.
Special Reports | Interactives Us drones and miltant attacks in Pakistan Sort Cameron's cabinet by sex, uni and party Tell us what you would do if you were at No 10 Breast implant cancer panic spreads to UK: Thousands of women told 'have them removed' 'Low quality' implants contain industrial silicone designed for computers and electronic devicesBritish lawyers say the government has left thousands of women in limbo By Fiona Macrae and Peter Allen Updated: 13:20 GMT, 22 December 2011 The Department of Health have insisted today that there is no need for British women with PIP breast implants to have them removed. It comes a day after the French government announced they would foot the bill for tens of thousands of breast implant removals, amid fears they could raise the risk of cancer. The French-made implants, were filled with a silicone gel believed to have been made for mattresses gel rather than medical grade gel. Edwige Ligoneche was diagnosed with lymphatic cancer two years after having breast surgery using a French-made silicone gel.
challenge: make art more awesome Home » Image Challenge » Make Art More Awesome[Suggest a different challenge] Make Art More Awesome(This challenge is now closed) In response to this this, open up Photoshop, take a famous (or otherwise) piece of art, and make it 'AWESOME'. Thanks to The Great Architect and Patrice Ici for the suggestion. Japan Opens Up Cat Brothels | Movie Reviews | Music Reviews | Behind the Hype Japanese people are crazy. No offense. They are. The NSA Can Only Spy With A Little Help From Its Feds This week the ACLU published a damning report chronicling the many ways the FBI has abused post-9/11 authorities to spy on everyday Americans. As we noted, the FBI is even enmeshed in the broad suspicionless NSA dragnet of American phone calls. One area that is especially ripe for FBI reform is its use of electronic surveillance tools. There's no two ways about it: the FBI is at the heart of the U.S. intelligence community's domestic data collection programs. The most recent example is that the FBI applies for secret court orders to compel companies to give the U.S. military's spy agency the NSA all of their customers' domestic phone records. This means the FBI helps the military, which is traditionally barred from collecting information about Americans, to get all the telephone records of almost everyone in the U.S., even if they aren't suspected of being a terrorist or a spy or in contact with someone who is.
culture • Documentaires • humoristes du web • Canal+ • Humour • French Year 13 • Juste Pour Vous Amuser... • anti dépresseurs • Grèce avant 2014 • TV • serie/tv • Humour • Chaîne • Videos • Perso • Canal + • Instagram : l'avenir du photojournalisme • Gouvernement Charest • Télé • paulgrisolia • sites habituels • My Favorite Things • Humour • Canal+ • Manifpourtous • Revoir • video divers • Vidéos Contre le FN • Actu • clementlebas