British National Corpus (BYU-BNC)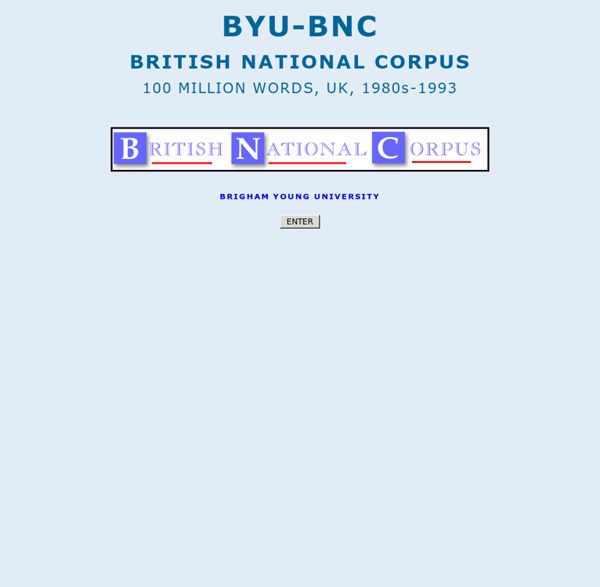 vocabulary • Corpora • Encyclopédies et Dictionnaires Etrangers • words • Corpora
The 6 Best Word Cloud Tools for Teachers Word cloud tools are part and parcel of teachers' digital tool kit.Their importance stems from the fact they are web based and can be access anywhere with an internet connection. There are a variety of reasons why you as a teacher and educator should use them with your students and here some of these reasons : You can use them to create infographic-like visualisations to enhance students learningYou can create out of them nice posters to use in the classroomYou can use them to brainstorm a certain study topic They are also useful in teaching vocabularyThey might be used as post-reading activity to test students understanding of the textCreate a class word cloud that highlights class expectationPost students first names to create a class or group word cloud
Software Sales The following software may be ordered on CD from the Survey of English Usage. Click on the links below for details and prices. Information on the iGE App is to be found here. Dictionnaire des KANJIS Pour rechercher un Kanji dans le dictionnaire, veuillez remplir un seul champ et cliquer sur le bouton de recherche. Le dictionnaire des Kanji est en cours de développement. Vous avez déjà accès à tous les Kanji, et les traductions des Grades 1, 2, 3 et 4 sont terminées.
Online 10 questions–see how your score compares The visual vocab quiz The commonly misspelled words quiz Shakespeare corpus The source texts came from Online Library of Liberty ( Their original source is the OUP edition of 1916. You get 37 plays, plus all the speeches of all the characters. Ie. you get the whole play Hamlet, plus separately all the speeches of Prince Hamlet, all the speeches of Horatio, etc. How to write vocabulary activities By Philip Kerr In an extract from ELT Teacher2Writer's training module, Philip Kerr offers some helpful tips on how to go about writing vocabulary activities, considering word selection, word frequency and grouping vocabulary items. Preliminary questions | Which vocabulary items? | Task 1: Word frequency | How should we group vocabulary items?
DCPSE The Diachronic Corpus of Present-Day Spoken English funded by DCPSE is a new parsed corpus of spoken English available on CD-ROM. It contains more than 400,000 words from ICE-GB (collected in the early 1990s) and 400,000 words from the London-Lund Corpus (late 1960s-early 1980s). Diccionario de la lengua espa?ola - Vig?sima segunda edici?n La página electrónica del Diccionario de la Academia ha cambiado su dirección de enlace de "buscon.rae.es/draeI" por "www.rae.es/drae". Asimismo la página electrónica del Diccionario panhispánico de dudas ha cambiado su dirección de enlace de "buscon.rae.es/dpdI" por "www.rae.es/dpd", rogamos lo tengan en cuenta para futuros accesos y para actualizar los enlaces publicados en páginas externas. Página principal del Diccionario de la Academia Real Academia Española © Todos los derechos reservados
Open-Dyslexic Font Font created to help dyslexic readers. Bottom heavy and unique character shapes help make it more difficult to confuse letters. OpenDyslexic(open-dyslexic) by Abelardo Gonzalez is licensed under a Creative Commons Attribution 3.0 Unported License. This means, as long as you visibly give credit, you can use this on your ebook, ebook reader, actual physical books, web sites, etc. Included are 3 styles of OpenDyslexic: OpenDyslexic, OpenDyslexic w/ alt rounded a's, and OpenDyslexicMono: for your fixed-width font needs. BASE (British Academic Spoken English) and BASE Plus Collections Overview of BASE The British Academic Spoken English (BASE) project took place at the Universities of Warwick and Reading between 2000–2005, under the directorship of Hilary Nesi (Warwick) , with Paul Thompson (Reading). Natalie Snodgrass and Sarah Creer were employed as research assistants and Tim Kelly was video producer of the project. Lou Burnard (Oxford University) and Adam Kilgarriff (Lexicography MasterClass Ltd) acted as consultants. The BASE Corpus consists of 160 lectures and 40 seminars recorded in a variety of departments (video-recorded at the University of Warwick and audio-recorded at the University of Reading).
English Tips Blog words, useful phrases and idioms You've probably already learned that we can use -ED adjectives to describe how a person feels, and -ING adjectives to describe the thing, person, situation, or event that causes the feeling: I'm tired. My job is very tiring. "tired" describes "I", and "tiring" describes "job" We're bored. This movie is boring. "bored" describes "we", and [...]
DCPSE Research Project - Download Data Creating a parsed and searchable diachronic corpus of present-day spoken English funded by Download data The complete DCPSE corpus is available on CD-ROM from the Survey of English Usage.
Vocabulary • Corpora