Green shtuffz
How to make gift bags from newspaper. When I bought something at a store recently, the clerk handed me my purchase in a bag made from a newspaper.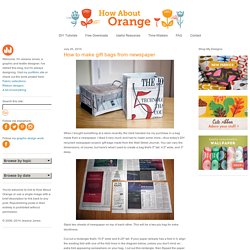 I liked it very much and had to make some more—thus today's DIY recycled newspaper project: gift bags made from the Wall Street Journal. You can vary the dimensions, of course, but here's what I used to create a bag that's 5" tall, 4.5" wide, and 3" deep. Stack two sheets of newspaper on top of each other. Fuel cell. Demonstration model of a direct-methanol fuel cell.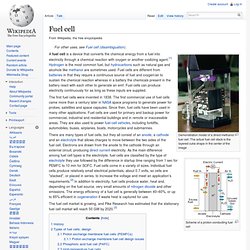 The actual fuel cell stack is the layered cube shape in the center of the image Scheme of a proton-conducting fuel cell The first fuel cells were invented in 1838. New cement conducts electricity like metal. 11 Apr 2007 A team of researchers led by professor Hideo Hosono of the Tokyo Institute of Technology has developed a new type of alumina cement that conducts electricity like metal by altering the crystal structure at the nano level.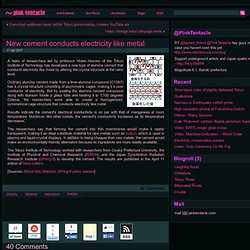 Ordinary alumina cement made from a lime-alumina compound (C12A7) has a crystal structure consisting of asymmetric cages, making it a poor conductor of electricity. But by sealing the alumina cement compound along with titanium inside a glass tube and heating it to 1,100 degrees Celsius, the researchers were able to create a homogenized, symmetrical cage structure that conducts electricity like metal. Potential environmental impact of nanoparticles studied through aluminum in soil. The Greenhouse Conspiracy - Watch Free Documentary Online - Hilary Lawson. MIT Energy Storage Discovery Could Lead to 'Unlimited' Solar Power. Clean Power Published on October 25th, 2008 | by Andrew Williams Researchers at Massachusetts Institute of Technology (MIT) have discovered a new way of storing energy from sunlight that could lead to 'unlimited' solar power.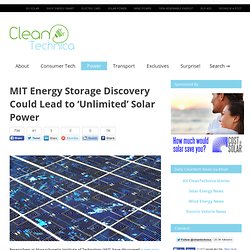 The process, loosely based on plant photosynthesis, uses solar energy to split water into hydrogen and oxygen gases. When needed, the gases can then be re-combined in a fuel cell, creating carbon-free electricity whether the sun is shining or not. Paint Moss Graffiti - Step-by-Step Guides for Offbeat DIY Projects. Make: Projects How-to Projects Library — Electronics, Arduino, Crafts, Solar, Robots.
---