Green
These Crazy Maps Show The Unequal Cause And Effect Of Climate Change. Climate change is a fundamentally unfair phenomenon.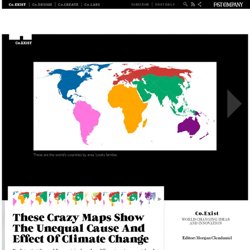 For one thing, the countries that have contributed most to atmospheric build-ups of CO2 won't bear the brunt of the consequences. For another, the people who are least equipped to deal with climate shocks--through adaption and health care services--are likely to be most vulnerable. 5 Charts About Climate Change That Should Have You Very, Very Worried - Christopher Mims and Stephanie Gruner Buckley. Two new reports highlight the alarming consequences of staying our current course.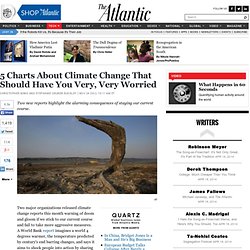 Two major organizations released climate change reports this month warning of doom and gloom if we stick to our current course and fail to take more aggressive measures. A World Bank report imagines a world 4 degrees warmer, the temperature predicted by century's end barring changes, and says it aims to shock people into action by sharing devastating scenarios of flood, famine, drought and cyclones. Meanwhile, a report from the US National Research Council, commissioned by the US Central Intelligence Agency (CIA) and other intelligence agencies, says the consequences of climate change--rising sea levels, severe flooding, droughts, fires, and insect infestations--pose threats greater than those from terrorism ranging from massive food shortages to a rise in armed conflicts. Breathingearth - CO2, birth & death rates by country, simulated real-time.
The Crying Indian Commercial. What the Frack is in That Water? The Future of Trash: 4 Ways Tech Is Improving Recycling Rates. The Global Innovation Series is supported by BMW i, a new concept dedicated to providing mobility solutions for the urban environment.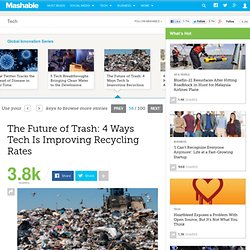 It delivers more than purpose-built electric vehicles — it delivers smart mobility services. Visit bmw-i.com or follow @BMWi on Twitter. The world is now inhabited by 7 billion individuals, and as you can imagine, we produce a lot of trash. In the U.S., each person produces 4.6 pounds of trash each day, and 132 million tons of municipal solid waste (MSW) were discarded in landfills in 2009. Just over 35% of that was recycled. Is It Weird Enough Yet? Insiders Sound an Alarm Amid a Natural Gas Rush. Insiders Sound an Alarm Amid a Natural Gas Rush. Google's SolarCity Fund: $280 Million Invested In Solar Energy For Private Homes. NEW YORK — Google is making its largest investment yet in clean energy in an effort to help private homeowners put solar panels on their rooftops.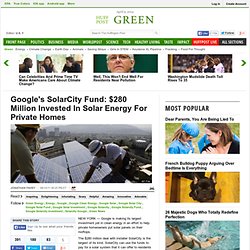 The $280 million deal with installer SolarCity is the largest of its kind. SolarCity can use the funds to pay for a solar system that it can offer to residents for no money down. The Earth Is Full. "The only answer can be denial," argues Paul Gilding, the veteran Australian environmentalist-entrepreneur, who described this moment in a new book called "The Great Disruption: Why the Climate Crisis Will Bring On the End of Shopping and the Birth of a New World."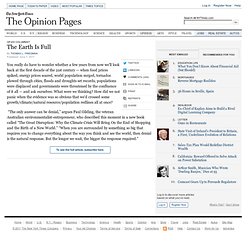 "When you are surrounded by something so big that requires you to change everything about the way you think and see the world, then denial is the natural response. But the longer we wait, the bigger the response required." Gilding cites the work of the Global Footprint Network, an alliance of scientists, which calculates how many "planet Earths" we need to sustain our current growth rates. G.F.N. measures how much land and water area we need to produce the resources we consume and absorb our waste, using prevailing technology.
---