Green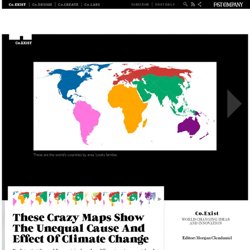 Climate change is a fundamentally unfair phenomenon. For one thing, the countries that have contributed most to atmospheric build-ups of CO2 won't bear the brunt of the consequences. For another, the people who are least equipped to deal with climate shocks--through adaption and health care services--are likely to be most vulnerable.
1 | These Crazy Maps Show The Unequal Cause And Effect Of Climate Change
5 Charts About Climate Change That Should Have You Very, Very Worried - Christopher Mims and Stephanie Gruner Buckley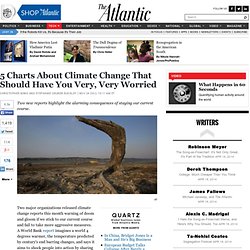 Two new reports highlight the alarming consequences of staying our current course. Two major organizations released climate change reports this month warning of doom and gloom if we stick to our current course and fail to take more aggressive measures. A World Bank report imagines a world 4 degrees warmer, the temperature predicted by century's end barring changes, and says it aims to shock people into action by sharing devastating scenarios of flood, famine, drought and cyclones. Meanwhile, a report from the US National Research Council, commissioned by the US Central Intelligence Agency (CIA) and other intelligence agencies, says the consequences of climate change--rising sea levels, severe flooding, droughts, fires, and insect infestations--pose threats greater than those from terrorism ranging from massive food shortages to a rise in armed conflicts.
The Crying Indian Commercial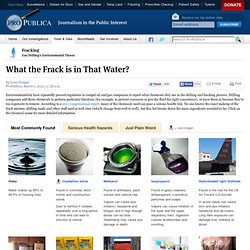 What the Frack is in That Water?
Environmentalists have repeatedly pressed regulators to compel oil and gas companies to report what chemicals they use in the drilling and fracking process. Drilling companies add these chemicals to perform particular functions (for example, to prevent corrosion or give the fluid the right consistency), or leave them in because they're too expensive to remove. According to a 2011 congressional report, many of the chemicals used can pose a serious health risk. No one knows the exact makeup of the frack mixture, drilling muds and other stuff used at well sites (which change from well to well), but this list breaks down the main ingredients revealed so far. Click on the chemical name for more detailed information. Sources: Department of Energy, TEDX, House Committee on Energy and Commerce, FracFocus
The Future of Trash: 4 Ways Tech Is Improving Recycling Rates
The Global Innovation Series is supported by BMW i , a new concept dedicated to providing mobility solutions for the urban environment. It delivers more than purpose-built electric vehicles — it delivers smart mobility services. Visit bmw-i.com or follow @BMWi on Twitter. The world is now inhabited by 7 billion individuals, and as you can imagine, we produce a lot of trash. In the U.S., each person produces 4.6 pounds of trash each day, and 132 million tons of municipal solid waste (MSW) were discarded in landfills in 2009. Just over 35% of that was recycled.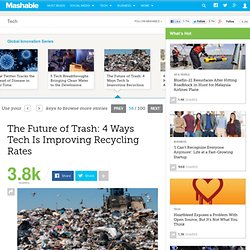 Thanks Mr. Perry and Mrs. Bachmann, but we really are all stocked up on crazy right now. I mean, here is the Texas governor rejecting the science of climate change while his own state is on fire — after the worst droughts on record have propelled wildfires to devour an area the size of Connecticut. As a statement by the Texas Forest Service said last week: "No one on the face of this earth has ever fought fires in these extreme conditions."
Is It Weird Enough Yet?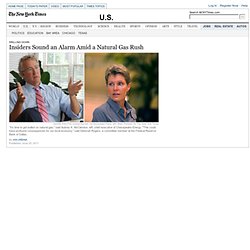 Insiders Sound an Alarm Amid a Natural Gas Rush
Jennifer Pitts/The Journal Record, via Associated Press, left; Mark Peristein for The New York Times "It's time to get bullish on natural gas," said Aubrey K. McClendon, left, chief executive of Chesapeake Energy. "This could have profound consequences for our local economy," said Deborah Rogers, a committee member at the Federal Reserve Bank of Dallas. Natural Gas Investments
But the gas may not be as easy and cheap to extract from shale formations deep underground as the companies are saying, according to hundreds of industry e-mails and internal documents and an analysis of data from thousands of wells. In the e-mails, energy executives, industry lawyers, state geologists and market analysts voice skepticism about lofty forecasts and question whether companies are intentionally, and even illegally, overstating the productivity of their wells and the size of their reserves. Many of these e-mails also suggest a view that is in stark contrast to more bullish public comments made by the industry, in much the same way that insiders have raised doubts about previous financial bubbles. "Money is pouring in" from investors even though shale gas is "inherently unprofitable," an analyst from PNC Wealth Management, an investment company, wrote to a contractor in a February e-mail .
Insiders Sound an Alarm Amid a Natural Gas Rush
NEW YORK — Google is making its largest investment yet in clean energy in an effort to help private homeowners put solar panels on their rooftops. The $280 million deal with installer SolarCity is the largest of its kind. SolarCity can use the funds to pay for a solar system that it can offer to residents for no money down.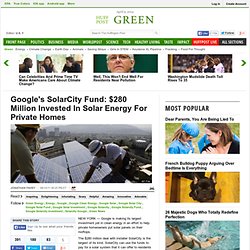 Google's SolarCity Fund: $280 Million Invested In Solar Energy For Private Homes
The Earth Is Full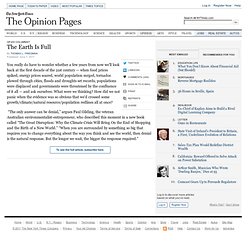 "The only answer can be denial," argues Paul Gilding, the veteran Australian environmentalist-entrepreneur, who described this moment in a new book called "The Great Disruption: Why the Climate Crisis Will Bring On the End of Shopping and the Birth of a New World." "When you are surrounded by something so big that requires you to change everything about the way you think and see the world, then denial is the natural response. But the longer we wait, the bigger the response required." Gilding cites the work of the Global Footprint Network, an alliance of scientists, which calculates how many "planet Earths" we need to sustain our current growth rates. G.F.N. measures how much land and water area we need to produce the resources we consume and absorb our waste, using prevailing technology.