User interface design
The Del.icio.us Lesson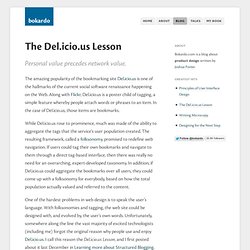 Personal value precedes network value. The amazing popularity of the bookmarking site Del.icio.us is one of the hallmarks of the current social software renaissance happening on the Web.
2 years after, this post clearly explains the reasons of the failure of delicious rather than its success by Patrice Mar 1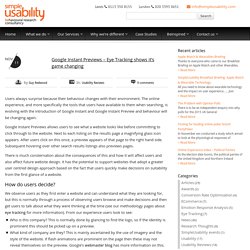 Google Instant Previews - Eye Tracking shows it's game changing - SimpleUsability News SimpleUsability News - SimpleUsability Market Research & Usability Testing\ and Eye Tracking in Leeds, Yorkshire, UK
Users always surprise because their behaviour changes with their environment.
Digg's Design Dilemma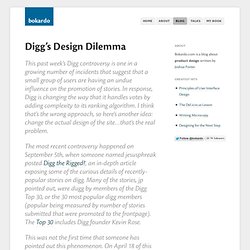 This past week's Digg controversy is one in a growing number of incidents that suggest that a small group of users are having an undue influence on the promotion of stories.
Note: Before I wrote this Paul Buchheit (of Friendfeed) had responded to others' posts with a great post of his own Overnight success takes a long time and asked for feedback on the Friendfeed service.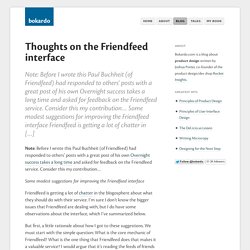 Thoughts on the Friendfeed interface - Bokardo - Mozilla Firefox
Ugliness, Social Design, and the MySpace Lesson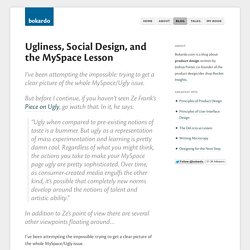 I've been attempting the impossible: trying to get a clear picture of the whole MySpace/Ugly issue.
I do it at least once a week ;-) eventually, I think we can have the best of both world. Takes more time but the result might be worth it.... by Patrice Oct 28
agreed. but try telling that to the Visual designer who has to work on the project that requires this! by cloud4197 Oct 28
Good social design can be bad visual design... And I believe in the reverse as well by Patrice Mar 1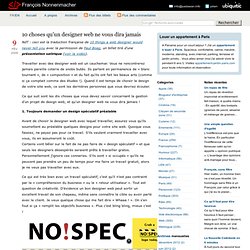 NdT : ceci est la traduction française de 10 things a web designer would never tell you avec la permission de Paul Boag, un billet tiré d'une présentation satirique (voir la vidéo).
10 choses qu'un designer web ne vous dira jamais
Bonnes pratiques par padawan
Seth Godin writes how 8 billion dollars worth of gift cards seeps through the cracks each year. Astounding number. He rightly points out the reason we buy so many gift cards: it is not socially acceptable to give cash as presents.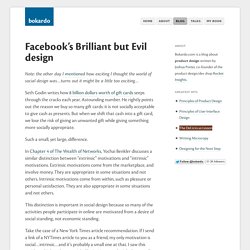 Facebook's Brilliant but Evil design