Unsorted_Favorites 5
KCØMAX amateur radio page. CF and EH antennas by dxzone. Blue Tooth Interface for HF-VHF Amateur Radio Transceivers by K7SFN, FRANK J DZIURDA. One morning, while chatting with several friends on 75 Meters, we got to talking about how nice it would be to have a wireless audio interface with our HF transceivers.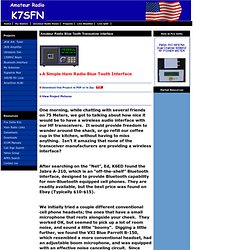 It would provide freedom to wander around the shack, or go refill our coffee cup in the kitchen, without having to miss anything. Isn't it amazing that none of the transceiver manufacturers are providing a wireless interface? After searching on the "Net", Ed, K6ED found the Jabra A-210, which is an "off-the-shelf" Bluetooth interface, designed to provide Bluetooth capability for non-Bluetooth equipped cell phones. Gqrp.com. KC8AON QRP PROJECTS. Undefined KC8AON's QRP PROJECTS Since I got my Icom 703, I wanted a tuner to handle the 10 watts the 703 was capable of, and was designed to tune half wave endfed wires which is one of my favorite field antennas.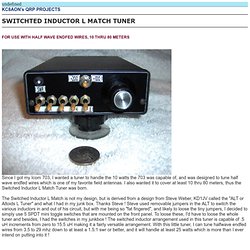 Vanity Node Numbers. EchoLink is developed and supported entirely by volunteers, and is provided to the Amateur Radio community free of charge.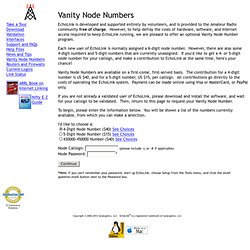 However, to help defray the costs of hardware, software, and Internet access required to keep EchoLink running, we are pleased to offer an optional Vanity Node Number program. Each new user of EchoLink is normally assigned a 6-digit node number. However, there are also some 4-digit numbers and 5-digit numbers that are currently unassigned. If you'd like to get a 4- or 5-digit node number for your callsign, and make a contribution to EchoLink at the same time, here's your chance!
Vanity Node Numbers are available on a first-come, first-served basis. FT-817 Accessories. A picnic table portable operation.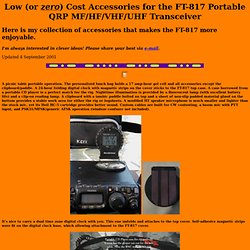 The personalized lunch bag holds a 17 amp-hour gel cell and all accessories except the clipboard/paddle. A 24-hour folding digital clock with magnetic strips on the cover sticks to the FT-817 top case. A case borrowed from a portable CD player is a perfect match for the rig. LINKS PAGE. The links below were choosen by me for the informative information they provide.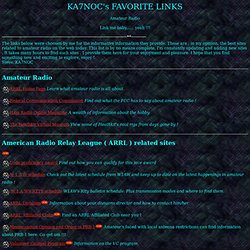 These are , in my opinion, the best sites related to amateur radio on the web today. This list is by no means complete, I'm constantly updating and adding new sites . It takes many hours to find such sites . I provide them here for your enjoyment and pleasure. I hope that you find something new and exciting to explore, enjoy ! Gateway, For Gateway, For HP items on eBay.com. SolderSmoke. The New Jawbone The Best Bluetooth Headset Just Got Better. Diskshoppeft817. FT-817 Porta-Base. 039;s musing on technology Built a 40m SSB transceiver kit MMR-40. Columbia River Knife & Tool Guppie. Mobile Packs. Back to topTo serve you best, if you have a question, or need technical information, our tech desk is available Mon - Fri, 9AM - 4PM Pacific Standard Time, at 1-805-528-4190.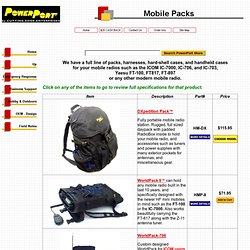 Orders can be placed on line, or call our order desk anytime 24/ 7 at 1-831-427-8197. Thank you! Last modified: January 26, 2014Your site for mobile communications accessories, and full support for your electronics in the field. Clint's Page (KA7OEI) Antennas and Accessories. WiMo: Special Offers, News and Suggestions We are back!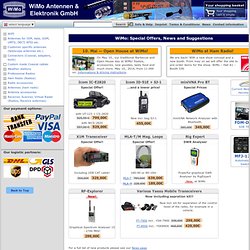 With a new show concept and a new booth. QRP page. QST 2000-2004 ARTICLES. The Radio Amateur Satellite Corporation. KR1S QRP Home Page. RF Cafe - Amateur Radio Websites. Ramsey Electronics. Media Player Participating Networks. Pandora Internet Radio. Find low prices on Linksys WGA54G Wireless-G Game Ethernet Wireless Adapter in Computers & Software. Napster. Diamond® Antenna ~ HT Antennas. RF Parts classic can still be found here.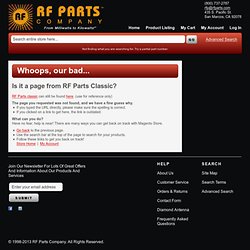 (use for reference only) The page you requested was not found, and we have a fine guess why. Ham Radio Circuits by dxzone. HFPACK HFLINK QRP NVIS STORE CafePress.com. Antenna Elmer. Digital Clocks Timers Countdown Clock Electronic Kits. Portable Field Radio - QRPKits. 3 Band Portable Field Radio Designed by Steve Weber.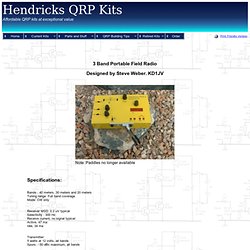 KD1JV Specifications: Heathkit Ham Equipment Matrix. Gateway Batteries - Batteries & Chargers - Compare & Buy at the Lowest Price - Pronto.com - Best Prices. The KA7OEI FT-817 pages - About the RF Power Amplifier. The KA7OEI FT-817 pages About the RF Power Amplifier About the Power Amplifier: On of the most amazing things (to me, anyway) about the FT-817 is that the same power amplifier chain is used for all of the amateur bands from 160 meters through 70 centimeters.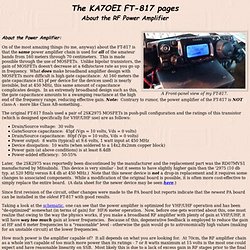 15W amorphous solar panel for 12v battery (power jack) - eBay (item 260248623511 end time Jun-13-08 091249 PDT) IObit Freeware. Web Software Defined Radio. Software Defined Radio attempts to place much or most of the complex signal handling involved in communications receivers and transmitters into the digital (DSP) style. In its purest form, and SDR receiver might consist simply of an analog-to-digital convert chip connected to an antenna. All the filtering and signal detection can take place in the digital domain, perhaps in an ordinary personal computer. While there are still good reasons to use some analog components in high-performance gear, the SDR approach is becoming more common in Amateur Radio. QRP Kit and Homebrew News. 2007 July « n9ik's radio blog. Rock-Mite update July 30, 2007 Posted by Thor in portable, projects, qrp, station. The Rock-Mite transceiver kit that I ordered arrived in today's post. I'm anxious to get it built and to make my first QSO (contact) with it.
I would have built it tonight, but I'm out of solder, and need to go shopping for a few things. Radio and Electronics School. W4RT. NUE-PSK Digital Modem.
---