Unsorted_Favorites 5
KCØMAX amateur radio page
CF and EH antennas by dxzone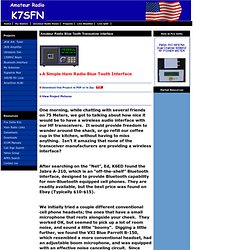 One morning, while chatting with several friends on 75 Meters, we got to talking about how nice it would be to have a wireless audio interface with our HF transceivers.
Blue Tooth Interface for HF-VHF Amateur Radio Transceivers by K7SFN, FRANK J DZIURDA
Gqrp.com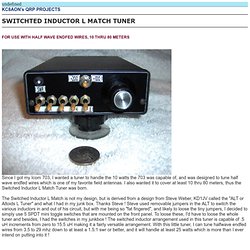 KC8AON's QRP PROJECTS Since I got my Icom 703, I wanted a tuner to handle the 10 watts the 703 was capable of, and was designed to tune half wave endfed wires which is one of my favorite field antennas. I also wanted it to cover at least 10 thru 80 meters, thus the Switched Inductor L Match Tuner was born.
KC8AON QRP PROJECTS
Vanity Node Numbers
EchoLink is developed and supported entirely by volunteers, and is provided to the Amateur Radio community free of charge. However, to help defray the costs of hardware, software, and Internet access required to keep EchoLink running, we are pleased to offer an optional Vanity Node Number program.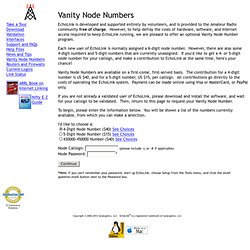 FT-817 Accessories
A picnic table portable operation.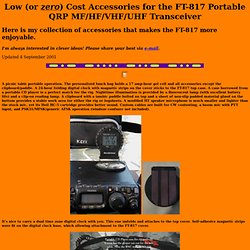 LINKS PAGE
The links below were choosen by me for the informative information they provide. These are , in my opinion, the best sites related to amateur radio on the web today.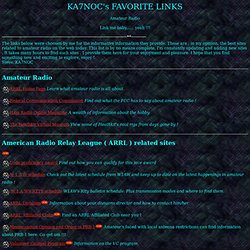 gateway, For Gateway, For HP items on eBay.com
SolderSmoke
The New Jawbone The Best Bluetooth Headset Just Got Better
diskshoppeft817
FT-817 Porta-Base
039;s musing on technology Built a 40m SSB transceiver kit MMR-40
Columbia River Knife & Tool Guppie
Mobile Packs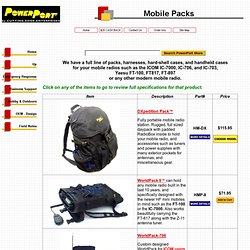 Back to topTo serve you best, if you have a question, or need technical information, our tech desk is available Mon - Fri, 9AM - 4PM Pacific Standard Time, at 1-805-528-4190.
Clint's Page (KA7OEI)
Antennas and Accessories
QRP page
QST 2000-2004 ARTICLES
The Radio Amateur Satellite Corporation
KR1S QRP Home Page
RF Cafe - Amateur Radio Websites
Ramsey Electronics
Media Player Participating Networks
Pandora Internet Radio
Find low prices on Linksys WGA54G Wireless-G Game Ethernet Wireless Adapter in Computers & Software
Napster
RF Parts classic can still be found here. (use for reference only) The page you requested was not found, and we have a fine guess why.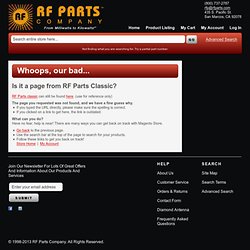 Diamond® Antenna ~ HT Antennas
Ham Radio Circuits by dxzone
HFPACK HFLINK QRP NVIS STORE CafePress.com
Antenna Elmer
Digital Clocks Timers Countdown Clock Electronic Kits
3 Band Portable Field Radio
Portable Field Radio - QRPKits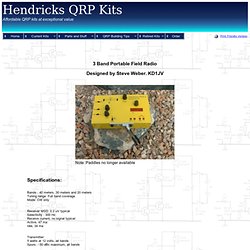 Heathkit Ham Equipment Matrix
Gateway Batteries - Batteries & Chargers - Compare & Buy at the Lowest Price - Pronto.com - Best Prices
The KA7OEI FT-817 pages - About the RF Power Amplifier
The KA7OEI FT-817 pages About the RF Power Amplifier About the Power Amplifier: On of the most amazing things (to me, anyway) about the FT-817 is that the same power amplifier chain is used for all of the amateur bands from 160 meters through 70 centimeters.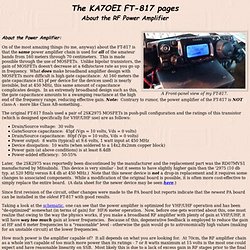 15W amorphous solar panel for 12v battery (power jack) - eBay (item 260248623511 end time Jun-13-08 091249 PDT)
IObit Freeware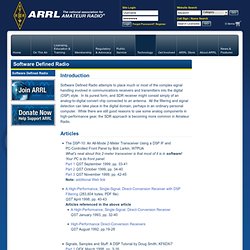 web Software Defined Radio
Software Defined Radio attempts to place much or most of the complex signal handling involved in communications receivers and transmitters into the digital (DSP) style.
QRP Kit and Homebrew News
2007 July « n9ik's radio blog
Rock-Mite update July 30, 2007
Radio and Electronics School
W4RT
NUE-PSK Digital Modem