Unsorted_Favorites 5
KCØMAX amateur radio page
CF and EH antennas by dxzone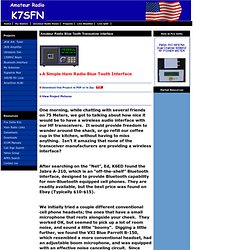 One morning, while chatting with several friends on 75 Meters, we got to talking about how nice it would be to have a wireless audio interface with our HF transceivers. It would provide freedom to wander around the shack, or go refill our coffee cup in the kitchen, without having to miss anything. Isn't it amazing that none of the transceiver manufacturers are providing a wireless interface? After searching on the "Net", Ed, K6ED found the Jabra A-210, which is an "off-the-shelf" Bluetooth interface, designed to provide Bluetooth capability for non-Bluetooth equipped cell phones.
Blue Tooth Interface for HF-VHF Amateur Radio Transceivers by K7SFN, FRANK J DZIURDA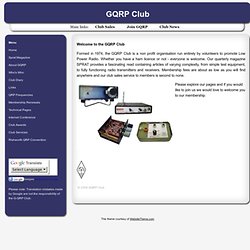 Welcome to the GQRP Club Formed in 1974, the GQRP Club is a non profit organisation run entirely by volunteers to promote Low Power Radio. Whether you have a ham licence or not - everyone is welcome. Our quarterly magazine SPRAT provides a fascinating read containing articles of varying complexity, from simple test equipment, to fully functioning radio transmitters and receivers. Membership fees are about as low as you will find anywhere and our club sales service to members is second to none. Please explore our pages and if you would like to join us we would love to welcome you to our membership.
Gqrp.com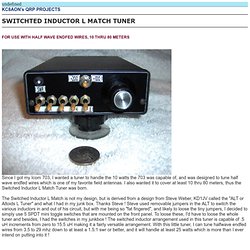 undefined KC8AON's QRP PROJECTS Since I got my Icom 703, I wanted a tuner to handle the 10 watts the 703 was capable of, and was designed to tune half wave endfed wires which is one of my favorite field antennas.
KC8AON QRP PROJECTS
Vanity Node Numbers
EchoLink is developed and supported entirely by volunteers, and is provided to the Amateur Radio community free of charge. However, to help defray the costs of hardware, software, and Internet access required to keep EchoLink running, we are pleased to offer an optional Vanity Node Number program. Each new user of EchoLink is normally assigned a 6-digit node number. However, there are also some 4-digit numbers and 5-digit numbers that are currently unassigned. If you'd like to get a 4- or 5-digit node number for your callsign, and make a contribution to EchoLink at the same time, here's your chance! Vanity Node Numbers are available on a first-come, first-served basis.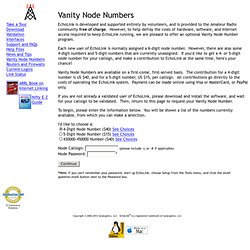 FT-817 Accessories
A picnic table portable operation. The personalized lunch bag holds a 17 amp-hour gel cell and all accessories except the clipboard/paddle. A 24-hour folding digital clock with magnetic strips on the cover sticks to the FT-817 top case. A case borrowed from a portable CD player is a perfect match for the rig.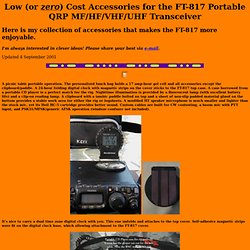 LINKS PAGE
The links below were choosen by me for the informative information they provide. These are , in my opinion, the best sites related to amateur radio on the web today. This list is by no means complete, I'm constantly updating and adding new sites . It takes many hours to find such sites . I provide them here for your enjoyment and pleasure. I hope that you find something new and exciting to explore, enjoy !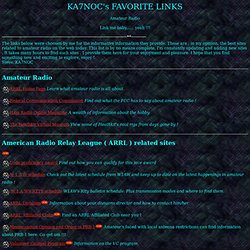 gateway, For Gateway, For HP items on eBay.com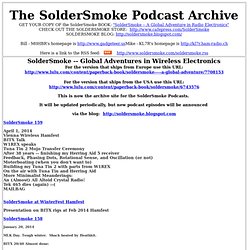 SolderSmoke
This is now the archive site for the SolderSmoke Podcasts. August 11, 2013 -- Alligators! Real Alligators! (see picture below -- look closely)-- Ten meter beacon project (with Arduino and Reverse Beacon Network)-- Telescope repair: Chap Stick as lubricant, and the perils of macular pucker!
The New Jawbone The Best Bluetooth Headset Just Got Better
diskshoppeft817
FT-817 Porta-Base
039;s musing on technology Built a 40m SSB transceiver kit MMR-40
Columbia River Knife & Tool Guppie
Mobile Packs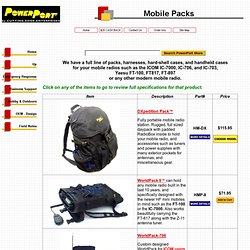 Back to topTo serve you best, if you have a question, or need technical information, our tech desk is available Mon - Fri, 9AM - 4PM Pacific Standard Time, at 1-805-528-4190. Orders can be placed on line, or call our order desk anytime 24/ 7 at 1-831-427-8197. Thank you! Last modified: January 26, 2014Your site for mobile communications accessories, and full support for your electronics in the field.
Clint's Page (KA7OEI)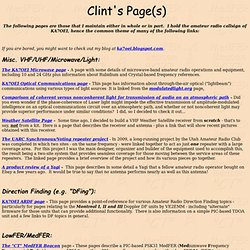 Clint's Page(s) The following pages are those that I maintain either in whole or in part. I hold the amateur radio callsign of KA7OEI, hence the common theme of many of the following links:
WiMo: Special Offers, News and Suggestions We are back! With a new show concept and a new booth.
Antennas and Accessories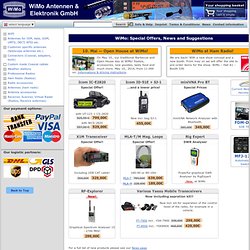 QRP page
QST 2000-2004 ARTICLES
The Radio Amateur Satellite Corporation
KR1S QRP Home Page
RF Cafe - Amateur Radio Websites
Ramsey Electronics
All Ramsey Electronics® kits and products are proudly engineered, designed, built, packed, and shipped in Rochester, NY, USA. Since our humble beginnings nearly 40 years, we have had the honor and privilege to contribute to and participate in our local economy right here in Rochester, as well as the greater US economy. You can rest assured that when you make the choice to support Ramsey and purchase our "Made in NY" products, your dollars are going right back into the local and US economy. Small businesses like Ramsey Electronics® are the heart and soul of the US economy, as well as the main drivers of job growth. Of course, we couldn't do it without YOU, the customer!
Media Player Participating Networks
Pandora Internet Radio
Find low prices on Linksys WGA54G Wireless-G Game Ethernet Wireless Adapter in Computers & Software
Napster
RF Parts classic can still be found here. (use for reference only) The page you requested was not found, and we have a fine guess why.
Diamond® Antenna ~ HT Antennas
Ham Radio Circuits by dxzone
HFPACK HFLINK QRP NVIS STORE CafePress.com
Antenna Elmer
Digital Clocks Timers Countdown Clock Electronic Kits
3 Band Portable Field Radio Designed by Steve Weber. KD1JV Specifications:
Portable Field Radio - QRPKits
Heathkit Ham Equipment Matrix
Canon T3i Canon EOS Rebel T3i Kit With the DIGIC 4 Image Processor, 18.0 Megapixel CMOS Image Sensor, 3.0" LCD screen and HD Movie Mode, this camera ensures peak quality picture and video. http://ad.doubleclick.net/adj/pgmnt.1715/cbr1715;tile=1;pos=txt;sz=1x1;ord=466843327821273488? Graco Nautilus Graco Nautilus 3-in-1 Car Seat
Gateway Batteries - Batteries & Chargers - Compare & Buy at the Lowest Price - Pronto.com - Best Prices
The KA7OEI FT-817 pages - About the RF Power Amplifier
15W amorphous solar panel for 12v battery (power jack) - eBay (item 260248623511 end time Jun-13-08 091249 PDT)
IObit Freeware
web Software Defined Radio
QRP Kit and Homebrew News
2007 July « n9ik's radio blog
Radio and Electronics School
W4RT
NUE-PSK Digital Modem